.
Regular price
$39.90
Sale price
$18.97
Unit price
per
Sale
Sold out
If you order within
Arrives by
Encourage your child's love for music
A perfect educational toy
Looking for an adorable educational toy that will develop your kid's motor skills and stimulate their brain? This adorable Xylophone is perfect for bringing out your tod's inner music genius! A durable wooden base with colorful keys helps to develop hands-eye coordination and an ear for music. A perfect
toy
that works as a classical musical instrument for your baby.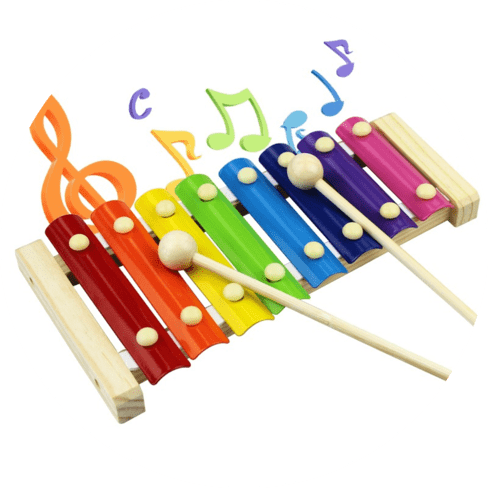 Xylophone toy specifications
100% safe
Made out of wood, this toy contains no toxic ingredients. The wood is polished for splinter-free use.
Made to last
Children can be very active and often test our toys' durability. Our wooden xylophone toy is incredibly sturdy and will still do its job even if it takes a bit of a beating from your tod. 
Educational toy
It helps your
kids
develop motor skills and keeps them busy. Perfect for: 3 years old+
Materials and construction
Material: wood. Size: 9.4 in x 5.1 in x 1.4 in.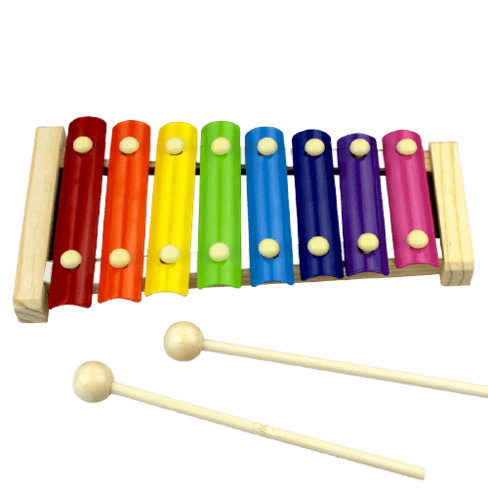 Music to your ears
Kids
grow up so fast these days. Get a toy that will bring more treasured memories of your time together! Great for inspiring love for music and creativity since childhood, this toy will quickly become your Tod's favorite.
Order this toy for your little one or as a fantastic birthday present for your grandchildren, nieces, or friends'
kids
. It's time for a gift that is useful!

Seeking a toy that combines musical exploration with educational play for your child?

Finding toys that balance fun and learning can be challenging, leaving children needing a well-rounded play experience.
Introducing our Wooden Xylophone Toy for Kids – the perfect fusion of melodic discovery and cognitive development in a single, captivating instrument.

Benefits of this Wooden Xylophone Toy:


Musical Education: Teaches kids about rhythm, melody, and harmonious play.
Fine Motor Skills: Enhances hand-eye coordination and dexterity through music.
Creativity Unleashed: Encourages musical experimentation and self-expression.
Interactive Fun: Engages children with vibrant, easy-to-play wooden keys.
Quality Craftsmanship: Made from premium, child-safe materials for lasting enjoyment.
Educational Play: Introduces kids to the world of music and musical concepts.
Parent-Child Bonding: Provides opportunities for shared musical experiences.
Portable Entertainment: Compact and easy to take anywhere, fostering music on the go.
Multi-Purpose Toy: Ideal for solo or group play, promoting social interaction.
Gift of Music: Makes for a thoughtful and harmonious gift choice for any child.

FAQ ( Frequently Asked Questions ):

Q1: What is a Wooden Xylophone Toy for Kids?
A1: It's a musical toy that combines a xylophone with colorful wooden keys, perfect for children exploring and creating music.
Q2: Is the xylophone safe for kids to play with?
A2: Yes, it's made from child-safe materials, ensuring your child's safety while they play and learn.
Q3: What age group is this toy suitable for?
A3: This xylophone is designed for toddlers and older children, making it versatile for various age groups.
Q4: How does this xylophone promote educational play?
A4: It helps kids learn about music, rhythm, and musical concepts, all while enhancing their fine motor skills.
Q5: Can kids play with this xylophone alone or with others?
A5: It's versatile and suitable for solo play and group play, which promotes social interaction and musical collaboration.
Q6: Is the xylophone durable enough for active play?
A6: Yes, it's crafted to withstand the active play of children and is built to last for years.
Q7: How can I help my child learn to play this xylophone?
A7: You can start by teaching them simple melodies and encouraging them to explore and create their own tunes.
Q8: Can the Wooden Xylophone Toy be used on the go?
A8: Yes, it's portable and compact, making it perfect for musical adventures outside the home.
Q9: Does the xylophone require any special care or maintenance?
A9: Regular cleaning with a damp cloth should suffice, as it's designed to be easy to maintain.
Q10: Is it a suitable gift for special occasions?
A10: Absolutely! It's a fantastic gift choice for birthdays and other special occasions, offering fun and educational value.
Reviews
Our reviews are verified for authenticity
Durable and very sturdy. My little one loves playing her tunes. Keeps little one busy.

Got this toy for my kids to play with they love it. It's very bright and colorful, very sturdy and durable.

It's a fun looking, compact and great sounding toy xylophone!

I don't know who likes this better, my granddaughter or myself! She bangs on it now, and some day she will learn songs. A quality toy!

This is a great toy that my son has enjoyed for countless hours. The manufacturer was just as great.

I bought this for my 18 month old niece and she loved it. My kids were also trying to steal it from her and play it (they are 3 & 4) so it should keep interest for a while. great quality.

This is an excellent, rugged wooden toy, that gets thrown around on the regular! It's colorful, musical and friendly. Really encourages fine motor skill development, my granddaughter is obsessed with taking them in and out…

Fantastic quality and bright colors. My two year old loves playing with it and it can take a serious beating from her shows barely a scratch. Much better than anything electronic, which she either broke a long time ago or got tired of the batteries dying.

My girls love this xylophone. They are not old enough yet to leave them with it unattended. My wife and I break it out and we have the biggest smiles. Made really well too. I have seen this thing take a beating on multiple occasions and it stands to the brute strength of my healthy and strong twins. I love how all the pieces fit into the xylophone, very tidy
View full details
Enjoy Free Shipping on Every Order
Experience the ultimate convenience with our free 3-day shipping service available to all customers throughout the United States.
24 x 7 Customer Support at Your Service
We offer customer support through live chat, email, or phone, making it easy for customers to get assistance with their inquiries.
Crafted with American Pride: All Our Products Are Made in the USA
Experience the assurance of exceptional quality and support local industries with our wide selection of products, all proudly made in the USA.
Peace of Mind: Our 14-Day Return Policy Has You Covered
We want you to love your purchases, which is why we offer a hassle-free 14-day return policy. If you're not completely satisfied with your order, simply return it within 14 days for a full refund or exchange.
Explore Our Diverse Range of Products
Our store offers a vast selection of products, giving customers the convenience of finding everything they need in one place.
Our Customers Award Us 5 Stars
We are thrilled to share that our products has received widespread acclaim from our valued customers, with an abundance of 5-star customer reviews pouring in.
Your Choice, Your Security: Explore Our Multiple Payment Options
We offer secure payment options, giving customers peace of mind when making transactions.
Track Your Orders at Every Step
Customers can track their orders in real-time and receive updates on their delivery status.