.
Regular price
$89.90
Sale price
$33.97
Unit price
per
Sale
Sold out
If you order within
Arrives by
A 3D T-Rex puzzle
Puzzles are known for being good toys for everyone, regardless of age. It's not only fun (like it is for adults), but it significantly improves their thinking and perception. But puzzles aren't only in the form of pictures. They can be 3D, making them even funnier and more challenging. Like this one!
Are Wooden 3D Puzzles the Ultimate Kids' Dinosaur Adventure?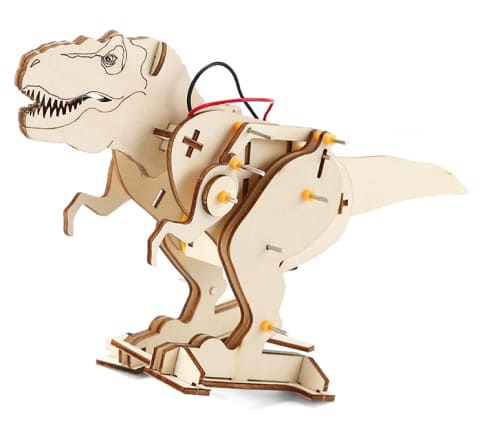 T-Rex came out of the TV.
The
toy
for dinosaur lovers and future engineers
The dinosaur is made from citronwood – a safe and environmentally friendly material. It's soft and lightweight yet durable and sturdy.
Everything is in the package.
All the details needed for the assembly (even the screwdriver) come in the package. All you must purchase is 2 AA batteries so the T-Rex can walk and move around.
The package is 8.85x1.77x10 inches in size – it's easy to put away, and it won't take much space. Because the
puzzle
has small details that pose a choking/swallowing hazard, the puzzle is appropriate for kids 8 and above.
The toy is fantastic for many purposes. Bonding sessions, logical thinking, fine motor skills, finding the way out of difficulties... The assembled dinosaur becomes a great addition to any room.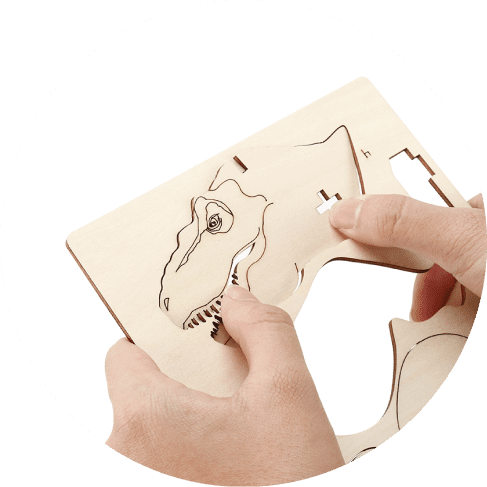 Challenge in a healthy way

And yourself as well. Not only will kids find this puzzle interesting, but many adults will, too. Storm everyone's brains and logical thinking while bonding and having quality time together. Creating something is a great way to establish healthy, partner relationships between 2 people. You are a team. A powerful one!

Searching for a toy that engages your child's mind and encourages fun and learning?


In a world dominated by screens, finding toys that stimulate creativity, critical thinking, and motor skills can be challenging. You want something that sparks curiosity, keeps them entertained, and helps them learn.
Explore the Wooden T-Rex 3D Puzzle for Kids! This captivating puzzle is here to tackle these challenges, offering your child the chance to dive into a world of imagination, problem-solving, and educational play.

Benefits of this Wooden 3D Puzzle
Educational Play: Enhances problem-solving and cognitive skills while assembling the T-Rex.
Safe Materials: Crafted from child-friendly wood, ensuring safety during play.
Creative Building: Fosters creativity as children bring the dinosaur to life.
Fine Motor Skills: Develops fine motor skills through assembling and disassembling.
Realistic Design: Mimics a T-Rex's appearance for an authentic experience.
Interactive Learning: Teaches about dinosaurs and their history.
Sturdy Construction: Designed to withstand repeated play.
Unisex Appeal: Suitable for both boys and girls.
Display Worthy: Can be displayed in a child's room as a completed masterpiece.
Ideal Gift: This makes for an enriching and entertaining gift that combines play and learning.

FAQ (Frequently Asked Questions):

Q1: What does the Wooden T-Rex 3D Puzzle include?
A1: This set typically includes wooden puzzle pieces to assemble a T-Rex dinosaur.
Q2: What age range is this puzzle suitable for?
A2: This puzzle is usually designed for children aged 6 and up, making it ideal for school-age kids.
Q3: Is it safe for children to play with?
A3: Yes, the puzzle is typically crafted from non-toxic and child-friendly wood.
Q4: How many pieces are in the puzzle?
A4: The number of pieces can vary, but it often contains around 30 to 50 wooden pieces.
Q5: Is glue required for assembly?
A5: No, the puzzle is designed for easy interlocking without glue.
Q6: Can children take the puzzle apart and reassemble it?
A6: Absolutely, children can disassemble and reassemble the puzzle for repeated play.
Q7: How does it contribute to educational play?
A7: It enhances problem-solving skills and teaches children about dinosaurs and their anatomy.
Q8: Is it display-worthy?
A8: Once completed, the T-Rex puzzle is a fantastic display piece in a child's room.
Q9: Can I purchase the Wooden T-Rex 3D Puzzle online?
A9: Yes, you can buy the Wooden T-Rex 3D Puzzle for Kids online through our website. Click on the product, add it to your cart, and follow the checkout process to make it yours.
Q10: Is this puzzle suitable for both boys and girls?
A10: Absolutely; the Wooden T-Rex 3D Puzzle is unisex and perfect for any child interested in dinosaurs and puzzles.
View full details
Enjoy Free Shipping on Every Order
Experience the ultimate convenience with our free 3-day shipping service available to all customers throughout the United States.
24 x 7 Customer Support at Your Service
We offer customer support through live chat, email, or phone, making it easy for customers to get assistance with their inquiries.
Crafted with American Pride: All Our Products Are Made in the USA
Experience the assurance of exceptional quality and support local industries with our wide selection of products, all proudly made in the USA.
Peace of Mind: Our 14-Day Return Policy Has You Covered
We want you to love your purchases, which is why we offer a hassle-free 14-day return policy. If you're not completely satisfied with your order, simply return it within 14 days for a full refund or exchange.
Explore Our Diverse Range of Products
Our store offers a vast selection of products, giving customers the convenience of finding everything they need in one place.
Our Customers Award Us 5 Stars
We are thrilled to share that our products has received widespread acclaim from our valued customers, with an abundance of 5-star customer reviews pouring in.
Your Choice, Your Security: Explore Our Multiple Payment Options
We offer secure payment options, giving customers peace of mind when making transactions.
Track Your Orders at Every Step
Customers can track their orders in real-time and receive updates on their delivery status.