.
Regular price
$54.90
Sale price
$23.47
Unit price
per
Sale
Sold out
If you order within
Arrives by
Wooden Ship Puzzle 

An excellent puzzle for toddlers
This unique puzzle allows the children to discover a ship as they remove each piece. The picture under the ship
puzzle
shows the captain steering the ship, a boy and a girl passengers, and two cars on the ferry boat.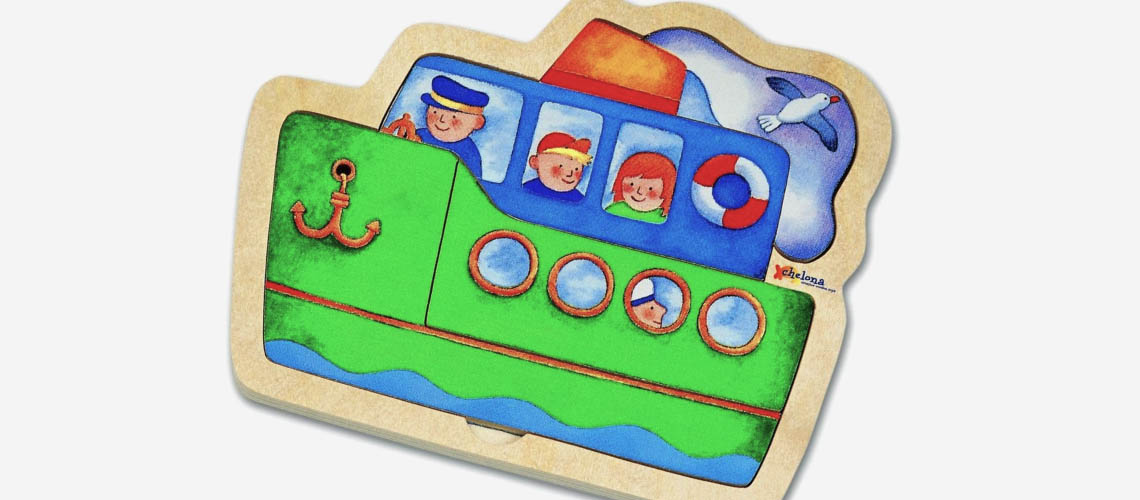 Set sail for adventure!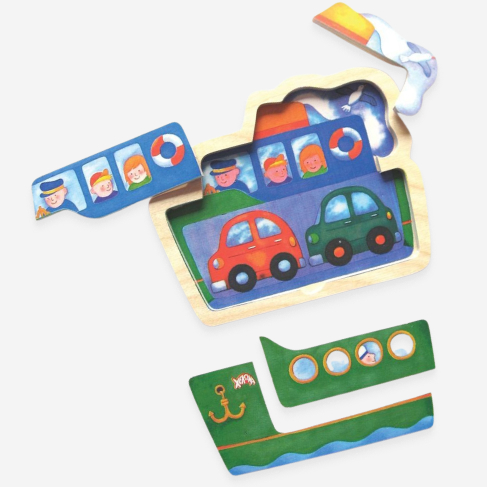 Challenge your toddler
This wooden puzzle helps
kids
to develop multiple skills, such as hand-eye coordination, promotes concentration and creativity, and enhances their problem-solving skills.
Safe and eco-friendly
We use a combination of non-toxic paint, eco-friendly ink, and a food-grade, non-toxic wood sealer that is child-friendly on our puzzles.
Details and packaging
The puzzle is packaged in a colorful cardboard box that has a description of the puzzle. It has pictures of the puzzle and the scene that is under the puzzle. Materials: wood. Size: 5-1/2" x 4-1/2". Ages: 18 months+.

Discover our Wooden Ship Puzzle Toy! This captivating wooden toy is designed to capture your child's attention while nurturing their problem-solving skills and creativity.


Here's why you'll love our Wooden Ship Puzzle Toy:


Educational Play: This puzzle enhances cognitive development, promoting problem-solving and spatial reasoning.
Premium Quality: Crafted from high-quality wood, it's durable and built to last years of play.
Imagination at Sea: The ship design sparks creativity and imaginative adventures on the high seas.
Parent-Approved: Join the parents who have seen their children benefit from fun and learning with this wooden toy. 

Elevate your child's playtime with our Wooden Ship Puzzle Toy. Click now to add this educational and delightful toy to your cart.


Benefits:


Educational Development: The Wooden Ship Puzzle Toy encourages cognitive development, enhancing problem-solving and spatial skills in children.



High-Quality Construction: Crafted from premium wood, this puzzle toy is built to withstand the rigors of play, ensuring durability and longevity.



Imaginative Play: The ship design sparks imaginative adventures, allowing kids to explore the high seas and create stories.



Parent-Approved: Parents appreciate the educational and fun aspects of this toy, making it a valuable addition to their child's playtime.

FAQ (Frequently Asked Questions):


Q1: What is the Wooden Ship Puzzle Toy? 
A1: The Wooden Ship Puzzle Toy is an educational wooden toy that challenges children to solve a ship-themed puzzle, promoting problem-solving and creativity.
Q2: Is the Wooden Ship Puzzle Toy safe for kids? 
A2: Yes, it's made from child-safe materials, ensuring a secure and enjoyable playtime.
Q3: What age range is this toy suitable for? 
A3: The Wooden Ship Puzzle Toy is typically suitable for kids aged 3 and older, depending on their puzzle-solving skills.
Q4: Is the puzzle challenging for kids? 
A4: The puzzle offers varying difficulty levels, making it a fun and educational challenge for children.
Q5: Can adults enjoy the puzzle too? 
A5: While it's designed for kids, adults can also enjoy the puzzle and bond with their children over playtime.
Q6: How do I clean the Wooden Ship Puzzle Toy? 
A6: Cleaning is simple; use a damp cloth to wipe the puzzle and keep it looking fresh.
Q7: Does the puzzle require batteries? 
A7: No, the Wooden Ship Puzzle Toy is battery-free. It's a classic toy that relies on problem-solving skills and imagination.
Q8: Can I give this puzzle as a gift? 
A8: It is a fantastic gift for kids who enjoy puzzles and imaginative play.
Q9: Are there more wooden puzzle options available? 
A9: Yes, we offer a variety of wooden puzzles to cater to different interests and skill levels. Check out our collection for more options.
Q10: How can I purchase the Wooden Ship Puzzle Toy? 
A10: You can buy the Wooden Ship Puzzle Toy through our website. Click on the product, add it to your cart, and follow the checkout process.
Reviews
Our reviews are verified for authenticity
We picked this up as a surprise puzzle for the grandkids. They were very excited to get another one! I love this for little minds.

This puzzle was smaller and less sturdy than expected.

Such a great puzzle! It is a very challenging puzzle for babies, in a good way. I just bought a bunch more to give as favors at his birthday party and they were a huge hit!

Of all the things I got my son for Christmas, this little puzzle has been played with the most. He loves it. Bright colored pieces are easy to find when they are scattered around the living room.

Got this and some other shape/color games for my child. He really liked this one and the challenge of getting all the pieces to fit together. It's small so you can take it on with you. Excellent for the price.

I love that greate wooden toy! My 2.5-year-old kid and I play together. And I can see how this puzzle is helping with fine motor skills and problem-solving skills. In some sense, it also helps to develop a sense of "global optimization" problem for this age.
View full details
Enjoy Free Shipping on Every Order
Experience the ultimate convenience with our free 3-day shipping service available to all customers throughout the United States.
24 x 7 Customer Support at Your Service
We offer customer support through live chat, email, or phone, making it easy for customers to get assistance with their inquiries.
Crafted with American Pride: All Our Products Are Made in the USA
Experience the assurance of exceptional quality and support local industries with our wide selection of products, all proudly made in the USA.
Peace of Mind: Our 14-Day Return Policy Has You Covered
We want you to love your purchases, which is why we offer a hassle-free 14-day return policy. If you're not completely satisfied with your order, simply return it within 14 days for a full refund or exchange.
Explore Our Diverse Range of Products
Our store offers a vast selection of products, giving customers the convenience of finding everything they need in one place.
Our Customers Award Us 5 Stars
We are thrilled to share that our products has received widespread acclaim from our valued customers, with an abundance of 5-star customer reviews pouring in.
Your Choice, Your Security: Explore Our Multiple Payment Options
We offer secure payment options, giving customers peace of mind when making transactions.
Track Your Orders at Every Step
Customers can track their orders in real-time and receive updates on their delivery status.