.
Regular price
$29.90
Sale price
$15.97
Unit price
per
Sale
Sold out
If you order within
Arrives by
Want a high-quality toy for your newborn?  
A large variety of toys is essential for your baby's proper development. With this fantastic eco-friendly rattle toy, you can distract your kid from crying and focus his or her attention on the toy for a while.
A smooth wooden surface is excellent for stimulating motor and sensory skills, all while keeping your little one busy.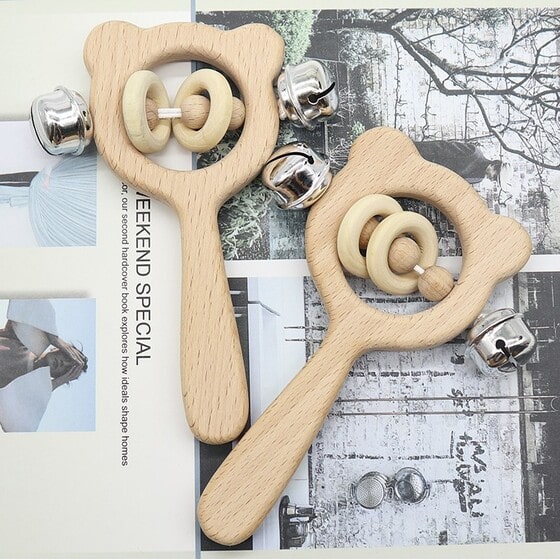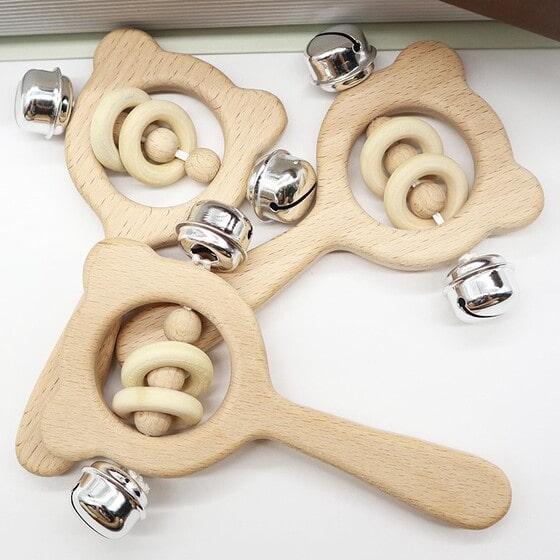 Wooden rattle details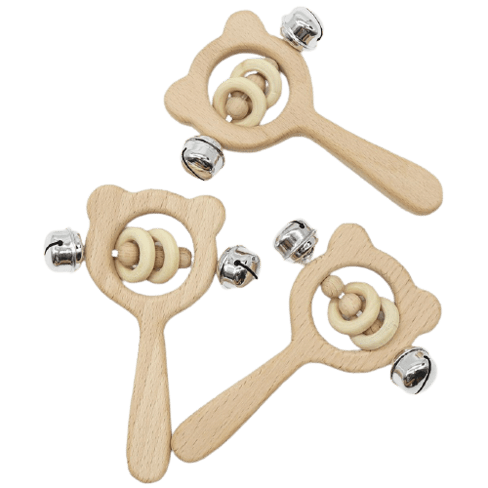 100% safe
Our babies are the most precious thing in the world, so we take great care to ensure all our products are entirely safe.
Made of polished beech wood, our wooden rattle
toy
will make parenting more accessible in that first challenging year of your baby's life. Lead-free, chemicals-free, non-toxic. Smooth texture, no rough edges. FDA certified.
Use recommendations
Wash in warm, soapy water, rinse and air-dry. Do not soak; do not use the dishwasher. If the product becomes damaged, discard it immediately, otherwise, it becomes a potential choking hazard.


Materials: beech wood. Age range: 0-1 years. Size: 4.8 in x 2.4 in x 1.4 in.
Great gift for newborns

Looking for a perfect gift for a family friend's newborn? Need a new toy for your own kid's collection? Caring for a newborn can be a handful, so anything that helps counts. Order now and get this high-quality hand-made rattle toy that will make the first year or any kid's life easier.
Searching for an engaging and eco-friendly toy for your child?
Explore the Wooden Rattle Toy for Kids! This delightful rattle is designed to provide hours of natural fun and sensory stimulation for your little one.

Here's why you'll love the Wooden Rattle Toy for Kids:


Natural Sensory Play: Crafted from high-quality wood, this play stimulates your child's senses and fosters early development.
Entertaining Sounds: The gentle rattling sound keeps your child engaged and delighted during playtime.
Safe and Durable: Made with non-toxic materials, it's safe for your child to explore and built to withstand active play.
Parent-Approved: Join the parents who have seen their children find joy and stimulation with the Wooden Rattle Toy for Kids.

Add the Wooden Rattle Toy for Kids to your child's playtime. Click now to enjoy the natural fun and sensory development it offers.
FAQ (Frequently Asked Questions):
Q1: What is the Wooden Rattle Toy for Kids?
A1: The Wooden Rattle Toy for Kids is a natural and sensory-stimulating toy for young children.
Q2: Is this rattle suitable for a specific age range?
A2: While it's designed for infants and toddlers, children of various ages can enjoy the sensory play it offers.
Q3: How does this rattle stimulate sensory development?
A3: The rattle's wooden design engages a child's sense of touch, sound, and coordination, encouraging sensory exploration and early development.
Q4: Is the Wooden Rattle Toy safe for kids?
A4: Yes, it's typically made from non-toxic and child-friendly materials, ensuring a safe and enjoyable play experience.
Q5: Can the rattle withstand rough play?
A5: Yes, it's designed to be durable and can withstand the active play of young children.
Q6: Is it easy for babies to grasp and play with?
A6: Yes, the rattle is designed for little hands to hold and explore easily, promoting fine motor skills.
Q7: Can I purchase this rattle in different styles or colors?
A7: The availability of styles and colors may vary, offering options for personalizing your child's playtime.
Q8: How can I purchase the Wooden Rattle Toy for Kids?
A8: You can buy the Wooden Rattle Toy for Kids online through our website. Click on the product, add it to your cart, and follow the checkout process to make it yours.
Reviews
Our reviews are verified for authenticity
I bought this product for my new daughter. The quality is really good and it looks cute

Super cute and pretty! my baby loved it!

My daughter loves these! The rattle is adorable

These are absolutely adorable and of great quality.

My twins love these toys.

These are very good quality wooden toys. Very smooth wood.

Definitely recommend these!

These wooden teething rattle toys are so classic and cute.

Beautifully made soft wooden toy that my 3 month old loves. Makes her smile & she loves the shape

My 6 month old LOVES this!! She chews on it constantly. It is very good quality. No splinters.

These are SO CUTE! I love classic looking toys and these are simple and adorable. They are a perfect size for my 5 month old and she loves them. They really are a great buy.

My baby loved these, unfortunately the rattle fell on the floor and broke within a week.
View full details
Enjoy Free Shipping on Every Order
Experience the ultimate convenience with our free 3-day shipping service available to all customers throughout the United States.
24 x 7 Customer Support at Your Service
We offer customer support through live chat, email, or phone, making it easy for customers to get assistance with their inquiries.
Crafted with American Pride: All Our Products Are Made in the USA
Experience the assurance of exceptional quality and support local industries with our wide selection of products, all proudly made in the USA.
Peace of Mind: Our 14-Day Return Policy Has You Covered
We want you to love your purchases, which is why we offer a hassle-free 14-day return policy. If you're not completely satisfied with your order, simply return it within 14 days for a full refund or exchange.
Explore Our Diverse Range of Products
Our store offers a vast selection of products, giving customers the convenience of finding everything they need in one place.
Our Customers Award Us 5 Stars
We are thrilled to share that our products has received widespread acclaim from our valued customers, with an abundance of 5-star customer reviews pouring in.
Your Choice, Your Security: Explore Our Multiple Payment Options
We offer secure payment options, giving customers peace of mind when making transactions.
Track Your Orders at Every Step
Customers can track their orders in real-time and receive updates on their delivery status.