.
Regular price
$99.90
Sale price
$36.97
Unit price
per
Sale
Sold out
If you order within
Arrives by
A set for food enthusiasts
This food set is a great gift for any child. The toys are colorful, plump, realistic, textured…such a tease! Playing with the set will familiarize the kid with vegetables and colors. Let the artistic juices flow! Who knows, maybe there's a little Martha or Gordon at your house, and you don't even know it?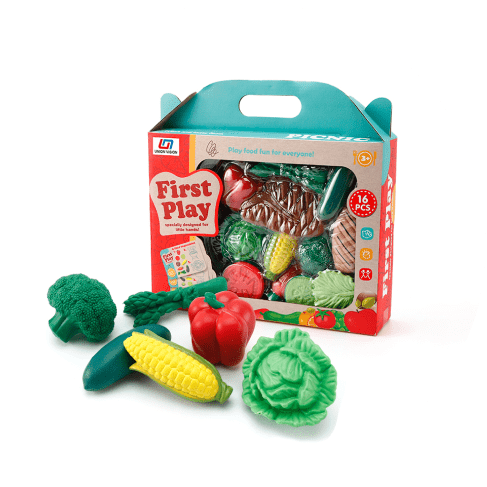 An economical alternative

Let them explore their passion without wasting food
And not only. It contains some grilled meat imitations and one vegetable: broccoli, cabbage, asparagus, carrot, corn, and bell pepper. There is one piece of sliced tomato and a cabbage leaf.
The veggies are made from harmless food-grade TPR plastic. The toys are very realistic, and your kid will most probably want to taste them or bite them – that's okay. They are made to be explored in a lot of ways!
With this set, your child can remember the names of different vegetables and how they look. The toys improve the sense of touch and fit the little arms perfectly. You can add more fun to the role-playing activities (kitchen or shop, for instance).
How do you store and care for the toys?
The best way to clean the toys is to wipe them with a damp cloth or wash them with soap. Do not boil the toys because they're hollow inside, and deformation can occur. The box size is 11.61x11.61x2.75 inches – it'll fit almost anywhere.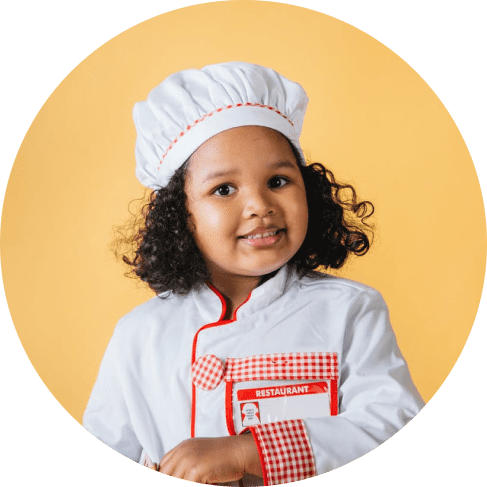 Support the discoverer's spirit in your child.
Your kid will LOVE this set. The beautiful toys are irresistible to touch and bite, and why would anyone resist? Develop the kid's intellectual and sensory abilities starting from the age of 2, occupy them, and add some fun to the games and role-plays you are used to. Save your money and the food while supporting the discoverer's spirit of the
baby
!

Looking for a delightful and educational toy for your child?

Explore the Vegetable Toy Set for Kids! This colorful set is designed to provide hours of imaginative play and learning with garden-fresh fun.
Here's why you'll love the Vegetable Toy Set:


Educational Fun: Help your child discover the world of vegetables and healthy eating.
Safe Play: Made from child-friendly materials, ensuring a safe playtime.
Imaginative Play: Encourage creative and role-play activities that boost cognitive development.
Parent-Approved: Join parents who have seen their children learn while having fun.

Nourish your child's imagination with the Vegetable Toy Set for Kids. Click now to add this enriching toy to your child's playroom.

FAQ (Frequently Asked Questions):

Q1: What is the Vegetable Toy Set for Kids?
A1: The Vegetable Toy Set is a collection of toy vegetables designed to engage children in imaginative play and introduce them to healthy eating.
Q2: What age range is this toy suitable for?
A2: This toy is typically designed for children aged 3 and up, making it suitable for preschoolers and older kids.
Q3: What is included in the set?
A3: The set typically includes a variety of toy vegetables, such as carrots, tomatoes, and broccoli.
Q4: Is it safe for kids to play with?
A4: Yes, the Vegetable Toy Set is typically made from non-toxic and child-friendly materials, ensuring it's safe for play.
Q5: How can this toy be educational?
A5: It introduces children to different vegetables and encourages discussions about healthy eating and cooking.
Q6: Is it easy to clean?
A6: Yes, this toy is usually easy to clean by wiping it down with a damp cloth.
Q7: Can it be used in a play kitchen?
A7: Yes, the Vegetable Toy Set is often a great addition to play kitchens, allowing for more creative cooking scenarios.
Q8: Are there small parts that could pose a choking hazard?
A8: The toy is typically designed with age-appropriate parts to minimize choking hazards.
Q9: Can I purchase the Vegetable Toy Set for Kids online?
A9: Yes, you can buy the Vegetable Toy Set online through our website. Click on the product, add it to your cart, and follow the checkout process to make it yours.
Q10: How can this toy help with cognitive development?
A10: Imaginative play with the Vegetable Toy Set fosters creativity and role-playing, enhancing cognitive skills.
View full details
Enjoy Free Shipping on Every Order
Experience the ultimate convenience with our free 3-day shipping service available to all customers throughout the United States.
24 x 7 Customer Support at Your Service
We offer customer support through live chat, email, or phone, making it easy for customers to get assistance with their inquiries.
Crafted with American Pride: All Our Products Are Made in the USA
Experience the assurance of exceptional quality and support local industries with our wide selection of products, all proudly made in the USA.
Peace of Mind: Our 14-Day Return Policy Has You Covered
We want you to love your purchases, which is why we offer a hassle-free 14-day return policy. If you're not completely satisfied with your order, simply return it within 14 days for a full refund or exchange.
Explore Our Diverse Range of Products
Our store offers a vast selection of products, giving customers the convenience of finding everything they need in one place.
Our Customers Award Us 5 Stars
We are thrilled to share that our products has received widespread acclaim from our valued customers, with an abundance of 5-star customer reviews pouring in.
Your Choice, Your Security: Explore Our Multiple Payment Options
We offer secure payment options, giving customers peace of mind when making transactions.
Track Your Orders at Every Step
Customers can track their orders in real-time and receive updates on their delivery status.