.
Regular price
$49.90
Sale price
$21.97
Unit price
per
Sale
Sold out
If you order within
Arrives by
A traveling toy set
Does your kid love car rides, road trips, and traveling? If yes, then check this set out! Your little one will love being the driver of an excellent bus and an RV!
Searching for the Perfect Traveling Toy Set for Kids?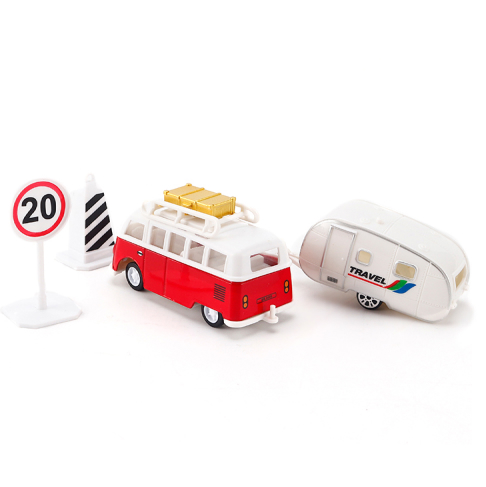 Everything a proper road trip needs

The perfect gift for the traveling lovers
It's easy to play with
The toys in this set are lightweight and easy to hold. The truck and the RV move with a light push. Every kid can enjoy them!
It's safe
The toys are made from PP plastic, which is 100% safe for little ones. Don't worry about any potential hazards!
It's durable
The plastic that we use in the production is also very durable. It's sturdy, and it can endure a lot of enthusiasm from the little travelers.
What's in the package?
The package includes a recognizable bus we have seen in the movies, an RV, a traffic cone, and a speed limit sign. The attributes of a real road trip! Package size: 11.4 x 3 x 1.6 inches.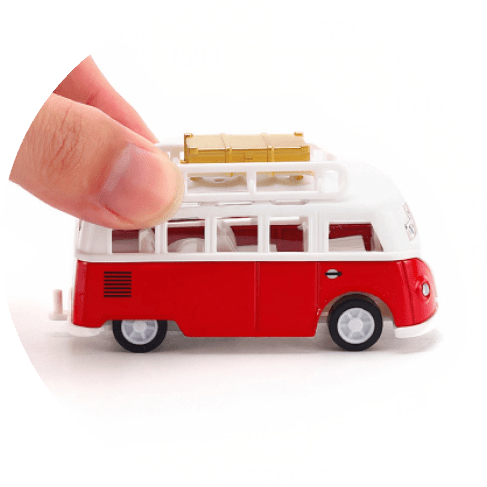 A road trip around your house
This
toy
set will bring your child a ton of fun. Realistic buses, RVs, and objects that we see every day on the road – the child will feel like a real driver. Explain some traffic rules, and let them enjoy being an authentic traveler for whom the only limit is the sky!

Long journeys or trips can be challenging to keep children entertained and engaged.
Boredom can strike quickly, leading to restless kids and frazzled parents during travels. It would be best if you had a solution to keep them entertained and happy on the go.
Introducing the Traveling Toy Set! This versatile set is designed to address these challenges, providing a variety of toys and activities to keep children engaged and excited during journeys.
Benefits of this Kids Traveling Toy Set:
Entertainment on the Go: Keeps children happily occupied during car rides, flights, and more.
Variety of Activities: Offers a range of toys, games, and puzzles for hours of play.
Compact and Portable: Designed to fit in a backpack or travel bag.
Endless Fun: Provides different options to prevent boredom.
Educational Elements: Includes learning activities for cognitive development.
Parent's Peace of Mind: Offers a hassle-free and enjoyable travel experience.
No Batteries Needed: Promotes screen-free entertainment.
Durable and Safe: Crafted from child-friendly materials for lasting use.
Unisex Appeal: Suitable for both boys and girls.
Ideal Travel Companion: Makes vacations and trips with children stress-free.
FAQ (Frequently Asked Questions):
Q1: What's included in the Traveling Toy Set?
A1: The set typically includes a variety of toys, games, puzzles, and activities designed to keep children entertained while traveling.
Q2: What age group is this set suitable for?
A2: The Traveling Toy Set is often designed for children aged 3 and up, making it ideal for preschoolers and older kids.
Q3: Is it safe for children to use?
A3: Yes, the set is crafted from non-toxic and child-friendly materials for safe play.
Q4: How does it help with educational play?
A4: The set often includes learning activities that engage children's cognitive development while having fun.
Q5: Are the toys and activities in the set compact and easy to carry?
A5: Yes, they are designed to be compact and easily portable for travel convenience.
Q6: Can children share the toys and activities in the set?
A6: Absolutely, the set is perfect for siblings or friends traveling together.
Q7: Do the toys in the set require batteries?
A7: No, the Traveling Toy Set is designed to provide screen-free entertainment without batteries.
Q8: Can I add or customize the toys in the set?
A8: While the set typically comes with a curated collection of toys, you can often add additional items that suit your child's preferences.
Q9: Is it suitable for long flights?
A9: Yes, the Traveling Toy Set is an excellent companion for long flights, helping keep children entertained during the journey.
Q10: Where can I purchase the Traveling Toy Set?
A10: You can buy the Traveling Toy Set online through our website. Select the product, add it to your cart, and follow the checkout process to make it yours for your upcoming travels.
View full details
Enjoy Free Shipping on Every Order
Experience the ultimate convenience with our free 3-day shipping service available to all customers throughout the United States.
24 x 7 Customer Support at Your Service
We offer customer support through live chat, email, or phone, making it easy for customers to get assistance with their inquiries.
Crafted with American Pride: All Our Products Are Made in the USA
Experience the assurance of exceptional quality and support local industries with our wide selection of products, all proudly made in the USA.
Peace of Mind: Our 14-Day Return Policy Has You Covered
We want you to love your purchases, which is why we offer a hassle-free 14-day return policy. If you're not completely satisfied with your order, simply return it within 14 days for a full refund or exchange.
Explore Our Diverse Range of Products
Our store offers a vast selection of products, giving customers the convenience of finding everything they need in one place.
Our Customers Award Us 5 Stars
We are thrilled to share that our products has received widespread acclaim from our valued customers, with an abundance of 5-star customer reviews pouring in.
Your Choice, Your Security: Explore Our Multiple Payment Options
We offer secure payment options, giving customers peace of mind when making transactions.
Track Your Orders at Every Step
Customers can track their orders in real-time and receive updates on their delivery status.