.
Regular price
$99.90
Sale price
$36.97
Unit price
per
Sale
Sold out
If you order within
Arrives by
How Can the Toaster Kitchen Play Set Ignite Creative Culinary Adventure?

This incredibly detailed Toaster Kitchen Set toy will help you teach your children table manners in a fun and engaging way.
It is excellent for play-pretend, so your kid may show off how he or she cares about you by preparing a toy sandwich.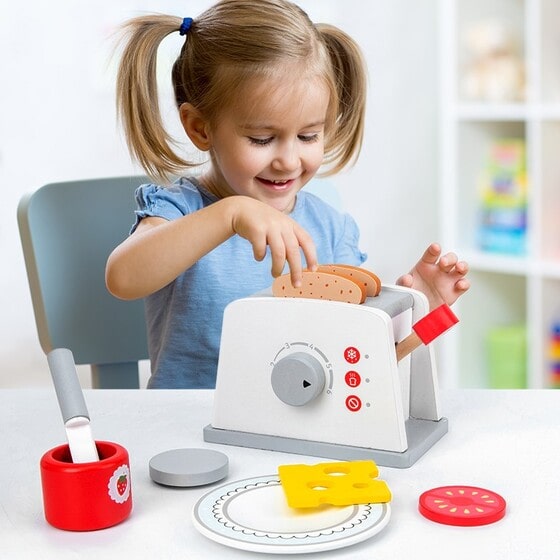 Toaster Kitchen Set
toy
specifications
100% safe
Made out of wood, this toy contains no toxic ingredients. The wood is polished for splinter-free use. No edges or sharp corners.
Educational toy
It helps your
kids
develop table manners, works excellent for playing pretend, and keeps them busy. Perfect for: 3 year old+.
Materials and construction
Material: wood. The set consists of 7 toys: a toaster (5.9 x 4 x 3.5 in), two toasts (2.7 x 2.6 x 0.4 in), a knife (4.3 x 0.6 in), jam jar (1.9 x 2 in), cheese slice (2.4 x 2.4 x 0.2 in), tomato slice (2 in) and a plate (4.4 in)—total weight: 21 oz.
Made to last
Children can be very active and often test our toys' durability. Our toaster kitchen set toy is incredibly sturdy and will still do its job even if it takes a bit of a beating from your tod.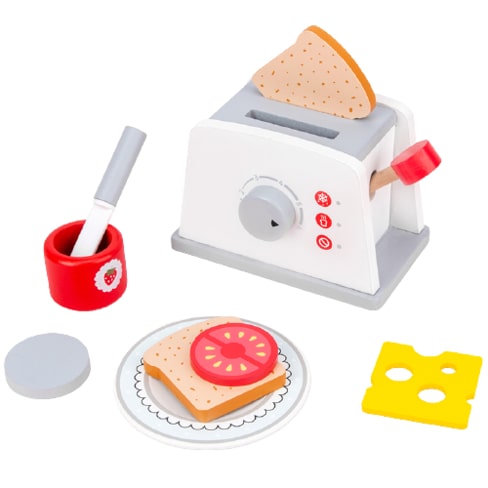 Made from eco-friendly materials
There are lots of cheap toys made of plastic. They are prone to breaking and can be toxic for your
kids
. We make our toys out of the safest and most eco-friendly material - wood! Our toy toaster works just like the real one, but without all the heat and electricity that could harm your kid.
Put the toy bread slices into the toaster, wait for dramatic effect, and press the eject lever! Enjoy the first sandwich your little one made for you!

Looking for a toy that engages your child's creativity and keeps them entertained?


In the digital age, it's often challenging to find toys that encourage imaginative play and captivate a child's interest. You want something that sparks their creativity and provides hours of entertainment.
Discover the Toaster Kitchen Play Set! This exciting playset addresses these challenges, offering your child endless opportunities for imaginative cooking adventures.

Benefits of this Kitchen Toy:


Imaginative Play: Encourages creativity and role-playing in the kitchen.
Safe and Durable: Made from child-friendly, durable materials for long-lasting play.
Realistic Features: Mimics the look and feel of a real toaster for a lifelike experience.
Motor Skills: Develops fine motor skills through interactive play.
Toaster Accessories: Includes toy bread slices, jam, and butter for a complete breakfast experience.
Educational Fun: Teaches children about cooking and meal preparation.
Unisex Appeal: Suitable for both boys and girls.
Compact Design: Perfect for small play areas and easy storage.
Parent-Approved: Loved by parents for its ability to entertain and educate.
Ideal Gift: This makes for a perfect gift that combines fun and learning.

FAQ (Frequently Asked Questions):

Q1: What does the Toaster Kitchen Play Set include?
A1: This set typically includes a toy toaster, toy bread slices, toy jam, and toy butter, providing a complete breakfast experience.
Q2: What age range is this toy suitable for?
A2: This toy is typically designed for children aged 3 and up, making it ideal for preschoolers and older kids.
Q3: Is it safe for children to play with?
A3: Yes, the Toaster Kitchen Play Set is typically crafted from non-toxic and child-friendly materials.
Q4: Does the toaster have any working features?
A4: While it doesn't have heating elements, it typically has interactive features like a lever miming toasting.
Q5: Is this toy easy to clean?
A5: Cleaning is usually as simple as wiping down the playset with a damp cloth.
Q6: Can it be used with other play kitchen sets?
A6: Yes, it often complements other play kitchen sets for more expansive play scenarios.
Q7: Is it suitable for both boys and girls?
A7: Absolutely, the Toaster Kitchen Play Set is unisex and perfect for any child.
Q8: How does it contribute to educational play?
A8: It teaches children about meal preparation, cooking, and breakfast traditions.
Q9: Is it compact and easy to store?
A9: Yes, it's designed to be compact and easy to store in small play areas. 
Q10: Can I purchase the Toaster Kitchen Play Set online?
A10: Yes, you can buy the Toaster Kitchen Play Set online through our website. Click on the product, add it to your cart, and follow the checkout process to make it yours.
Reviews
Our reviews are verified for authenticity
Perfect size for little hands! My daughter loves it!

It would have been nice if the toaster made a noise

Loved it!!! Good quality and so adorable

This is a cute set. I wish it was a little bigger. happy with the purchase.

Sturdy, good-quality toaster set.

My 3 year old loves this toy!

This is truly Wonderful. My nephew plays with this everyday in his kitchen.

Great toaster, very sturdy and looks and acts just like a toaster. My Granddaughter likes it very much.

Our kids have the best time with them and we love how durable they hold up. This toaster is absolutely adorable and great quality!
View full details
Enjoy Free Shipping on Every Order
Experience the ultimate convenience with our free 3-day shipping service available to all customers throughout the United States.
24 x 7 Customer Support at Your Service
We offer customer support through live chat, email, or phone, making it easy for customers to get assistance with their inquiries.
Crafted with American Pride: All Our Products Are Made in the USA
Experience the assurance of exceptional quality and support local industries with our wide selection of products, all proudly made in the USA.
Peace of Mind: Our 14-Day Return Policy Has You Covered
We want you to love your purchases, which is why we offer a hassle-free 14-day return policy. If you're not completely satisfied with your order, simply return it within 14 days for a full refund or exchange.
Explore Our Diverse Range of Products
Our store offers a vast selection of products, giving customers the convenience of finding everything they need in one place.
Our Customers Award Us 5 Stars
We are thrilled to share that our products has received widespread acclaim from our valued customers, with an abundance of 5-star customer reviews pouring in.
Your Choice, Your Security: Explore Our Multiple Payment Options
We offer secure payment options, giving customers peace of mind when making transactions.
Track Your Orders at Every Step
Customers can track their orders in real-time and receive updates on their delivery status.