If you order within
Arrives by
Regular price
$111.00 USD
Sale price
$56.99 USD
Unit price
per
Sale
Sold out
If you order within
Arrives by
Non-stop fun
This incredibly detailed Toaster Mini Kitchen Set toy will help you teach your children table manners in a fun and engaging way. It is great for play-pretend so that your kid may show off how he or she cares about you by preparing a toy sandwich.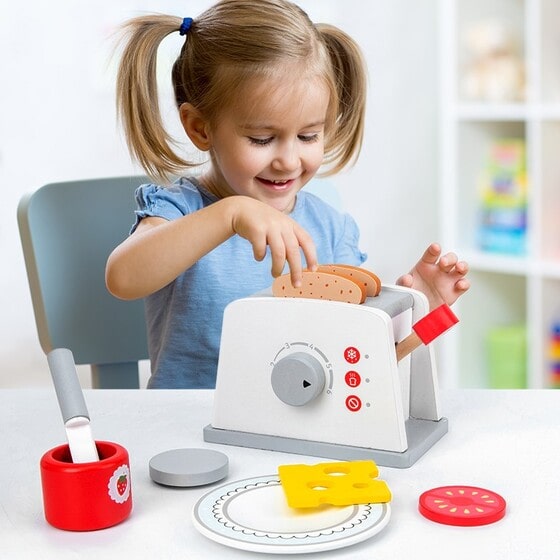 Toaster Mini Kitchen Set toy specifications
100% safe
Made out of wood, this toy contains no toxic ingredients. The wood is polished for splinter-free use. No edges or sharp corners.
Educational toy
It helps your kids develop table manners, works great for playing pretend, and keeps them busy. Perfect for: 3 year old+.
Materials and construction
Material: wood. The set consists of 7 toys: a toaster (5.9 x 4 x 3.5 in), two toasts (2.7 x 2.6 x 0.4 in), a knife (4.3 x 0.6 in), a jam jar (1.9 x 2 in), cheese slice (2.4 x 2.4 x 0.2 in), tomato slice (2 in) and a plate (4.4 in). Total weight: 21 oz.
Made to last
Children can be very active and test our toys' durability often. Our toaster kitchen set toy is incredibly sturdy and will still do its job even if it takes a bit of a beating from your tod.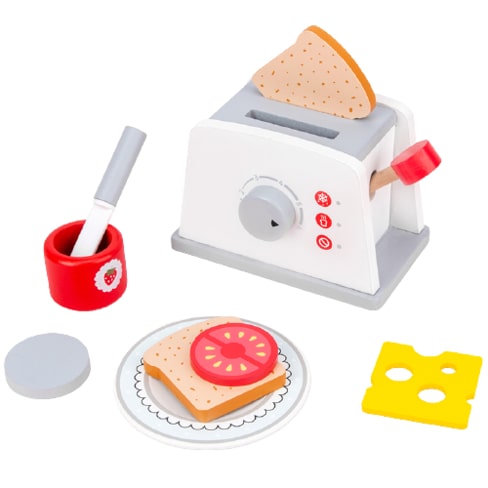 Made from eco-friendly materials
There are lots of cheap toys made of plastic; they are prone to breaking and can be toxic for your kids. We make our toys out of the safest and most eco-friendly material - wood! Our toy toaster works just like the real one, but without all the heat and electricity that could harm your kid. Put the toy bread slices into the toaster, wait for dramatic effect and press the eject lever!
Enjoy the first sandwich your little one made for you!
Reviews
Our reviews are verified for authenticity
Perfect size for little hands! My daughter loves it!

It would have been nice if the toaster made a noise

Loved it!!! Good quality and so adorable

This is a cute set. I wish it was a little bigger. happy with the purchase.

Sturdy, good-quality toaster set.

My 3 year old loves this toy!

This is truly Wonderful. My nephew plays with this everyday in his kitchen.

Great toaster, very sturdy and looks and acts just like a toaster. My Granddaughter likes it very much.

Our kids have the best time with them and we love how durable they hold up. This toaster is absolutely adorable and great quality!
View full details
Featured store in media
Homekartz has been constantly featured on top media sites like Fox, USA Today, Market watch and others
13,452+ Positive Reviews
So many positive reviews and happy customers cannot be wrong!
Free 3 day shipping
We provide free first class USPS and FedEx shipping on all orders.
24 x 7 support
We won't leave you alone! Every one gets 24 x 7 priority support.
90 Day Money Back Gurantee
We offer 90 days risk free trial with 100% satisfaction guarantee.
You help someone today
When you buy from us, we donate 10% of each sale to a child in need in the USA.
Made with Love
"Each product is made with not only the best material but a little bit of happiness and kindness too."
What customers say
*****

My 5 year old grand son loves the products that we bought from homekartz. They provide a high quality product.

*****

My daughter loves the toys that I purchased for her and we keep buying more toys for her from time to time.

*****

My kid loves the clothes that i got for him. Home kartz has really great clothes for different occassion.