Regular price
$57.00 USD
Sale price
$37.00 USD
Unit price
per
Sale
Sold out
Add some zest to your home decor
Keep your counter organized and maintain modern charm at your house with this stylish tissue box holder! Place it in any room and have your tissues conveniently displayed.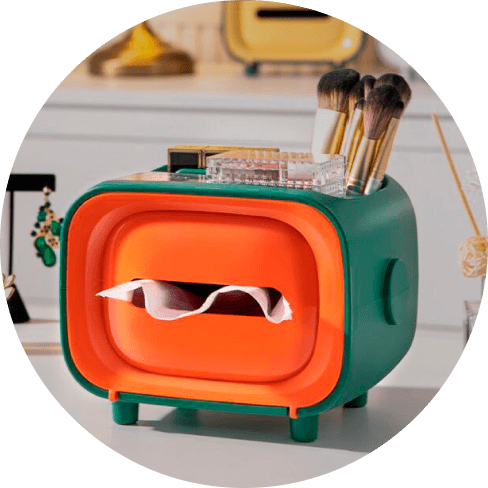 A trendy home accessory
High-quality material
Crafted from durable ABS plastic, the tissue box holder is waterproof and easy to utilize and refill.
Compact size
The tissue box holder is quite small (size: 7 in.*5 in.*6 in.) and lightweight (9 oz.) and can be put on a table or shelf.
Colorful design
Brighten up your space with this green-orange combination. This bright pop of colors won't be left unnoticed!
Practical & hygienic
Besides being super fashionable, this tissue box holder protects the tissues from both dirt and water.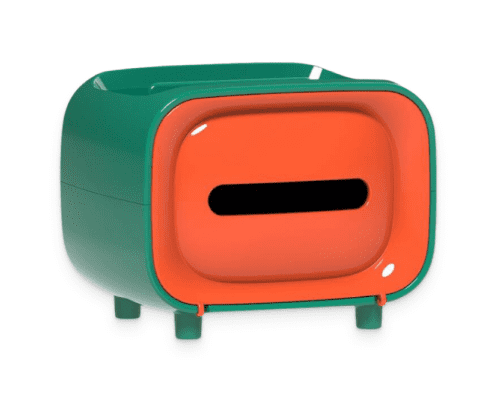 A universal holder
Have difficulties with organizing some items on your counter? Here's your solution! Keep your smartphone, headphones, watches, small TV remotes, and even makeup brushes all in one place. The box holder has two compartments at the top, providing you with enough space for some random stuff.
I really love the storage for this. I can finally have tissue on my bed without wasting space and having an ugly box getting tossed/crushed when I'm sick. I can set my late night medications on it as well as store remotes and other common nightstand needs in it. It's saved my bed from random clutter and I no longer lose things.

This just arrived yesterday, but I already know it's a successful purchase. It has 4 little silicone dots on the bottom so it won't slide around or damage surfaces. Best features: pretty and doesn't rise off the counter when you pull a tissue out.

Have been buying A TON of organizers because of boredom from being stuck inside the house and I love the idea of this one being able to hold tissues and more! Definitely a must have and is very convenient for on the bed side table

Very elegant looking. I gave it 4 stars just because the item is rather big and I was hoping for something a bit smaller to fit nicely on my small coffee table. But I'll make it work.

Works great. It's nice and heavy, so when you pull out a tissue the holder stays put. The storage on the back holds way more than I'd hoped. The overall design is really pretty.

I'm so glad I came across this organizer. Now my glasses, hand lotion, lip balm, and remote control for the lighting are all in one easy to find location.

Lovely item, I use it on my nightstand to cover the tissue box and cradle the tv remote controls. It's sturdy and well crafted. I would recommend it.

I have this near my bed. It's great for clutter control. It not only holds the tissues, but also my chapstick, my eye drops, my phone and the remote.

Beautiful! Sturdy, rubber feet so it doesn't move when you pull out a tissue. Fits more than I thought in the back slots. Def would buy again

I LOVE this!!! Heavy enough to keep the tissue box in place, small enough for my night table, just enough storage for what I need.

Perfect for a coffee table, as it accommodates not only tissues but tv remote and other accessories.

Absolutely love this! Holds all my makeup brushes and tissues! Looks glamorous on my vanity!

Easily distributes tissues and holds makeup brushes and etc on top. I really like it.

Was really surprised with the size of it and its beauty. Definitely a good purchase

This is a great way for me to keep my tissue, meds, lotions, etc next to my bed.

I am pleased with the quality and usefulness of the product.

What a brilliant idea to put a holder on a tissue box!

Love this product, exactly what I wanted

A bit larger would have been better

Comes in handy in any room
View full details
Featured site
Homekartz has been constantly featured on top media sites like Fox, USA Today, Market watch and others
24 x 7 support
We won't leave you alone! Every one gets 24 x 7 priority support.
2 to 4 day shipping
All products are shipped in 2 to 4 business days from USA Warehouse.
Happy Customers
So many positive reviews and happy customers cannot be wrong!
100% Satisfaction
We offer 90 days risk free trial with 100% satisfaction guarantee.
Support a cause
When you buy from us, we donate 10% of each sale to charity.