.
Regular price
$89.90
Sale price
$33.97
Unit price
per
Sale
Sold out
If you order within
Arrives by
The Saturday Baby Pacifier Clip

Are you a parent tired of constantly losing your baby's pacifier or seeing it fall to the ground? 
Introducing Saturday Baby Pacifier Clips – the ultimate solution to keep your baby's pacifier clean, within reach, and stylish.
Here's why you'll love it:
Safety First: Our pacifier clips are designed with your baby's safety in mind, featuring non-toxic materials and secure fasteners.
Never Lose a Pacifier Again: Say goodbye to frantic searches for lost pacifiers; our clips keep the pacifier handy.
Stylish Designs: Choose trendy and adorable designs to match your baby's outfits.
Versatile: These clips are not just for pacifiers but also great for securing teething toys and baby blankets.
Don't let the pacifier dilemma disrupt your day. Click now to order Saturday Baby Pacifier Clips and experience the convenience and style you and your baby deserve.
No more searching for the pacifier: keep your baby's pacifier off the floor and easily accessible! Featuring a combination of beech wood and food-grade silicone beads, The Saturday Baby Pacifier Clip easily attaches to your baby's clothes, teething ring, or blanket. It is just the perfect combination of fashion and function!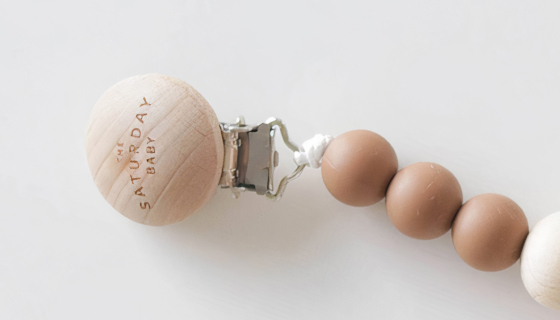 Keep their favorite pacifier close!
The Saturday Baby Pacifier Clip: features and details
Conveniently attach the pacifier clip to your baby's clothing to keep their binky from falling on the floor or getting lost when they're on the move! Perfect for playtime, car rides, or naptime, so you can eliminate the stress of finding pacifiers.
100% baby safe
The Saturday Baby pacifier clips are made of beech wood and 100% food-grade silicone, BPA-free and non-toxic, with the design curated from a carefully selected Pantone color scheme.
Attaches to any pacifier
The pacifier holder can be easily clipped onto all sorts of clothing and has a solid grip, ensuring it stays put. Attach the clips to the pacifier handle, and you and your little one will always know where the pacifier is!
Boosts sensory development
The different colors, textures, and shapes will grab your baby's attention and stimulate their visual, motor, and sensory development.
Details and specifications
The Saturday
Baby Pacifier
Clip features pastel-colored beads that are super adorable and look great on baby girls and boys. Dimensions: 11" l x 1" w x 0.5" h. Weight: 0.13 lb. Material: 100% silicone and beech wood.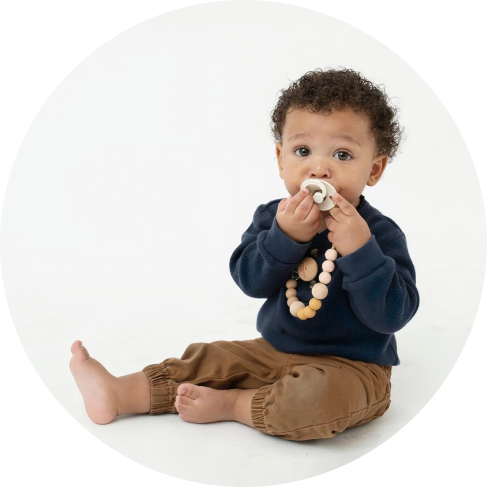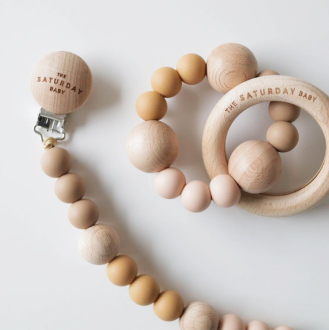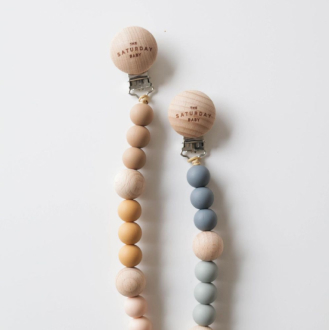 FAQ (Frequently Asked Questions):

Q1: Are these pacifier clips safe for my baby?
A1: Absolutely! Safety is our priority. Our pacifier clips are made from non-toxic, baby-safe materials and are rigorously tested for quality and durability.

Q2: How do these clips attach to pacifiers and other items?
A2: The clips feature a secure fastener attached to pacifiers, teething toys, and baby blankets. It keeps items in place without any risk of detachment.

Q3: Are they suitable for all pacifier brands?
A3: Our clips are designed to work with various pacifier brands, making them a versatile choice for any parent.

Q4: Can I wash these clips?
A4: Yes, they are easy to clean. Wipe them with a damp cloth or a baby-safe cleaning solution.

Q5: Are they durable?
A5: These clips are built to withstand everyday use and maintain quality. The materials and construction ensure they last throughout your baby's early years.

Q6: How many clips are included in a set?
A6: Each set includes multiple clips, making having spares or switching between designs to match your baby's style conveniently.
Reviews
Our reviews are verified for authenticity
Exactly as pictured! So cute! Love it

LOVE it! Cute, well made & multi purpose! My daughter loves chewing on the beads. I have no idea why anyone wouldn't love this, it's perfection for a pacifier holder!

Perfect - used this on the plane to keep my son's pacifier from falling on the floor and rolling down the aisle. He doesn't like to chew on the beads as much as I thought he would, he prefers to chew on the clip when it's not attached to something. Only reason I took away a star is that I thought that it would be longer.

I LOVE THIS!! My son likes to chew on things rather than suck on his binky so i ordered these and let me tell you, they are a lifesaver!! Keeps the baby busy and happy!

Beautiful pacifier clips! The beads are very soft and these are pretty good quality for the price. We haven't used them very much yet but I suspect that they'll hold up well. I got them to match our Ryan and Rose pacifiers.

I love these pacifier clips! I thought they were the perfect thing for my little girl, who likes to launch her pacifiers out of her mouth like a rocket. They also will double as teethers when she's older, and are easy to clean. So glad I got these!

My little one seems to really enjoy this interactive pacifier tether/teether. It's very pleasant to handle, looks nice with her clothes, and is very easy to clean, which is a huge plus! My one concern was that it would be too heavy for an infant, but it isn't at all. Plus the clip is a nice touch, as it's very gentle on clothes, and seems safer than other clips.

I highly recommend it! My little one just turned 7 months old and we have been using these for around 6 of those months. We used it to secure her plush toy + pacifier the first few months, now we're using them for a teether. She LOVES them, I love that they're easy to clean. We just ordered another one because we like having these on sippy cups and feeders because her new favorite game is "go fetch, mom".
View full details
Enjoy Free Shipping on Every Order
Experience the ultimate convenience with our free 3-day shipping service available to all customers throughout the United States.
24 x 7 Customer Support at Your Service
We offer customer support through live chat, email, or phone, making it easy for customers to get assistance with their inquiries.
Crafted with American Pride: All Our Products Are Made in the USA
Experience the assurance of exceptional quality and support local industries with our wide selection of products, all proudly made in the USA.
Peace of Mind: Our 14-Day Return Policy Has You Covered
We want you to love your purchases, which is why we offer a hassle-free 14-day return policy. If you're not completely satisfied with your order, simply return it within 14 days for a full refund or exchange.
Explore Our Diverse Range of Products
Our store offers a vast selection of products, giving customers the convenience of finding everything they need in one place.
Our Customers Award Us 5 Stars
We are thrilled to share that our products has received widespread acclaim from our valued customers, with an abundance of 5-star customer reviews pouring in.
Your Choice, Your Security: Explore Our Multiple Payment Options
We offer secure payment options, giving customers peace of mind when making transactions.
Track Your Orders at Every Step
Customers can track their orders in real-time and receive updates on their delivery status.