.
Regular price
$59.90
Sale price
$24.97
Unit price
per
Sale
Sold out
If you order within
Arrives by
The Mod Orthodontic Pacifier

Finally, here's a pacifier that soothes babies and parents, too. This Orthodontic Silicone Pacifier is backed by science to support your baby's breathing and oral development actively and also helps them to sleep better.
Will this pacifier soothe my baby and help them sleep better?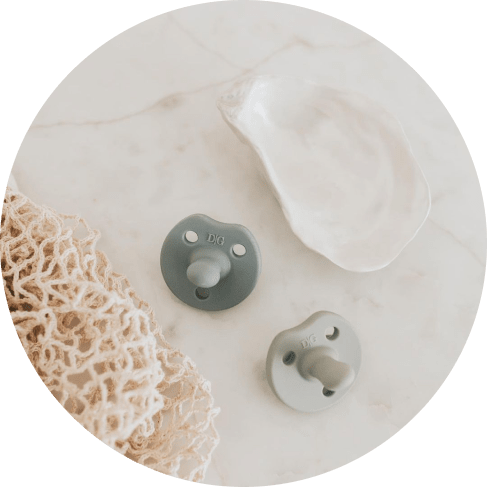 The Mod Pacifier: features and benefits
Orthodontic, supportive shape
This classic orthodontic pacifier adapts to your baby's mouth, constantly in the correct position. This helps support the palate and the development of wide, healthy grins.
Extra-small teat
The pacifier's unique breast-like nipple is shaped to soothe the baby like the mom. This makes for an easy transition from breast to a pacifier.
Comfortable and stylish
The lightweight handle lets
babies
keep the pacifier in their mouth, and the neutral greyish color tops it off!
Free from harmful substances
This pacifier is made of 100% silicone and is free of BPA, PVC, latex, and phthalate. CPSIA tested and certified. It meets all safety requirements.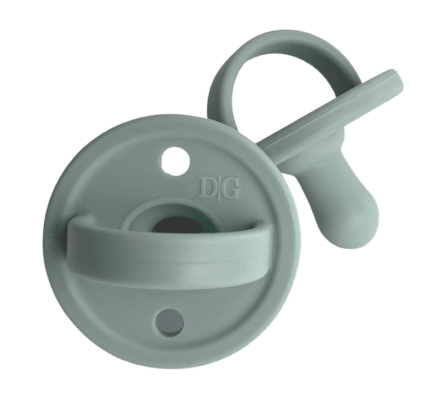 Details and care
Age: the first year (0m-12m). Dishwasher safe (top rack only). Please note: This is NOT a teether. These pacifiers are strictly for soothing ONLY.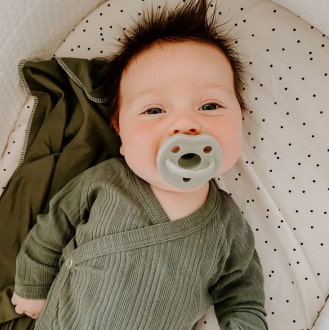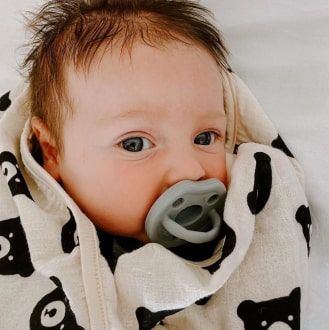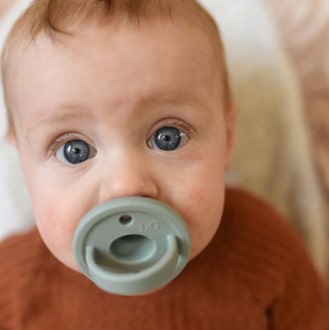 Are you searching for a stylish and soothing baby accessory?

We are introducing our Baby Mod Pacifier in Farrow! This chic pacifier is designed to keep your baby content while making a fashion statement.


Here's why you'll love the Baby Mod Pacifier - Farrow:


Fashionable Design: The pacifier combines style and soothing comfort, ensuring your baby looks adorable while being content.
Safe and Reliable: Crafted with baby-safe materials, it's designed for your baby's well-being and provides a calming effect.
Practical and Stylish: This pacifier is the perfect blend of fashion and function, making it an essential accessory for your baby.
Parent-Approved: Join the many parents who have found convenience and style with the Baby Mod Pacifier.

FAQ (Frequently Asked Questions):

Q1: What is the Baby Mod Pacifier in Farrow? 
A1: The Baby Mod Pacifier in Farrow is a chic and soothing pacifier designed for babies, providing both style and comfort.
Q2: Is the Baby Mod Pacifier safe for babies? 
A2: Yes, our pacifier is made from non-toxic, baby-safe materials and is designed to meet safety standards, ensuring it's safe for your baby.
Q3: What age range is this pacifier suitable for? 
A3: The Baby Mod Pacifier is suitable for infants and babies, typically from newborns up to 6 months.
Q4: Is the pacifier easy to clean? 
A4: Yes, the Baby Mod Pacifier is easy to clean with warm, soapy water. Regular cleaning is recommended to maintain hygiene.
Q5: Does the Baby Mod Pacifier come with a pacifier clip or case? 
A5: Some versions of the Baby Mod Pacifier may come with a pacifier clip or case. Please check the product description for details on the specific package.
Q6: Can I use the Baby Mod Pacifier to help calm my baby? 
A6: Absolutely, the Baby Mod Pacifier is designed to provide soothing comfort to babies, helping to calm and soothe them.
Q7: Is the pacifier BPA-free? 
A7: Yes, the Baby Mod Pacifier is typically made from BPA-free materials, ensuring it's safe for your baby.
Q8: Is the Baby Mod Pacifier a suitable gift for baby showers or newborns? 
A8: Yes, the Baby Mod Pacifier makes an excellent and stylish gift for baby showers and newborns, offering fashion and function.
Q9: How can I purchase the Baby Mod Pacifier in Farrow? 
A9: You can purchase the Baby Mod Pacifier online through our website. Click on the product, add it to your cart, and follow the checkout process.
Q10: Do you offer international shipping? 
A10: We primarily ship within the United States, but don't hesitate to contact our customer support for international shipping inquiries.
Reviews
Our reviews are verified for authenticity
I can only hope my baby will take pacifiers because after buying this one, I can already say I'm going to be buying more very soon! The colors are perfect and I love how they're 100% silicone

These pacifiers are very beautiful to look at and have a really luxurious feel. These are also very soft so I feel like I don't have to worry about teeth issues. They are easy to clean being made of the solid silicone material

My grandson loves these over others. He is teething and these are the only ones that calm him.

My baby loves this pacifier and the best part is, there is no mouth irritation. 10/10 would recommend.

I have finally found the pacifier that my baby accepts and DOES NOT FALL OUT! I have tried so many different types of pacifiers but none of them were a match. I almost gave up but my son kept bringing everything he grabs to his mouth so I tried this paci as a last resort. I was so happy I purchased another one right away!!

We absolutely love the design, color and functionality of this pacifier. My son loves the soft silicone and took to it immediately.

They are cute pacifiers and a type my adorable son likes. One of the other reasons I like them are because he can easily grab a hold of them because of the loop handle - helps him with some of his motor skills...lol

I'm new to the pacifier game, but my baby took to this pacifier better than some others. We also get TONS of compliments on how cute it is.

Everything about this pacifier is awesome! I got this for my baby at 5 months (he's now 6 months) because he wouldn't take to any other pacifiers. Now this is the ONLY paci that he will put in his mouth.

I've tried a bunch of pacifiers with my son and he hated all of them. I wanted to find something because he loves to comfort nurse and I didn't want to be tied down all of the time for that. I heard about these from a friend and bought one. He loves it!! So I've bought two so far!

Baby can't keep it in his mouth. May have to wait till he is older to use it for teething.

They're pretty but heavier than I was expecting. Baby drops it a lot.
View full details
Enjoy Free Shipping on Every Order
Experience the ultimate convenience with our free 3-day shipping service available to all customers throughout the United States.
24 x 7 Customer Support at Your Service
We offer customer support through live chat, email, or phone, making it easy for customers to get assistance with their inquiries.
Crafted with American Pride: All Our Products Are Made in the USA
Experience the assurance of exceptional quality and support local industries with our wide selection of products, all proudly made in the USA.
Peace of Mind: Our 14-Day Return Policy Has You Covered
We want you to love your purchases, which is why we offer a hassle-free 14-day return policy. If you're not completely satisfied with your order, simply return it within 14 days for a full refund or exchange.
Explore Our Diverse Range of Products
Our store offers a vast selection of products, giving customers the convenience of finding everything they need in one place.
Our Customers Award Us 5 Stars
We are thrilled to share that our products has received widespread acclaim from our valued customers, with an abundance of 5-star customer reviews pouring in.
Your Choice, Your Security: Explore Our Multiple Payment Options
We offer secure payment options, giving customers peace of mind when making transactions.
Track Your Orders at Every Step
Customers can track their orders in real-time and receive updates on their delivery status.