If you order within
Arrives by
Regular price
$79.99 USD
Sale price
$44.99 USD
Unit price
per
Sale
Sold out
If you order within
Arrives by
Tawashi Vegetable Brush
This 100% organic Scrubbing Coconut Fibre Brush is obtained from the fruit of the coconut palm. It is ideal as a vegetable brush, as a kitchen scourer, as a body massager, as a shoe and garment brush or even as a gardening brush or as a household, bathroom or car cleaning brush. Made in India, the brush is 100% organic, natural, and toxic-free.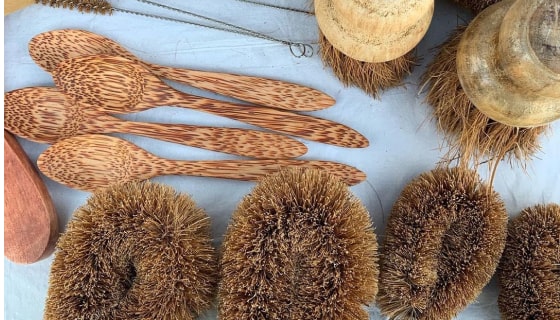 Multifunctional & convenient
The many uses of the Tawashi Brush
As a vegetable brush
It has been designed to thoroughly clean all types of vegetables: potatoes, root varieties, or even more sensitive vegetables.
As a kitchen brush or scourer
It is great for cleaning all kinds of cooking pots and pans because coconut fibre won't scratch neither stainless steel nor pottery or glass.
As a body brush
It is a tough massager that stimulates circulation, removes dead skin, helps eliminate body toxins, reduces cellulite, and gives a great massage.
As a household brush
It is perfect for scrubbing mats, floors, tiled walls, bath tubs. The brush can also be used outside for cleaning plant pots in the garden and so on.
How to use the Scrubbing Coconut Fibre Brush:
• Rinse it after each use • Store it in a dry place • If the sponge changes colour or starts to smell, it is time to replace it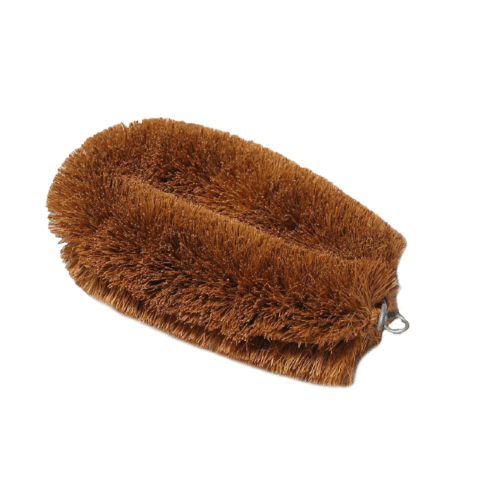 Scrubbing Coconut Fibre Brush dimensions:
• Length: 9,7 cm (11 cm. with the loop) • Width: 8,2 cm • Width: 4,8 cm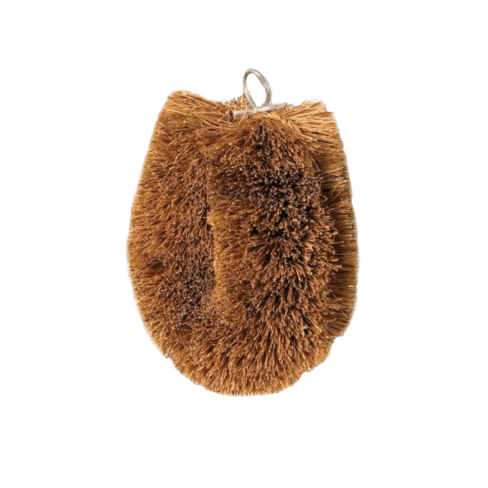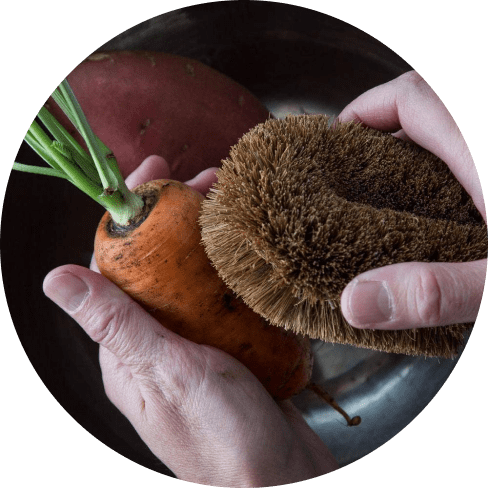 Better for the planet
This 100% coconut fibre kitchen brush is ethically handmade in India using biodegradable and natural coconut fibres. We believe that these sustainable brushes will help you in your own mission to reduce plastic waste in your life and lessen your footprint on the Earth.
It's not plastic and does the job.

Love these. Work brilliantly and no plastic.

Great brushes. I use them for scrubbing my vegetables as they're a good shape to hold.

Natural product, bought for scrubbing potatoes and they do the job very well!

These are brilliant, they last ages, they stay clean, they don't smell, I highly recommend them. Just rinse any food bits off with hot water, shake, leave to dry until next time, perfect.

Excellent brushes for any number of chores! I am a big fan! Great quality, well made. Durable.

Great for scrubbing veggies. Fits the hand well, doesn't slip. The natural bristles give enough friction to clean any dirt without bruising the veg. Best one I've ever had.

Easy to hold and use. I bought it to scrub potatoes before microwaving them with the skins on. I'm glad I bought it, as it's the best thing yet I've tried for the purpose for which it was purchased.

Love these things! They are the perfect sponge/brush. They leave all dishes sparkling clean and without a scratch.

So glad I bought these. Scours out cups and removes stains. Scrubs up pans without damaging them and is made from a biodegradable product.

When they arrived I was a little disappointed BUT OMG, I NOW LOVE THEM. Such a great item. Totally recommended. I will deffo buy them again.

totally brilliant - use them for everything. very versatile and useful. So good. So much better than anything plastic i have ever used in the past - better than anything in fact. You will be thrilled with your purchase.

Probably one of my best purchases, I recommend this to everyone.Fabulous quality, eco friendly, can't fault them, am buying these for all my friends!

A nice natural alternative. Very handy for cleaning veg. Not hard or scratchy enough to damage fruit, but firm enough to get dirt off a spud. Lasting well ( had it about 6 months now) and no bristles have fallen off.

The coconut fibres on this brush are very stiff, but bend when too much force of used to maintain a firm but not damaging pressure on the surface. Have used this on potatoes and it doesn't damage the skin but does remove soil/debris.

I had already purchased one of these little critters which I hang next to my veg plot stand tap. It's great for cleaning seed trays, pots, tools and even scrubbing grubby hands and fingernails… Highly recommend as a must have one does it all ergonomic gadget.

I planned to use the smallest of these to replace my kitchen sponge because sponges are unhygienic and must be replaced constantly. The plastic that most sponges are made of break down into micro particles that tiny aquatic life easily mistake for food. After nine months of three times a day usage, my first brush is still going strong and works as well as day one. I've cleaned and disinfected it every week and it has never held on to or developed any odours, even from curries, onions and the like. It takes a bit of getting used to when replacing the sponge, but it excels in certain jobs and has prevented me from contributing to environmental degradation. In reflection, I have saved quite a bit of money in sponges as well, and just the small brush has paid for what this set costs. The larger sponges are very handy for shower cleaning and even bike cleaning.

Very easy and good for removing lime scale from areas in the bathroom etc. handy little brush

It's okay but softer than expected.
View full details
Featured store
Our products are featured in top news publications including Fox, Newyork times & USA Today
Trusted by 1000+ customers
We are thankful to each customer for showing trust in our products.
24 x 7 support
We won't leave you alone! Every one gets 24 x 7 priority support.
2 to 4 day shipping
All products are shipped in 2 to 4 business days from USA Warehouse.
Happy Customers
So many positive reviews and happy customers cannot be wrong!
100% Satisfaction
We offer 90 days risk free trial with 100% satisfaction guarantee.
Made in the USA
All our products are made with love in the USA