.
Regular price
$79.90
Sale price
$30.97
Unit price
per
Sale
Sold out
If you order within
Arrives by
Are you searching for a fun, educational toy to ignite your child's imagination?

Introducing the Sushi Toy for Kids! This delightful playset is designed to engage your child in imaginative culinary adventures while providing valuable learning experiences. It's not just a toy; it's a recipe for hours of creative play.

Imagine your child playing chef, creating sushi masterpieces, and exploring the world of flavors and textures. Picture their excitement as they embark on culinary adventures right at home. This isn't just a toy; it's your child's ticket to a world of fun, creativity, and learning.

This beautifully detailed sushi set toy is excellent for teaching your kid table manners, all while having fun and developing hand-eye coordination. Complete with eight pieces of wooden sushi, this toy is excellent for cooking role-play. Watch your little one become a master sushi chef with this adorable sushi set toy!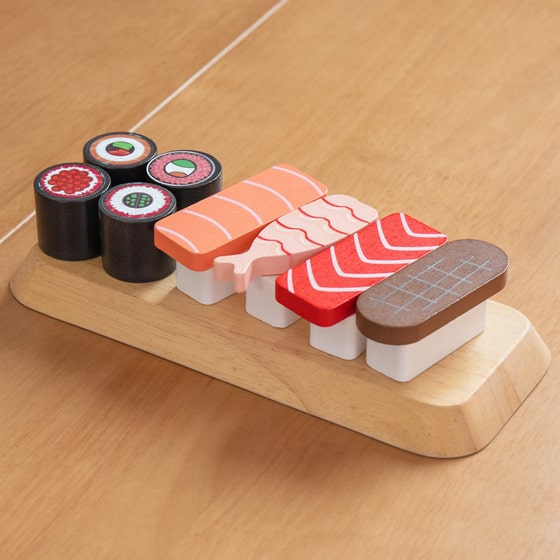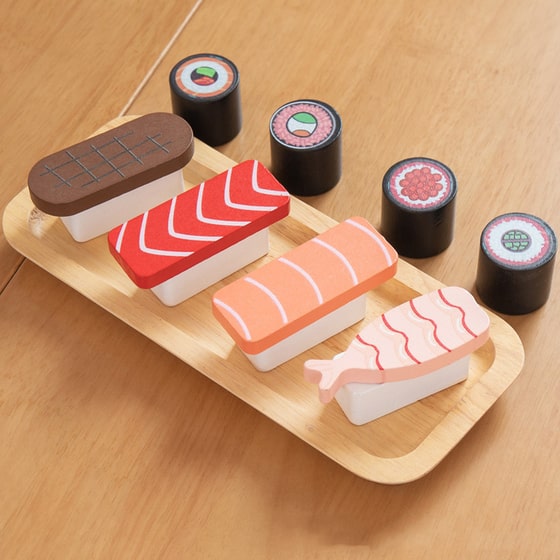 Sushi toy specifications
100% safe
Made out of wood, this toy contains no toxic ingredients. The wood is polished for splinter-free use. No edges or sharp corners. Painted with non-toxic paint.
Made to last
Children can be very active and often test our toys' durability. Our Sushi toy is incredibly sturdy and will still do its job even if it takes a bit of a beating from your tod.
Quality and attention to detail
Making sure our customers are happy is vital for us. We use only the best quality materials. Perfect for: 3 year old+.
Materials and construction
Material: wood. Shape: sushi set. Size: 8.7 in x 4 in x 1.8 in.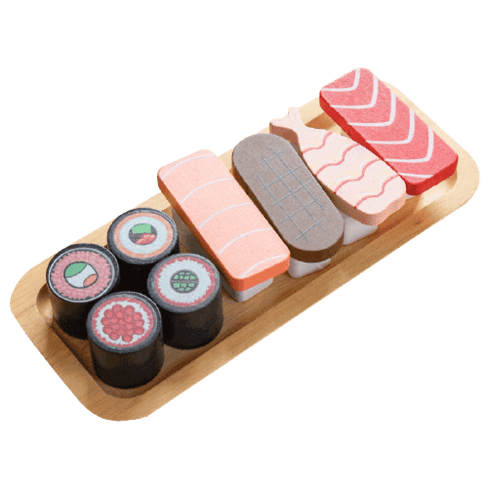 Love sushi? Your kid will love it, too.
Kids
grow up so fast these days. Get a toy that will bring more treasured memories of your time together! A colorful set that turns sushi into a fun playing object while developing imagination through role-play and fun interactions. Crafted from quality wood to ensure you and your kid have the experience of a lifetime!
Benefits of Sushi Toys for Kids:

Educational Play: Encourages imaginative play and introduces kids to different foods and cultures.

Safe Materials: Made from child-friendly, non-toxic materials for worry-free play.

Realistic Design: Mimics the appearance of sushi rolls, enhancing the play experience.

Enhances Motor Skills: Helps develop fine motor skills as kids assemble and disassemble sushi pieces.

Creative Play: Fosters creativity as kids invent their sushi recipes and stories.

Social Interaction: Ideal for group play and sharing culinary adventures with friends and family.

Quality Construction: Durable and built to withstand hours of play.

Easy to Clean: Simple to wipe down or wash, maintaining cleanliness and hygiene.

Compact and Portable: Easy to carry for on-the-go play and travel.

Gender-Neutral: Suitable for kids of all genders.

Culinary Exploration: Introduces kids to the world of food and cooking playfully.

Perfect Gift: Makes a unique and engaging gift for birthdays and special occasions.

Enhances Cognitive Skills: Develops problem-solving skills through imaginative scenarios.

Stimulates Senses: Engages multiple senses, from touch to sight and imagination.

Endless Play: Provides endless entertainment as kids create new sushi combinations.
Frequently Asked Questions (FAQ)

1. Is the Sushi Toy for Kids safe for young children?
Yes, it's typically designed with child safety in mind and made from non-toxic materials.
2. How do I clean the Sushi Toy for Kids?
Most toy sets are easy to clean with mild soap and water. Check the care instructions for specific details.
3. Can my child combine the sushi pieces in different ways?
Kids can mix and match sushi pieces to create unique combinations.
4. Is this toy suitable for solo play or better for group activities?
It's versatile and can be enjoyed individually and with friends or family.
Reviews
Our reviews are verified for authenticity
Great little creative play sushi platter. My grandsons just love pretending to be sushi chefs.

Lovely set! The reason I didn't give it 5 stars is because our it didn't come with chopsticks

Truly adorable set for sushi lovers. Our son adores this set. Worth the cost. Hape never disappoints.

This is amazing! The size of the pieces seem right. It's very detailed, even the box is nice. I love this set!

I like how it arrived on time. I got this for my niece and she absolutely loves it. She's 3 years old, I definitely recommend it for children ages 3 and older.

My family loves sushi so my older children bought this for my 4 yr old. She has several wooden food sets in her kitchen and this is her new favorite.❤️

The wood and paint is good quality. This toy is really made well. My son also likes to stack them together. Apart from a pretend toy it builds his coordination as well.
View full details
Enjoy Free Shipping on Every Order
Experience the ultimate convenience with our free 3-day shipping service available to all customers throughout the United States.
24 x 7 Customer Support at Your Service
We offer customer support through live chat, email, or phone, making it easy for customers to get assistance with their inquiries.
Crafted with American Pride: All Our Products Are Made in the USA
Experience the assurance of exceptional quality and support local industries with our wide selection of products, all proudly made in the USA.
Peace of Mind: Our 14-Day Return Policy Has You Covered
We want you to love your purchases, which is why we offer a hassle-free 14-day return policy. If you're not completely satisfied with your order, simply return it within 14 days for a full refund or exchange.
Explore Our Diverse Range of Products
Our store offers a vast selection of products, giving customers the convenience of finding everything they need in one place.
Our Customers Award Us 5 Stars
We are thrilled to share that our products has received widespread acclaim from our valued customers, with an abundance of 5-star customer reviews pouring in.
Your Choice, Your Security: Explore Our Multiple Payment Options
We offer secure payment options, giving customers peace of mind when making transactions.
Track Your Orders at Every Step
Customers can track their orders in real-time and receive updates on their delivery status.