If you order within
Arrives by
Regular price
$111.00 USD
Sale price
$50.99 USD
Unit price
per
Sale
Sold out
If you order within
Arrives by
A new friend for your baby
A cute and universal lamp
Is your child afraid of the dark? Do you need a portable lamp, just in case? Or do you need to create some atmosphere? This cute deer antler horn lamp will do just right.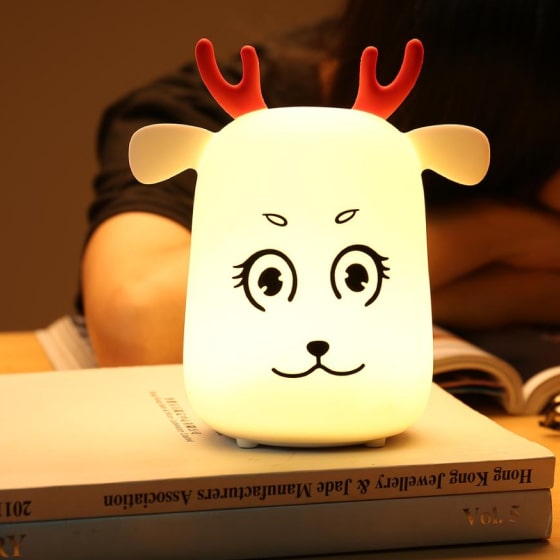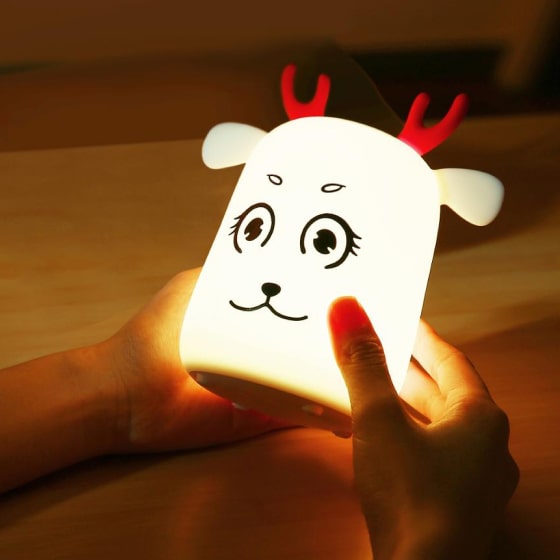 You won't want to choose any other lamp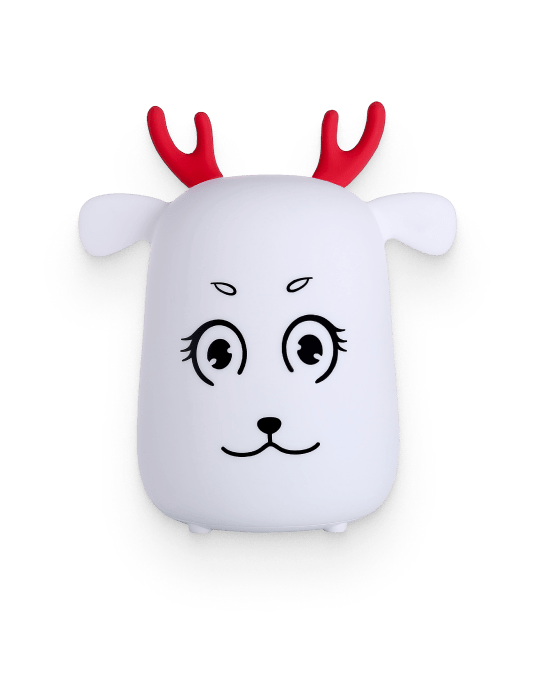 A perfect addition to any room
The white color and simple shape make this lamp quite versatile regarding its look. It will suit any room! The size of 6.29 x 5.70 x 3.97 inches makes it not cumbersome.
Versatile
This lamp has warm and colorful light modes (7 colors). Whether you want to have some light to do something in the dark, create an atmosphere, or even entertain your child - this lamp will help you out.
This deer will be so dear
This deer surely will be a loyal friend. It can work for 20 hours straight with warm light (no colors), and for 4 hours in a colorful light mode. Warm light mode is not harmful to your child's eyes, so it's a perfect night lamp. Charging time is 3 hours - less than some smartphones! This universal lamp will be a helper for you, and a company for your kid.
Frequently Asked Questions
1. What are deer antler horn lamps made of?
Deer antler horn lamps are made of real deer antlers. The antlers are cleaned, sanded, and then mounted onto a metal lamp base. The antlers are sometimes painted or stained to create different designs and looks.
2. How do I care for a deer antler horn lamp?
To care for a deer antler horn lamp:
Dust it regularly with a soft, dry cloth.
Do not use harsh chemicals or abrasives to clean the lamp. If it needs a more thorough cleaning, use a mild soap and water solution.
Avoid using water near any electrical cords or switches.
If necessary, use a hair dryer on its lowest heat setting to dry any areas that may have gotten wet.
3. What is the size of a deer antler horn lamp?
The size of a deer antler horn lamp will vary depending on the type and size of antler used. Generally, the size of the lamp is determined by the size of the antler, which can range from a few inches to several feet in length.
4. What is the price of a deer antler horn lamp?
The price of a deer antler horn lamp can vary widely depending on the product's size, design, and quality. Prices can range from a few dollars to hundreds of dollars.
5. Is a deer antler horn lamp suitable for outdoor use?
No, a deer antler horn lamp is not suitable for outdoor use as it is not waterproof or weatherproof.
6. Does a deer antler horn lamp require any particular installation?
No, a deer antler horn lamp does not require any particular installation. The lamp usually comes with a cord and plug plugged into a wall outlet.
7. How long does a deer antler horn lamp last?
The life expectancy of a deer antler horn lamp can vary depending on the quality of the lamp and how well it is maintained. Generally, a deer antler horn lamp can last up to several years with proper care and maintenance.
8. Is a deer antler horn lamp safe to use?
It depends. Generally, antler lamps are considered safe to use; however, if the lamp is not wired correctly, it could pose a fire hazard. Additionally, if the lamp is made of real antlers, the antlers can shed sharp pieces. If you are concerned about safety, it is best to buy a lamp that has been professionally wired and is made of a non-shedding material.
9. How many bulbs does a deer antler horn lamp require?
The number of bulbs a deer antler horn lamp requires will depend on the type and size of the lamp. Some antler horn lamps may require one bulb, while others require multiple bulbs.
Reviews
Our reviews are verified for authenticity
This is really cute and well made. Love that it works on batteries so you can bring it anywhere and since it's nice and squishy this night light will definitely not stay in one spot!

I really like this product and it's very cute when not lite up. Light control is great with changing colors. My niece absolutely loves it. The seller was great and I will definitely buy it again.

Great for a little toddler. My son loves squeezing this and watching the colors change. It's soft and he can even cuddle it. The only concern I would have would be that younger babies might chew on the antlers which protrude from the head.

Bought my granddaughter this cute deer night light! It's super bright & very soft! Love that it so much. My granddaughter loves that she can bring her night light in the bathroom when she has to go to the bathroom.

This is the cutest night light ever! Right when I opened the box I started smiling because of how cute it is. It's the perfect night light and awesome gift to give someone. You will definitely have a smile on your face whenever you look at it.

It is a soft squishy night light with a cute shape, so I can take it anywhere. While it may be intended for a nursery or kid's bedroom, I'm an adult and I had to have it. The deer is so adorable and you can easily make it change colors by tapping the head. I love how the manufacturer paid attention to detail and made the deer's antlers red.

This little nightlight is so adorable. My girls love it. We like to bring on our camping trips as well in our travel trailer. They carry it to walk around the trailer at night and to walk to the outdoor restrooms. It's bright but also has different dimmer settings and multiple light color selections. They also have one in the home bedroom. Recommend it!
View full details
Featured store in media
Homekartz has been constantly featured on top media sites like Fox, USA Today, Market watch and others
13,452+ Positive Reviews
So many positive reviews and happy customers cannot be wrong!
Free 3 day shipping
We provide free first class USPS and FedEx shipping on all orders.
24 x 7 support
We won't leave you alone! Every one gets 24 x 7 priority support.
90 Day Money Back Gurantee
We offer 90 days risk free trial with 100% satisfaction guarantee.
You help someone today
When you buy from us, we donate 10% of each sale to a child in need in the USA.
Made with Love
"Each product is made with not only the best material but a little bit of happiness and kindness too."
What customers say
*****

My 5 year old grand son loves the products that we bought from homekartz. They provide a high quality product.

*****

My daughter loves the toys that I purchased for her and we keep buying more toys for her from time to time.

*****

My kid loves the clothes that i got for him. Home kartz has really great clothes for different occassion.