If you order within
Arrives by
Regular price
$49.00 USD
Sale price
$39.00 USD
Unit price
per
Sale
Sold out
If you order within
Arrives by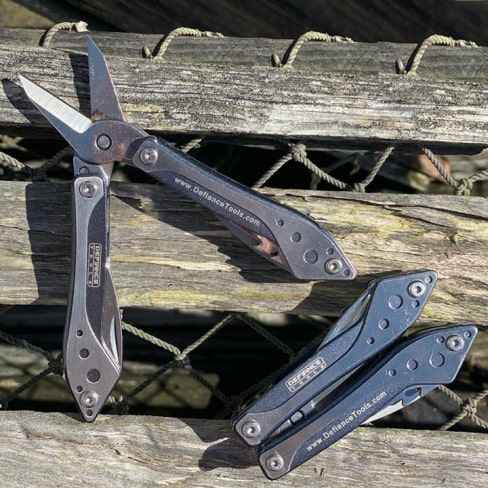 Scissors & Pliers Multi Tool Keychain
In a car, it's critically important to have a tool that can get you out of any emergency situation. However, it's extremely difficult to choose the one that will suit your needs perfectly. That's why it's a good idea to look at multi-tool combos like this! Meet Scissors & Pliers Multi Tool Keychain!
Scissors & Pliers Multi Tool Keychain
A multi tool to always have with you
7-function scissors multi tool
The spring-loaded scissors multi tool includes the following tools: scissors, eyeglass slotted screwdriver, bottle opener, wood/metal file, slotted screwdriver, Phillips screwdriver, sharp knife.
8-function pliers multi tool
The spring-loaded pliers multi tool includes the following tools: flat nose pliers, wire stripper, regular pliers, wire cutter, Phillips screwdriver, small sharp knife, slotted screwdriver.
Perfect for gifts and not only
Whether this is for your father, mother, husband, wife, son, daughter, boyfriend or girlfriend, the EDC Multi Tool Combo Kit by Defiance Tools makes a thoughtful gift. Great tool to have for fishing or hunting. Makes a great camping accessory.
Premium quality product
Both of the tools in this Scissors Multi Tool & Pliers set by Defiance Tools are made with 420 stainless steel. This is the quality any homeowner, renter, or outdoor enthusiast would appreciate.
Satisfaction guaranteed
This item comes with a 30-day money back guarantee which makes it a great choice for a housewarming gift, Father's Day gift, Christmas gift, wedding gift, graduation gift, business gift, or corporate gift.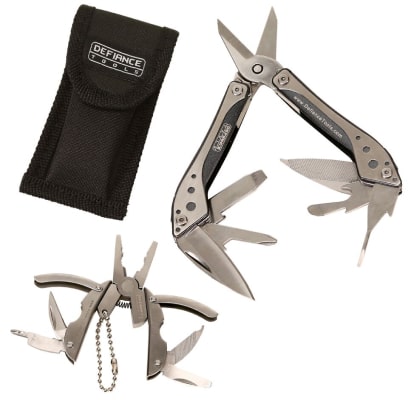 I bought this tool for camping. I love it!

This tool is surprisingly good for the price.The tools are a little tight at first but that's to be expected. Great product!

This is a fantastic purchase, the blade and pliers are most useful to me. The tool fits easily into the pocket. And it's surprisingly sturdy. Recommend!

I am very happy with my purchase. At first it was a little tricky to fold it back up but once I figured it out it's fine. I wish the case was bigger because it's very tight to get the tool in and out of the case. Overall, I like the tool and recommend it.

I am so impressed with this multi tool. This is the best tool that I purchased in a while. The quality and fit are so good. I also love that this multi tool has different screwdrivers and pliers. The knife is really sharp. Even the case is very nice. Best multi tool I have ever had!

I've been wanting a good multi-function tool like this for awhile, and pleased with my choice. This tool is strong and sturdy, comes packaged in a nice case, and has the types of tools I need. Time will tell in terms of its reliability and durability over time, but I'm happy with it so far.

This multitool exceeded my expectations. All of the tools are easily accessible. The handle is very sturdy and comfortable. I have opened it and closed it multiple times, but have not tested it with difficult work, just moderate work. It feels durable and I am confident that it will perform as expected in any situation.

For the price these are really well made. I actually feel like I could use these tools as intended without breaking anything. They weigh a bit heavier than normal but I feel the increased weight makes them feel more natural when using the tools. I've only had it for a week but have already used it a few times and I'm impressed.

Once I figured out this tool it has become invaluable. It is now a standard item in my tool bag. I travel for work a lot and I find myself constantly using this tool all the time when working on a project. It is well made and sturdy. The knife is sharp, the pliers grip very well. I like this multi tool and highly recommend it.
View full details
Featured store
Our products are featured in top news publications including Fox, Newyork times & USA Today
Trusted by 1000+ customers
We are thankful to each customer for showing trust in our products.
24 x 7 support
We won't leave you alone! Every one gets 24 x 7 priority support.
2 to 4 day shipping
All products are shipped in 2 to 4 business days from USA Warehouse.
Happy Customers
So many positive reviews and happy customers cannot be wrong!
100% Satisfaction
We offer 90 days risk free trial with 100% satisfaction guarantee.
Made in the USA
All our products are made with love in the USA