.
Regular price
$129.90
Sale price
$45.97
Unit price
per
Sale
Sold out
If you order within
Arrives by
Is the Don't Dump Dumpty Game suitable for both kids and families?

A fun game for both kids and families. 
Humpty Dumpty sat on a wall… remove a brick, but don't let him fall! The Don't Dump Dumpty Game is a versatile counting and math game with ideas and rules for many ways to play. Stack the bricks to create a wall, set Dumpty on top, and take turns removing bricks, but don't let him crack apart! It can be played alone, in pairs, or with teams.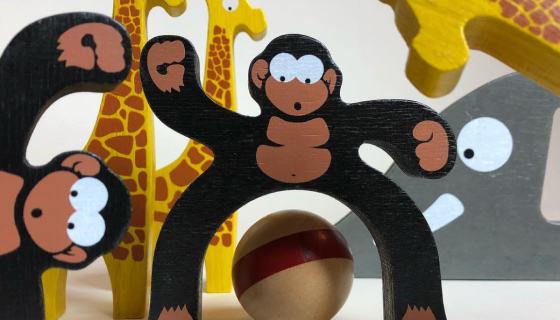 Gets kids up and running
Great active rolling, bowling, and target game
The Monkey Bowl is here.
The Safari Bowl is the perfect first bowling set for any little one. It helps to develop hand-eye coordination and gross motor skills.
What's included in the set?
Each set has two wooden balls, an elephant 'launching' ramp, three bullseye targets, three giraffe pins, and two monkey targets.
Bowling game and animal play set all in one.
This chunky wooden game combines bowling, target play, and fun safari animal character play. This 13-piece game and playset is made from eco-friendly rubberwood.
Fine motor development and gameplay
S.T.E.A.M. starts here! This play set is great for active gameplay combined with storytelling character play. Safari Bowl dimensions: 12" l x 2" w x 7" h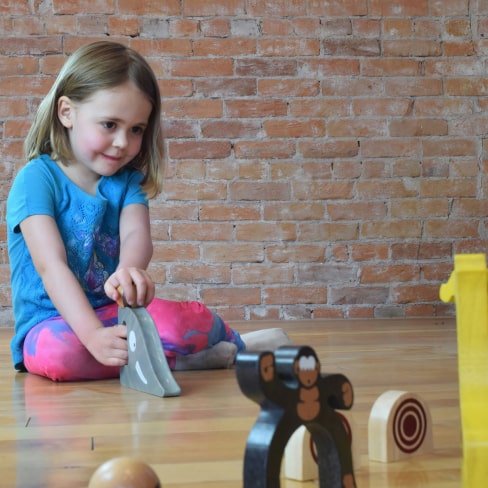 It comes with a wooden storage tray.
This fun & durable wooden game by BeginAgain stores nicely in its wooden storage tray. It was designed for easy clean-up and storage.
Kid-powered battery-free play
Kids have all the energy they need to play, and our toys, games, and puzzles need no batteries. These toys are powered by imagination and curiosity.
Made from eco-friendly materials, the game was designed to offer a variety of ways to play. The Safari Bowl game is a great way to help kids blow off steam and fend off cabin fever, and it's the perfect rainy-day indoor
toy
to keep them moving and laughing!
Are you looking for Fun and Educational Activities for Your 2-Year-Old?

Finding suitable activities to engage your 2-year-old can be challenging. You want something that combines fun and education, but only some things suit their age. How can you entertain your toddler while helping them learn and develop essential skills?
We are introducing our Safari Bowling Game, explicitly designed for 2-year-old kids. It's the solution to your quest for fun and education. This game combines the excitement of bowling with adorable safari animal pins, promoting hand-eye coordination, counting, and early social skills. Make learning a blast for your toddler!
FAQs (Frequently Asked Questions):

1. What does the Safari Bowling Game include?
The set includes animal-shaped bowling pins and a softball.

2. Are the pins safe for my 2-year-old to play with?
The pins are made from child-safe, BPA-free materials designed for young children.

3. How does this game promote learning in a 2-year-old?
It helps develop hand-eye coordination and fine motor skills and introduces basic counting skills.

4. Is the game suitable for solo or group play with other kids?
It's versatile and can be enjoyed individually and with friends or family.

5. Can the game be used indoors or outdoors?
It's designed for indoor and outdoor play, offering year-round fun.

6. What age range is this game suitable for?
It's ideal for 2-year-old kids and is suitable for toddlers of a similar age.

7. Can I easily clean the pins and balls if they get dirty during play?
Yes, they are easy to clean or gently hand-washed if needed.

8. Are there any small parts that could be a choking hazard for my toddler?
No, all components are designed with your child's safety in mind and are free from minor choking hazards.

9. Is this game a great gift for a 2-year-old's birthday or special occasion? It's a fantastic gift idea for birthdays, holidays, or any special celebration. 



Reviews
Our reviews are verified for authenticity
Unique toy. Want to pair it with dominoes for even more fun!

Smaller than I imagined it but great product. The material is durable and the animals are cute, toddler approved

I bought this for my 21 month old son. He loves it. He likes helping set up the animals, dropping the ball, and if we miss any he thinks it's hilarious to knock over the animals himself. The pieces are well made and the animals are cute. It's a little difficult to set them up so all the pieces get knocked over (the gorilla is really for aiming between it's legs as you can see from the picture) but it can be done. I like that these are stained instead of painted so no worries about paint chipping when they get thrown on our wood floors. Recommend!

Amazing! The box is a great way to keep it organized and is a quality piece itself with no splinters or rough edges like on some other toys I have purchased. The balls are big enough that that aren't a chocking hazard so this is a good game even if you have little ones that might put things in their mouth. I have no doubt that my son will continue to love this as he learns to do more like aiming for between the gorilla's legs. Currently he likes using targets as paddles to hit the ball back and forth with his dad. I would recommend this as a great indoor game for rainy days. Kept the little guy running after the ball for a good 30 minutes. Buy it!
View full details
Enjoy Free Shipping on Every Order
Experience the ultimate convenience with our free 3-day shipping service available to all customers throughout the United States.
24 x 7 Customer Support at Your Service
We offer customer support through live chat, email, or phone, making it easy for customers to get assistance with their inquiries.
Crafted with American Pride: All Our Products Are Made in the USA
Experience the assurance of exceptional quality and support local industries with our wide selection of products, all proudly made in the USA.
Peace of Mind: Our 14-Day Return Policy Has You Covered
We want you to love your purchases, which is why we offer a hassle-free 14-day return policy. If you're not completely satisfied with your order, simply return it within 14 days for a full refund or exchange.
Explore Our Diverse Range of Products
Our store offers a vast selection of products, giving customers the convenience of finding everything they need in one place.
Our Customers Award Us 5 Stars
We are thrilled to share that our products has received widespread acclaim from our valued customers, with an abundance of 5-star customer reviews pouring in.
Your Choice, Your Security: Explore Our Multiple Payment Options
We offer secure payment options, giving customers peace of mind when making transactions.
Track Your Orders at Every Step
Customers can track their orders in real-time and receive updates on their delivery status.