If you order within
Arrives by
Regular price
$0.00 USD
Sale price
$55.99 USD
Unit price
per
Sale
Sold out
If you order within
Arrives by
French charm for your stitchwork
Enter this deliciously vintage universe of 500 patterns and add a touch of nostalgia to your stitchwork. Recreate 1800s and 1900s fashion house designs and milliners' catalogues. Take your cross stitch on a bon voyage into the past with traveling motifs like trunk labels of exotic destinations and railroad advertising posters.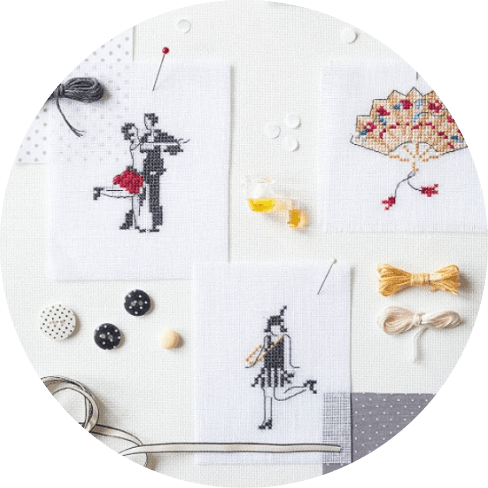 About this book
Get inside the mind of an artist
About the author
Véronique Enginger is perhaps the most popular and prolific cross stitch designer in France. She is the author of countless books, and her delicate, colorful style is instantly recognizable.
About the book
Veronique Enginger's Retro Cross Stitch design book is brimming with new stitching ideas created with a keen French aesthetic.
The length of the book
The book consists of 192 pages and includes easy to follow designs that are great for beginners and experienced crafters alike.
Get creative!
Use your creative designs as gifts and surprise your family and friends with the things you created yourself!
A book that will inspire you
Get inspired by "mood boards" of completed motifs along with the photos of projects that will show off your creations in daily life. Many of the designs include multiple scenes and motifs, offering you hundreds of lovely components to use in a myriad of ways.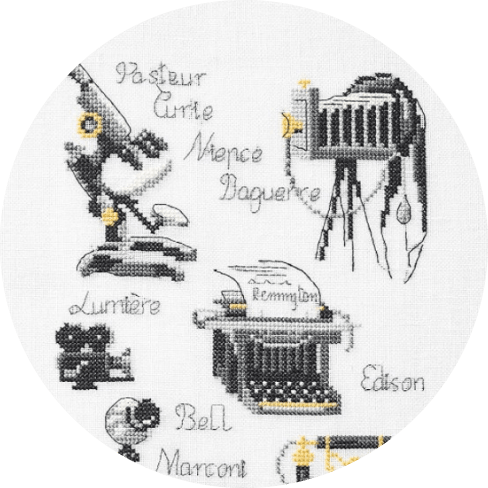 About Schiffer Publishing
Welcome to Schiffer Publishing. A family-owned, independent publisher of high- quality, nonfiction books since 1974, Schiffer has published thousands of titles on the diverse subjects that fuel our readers' passion. From our traditional subjects of antiques and collectibles, arts and crafts, and military history, Schiffer has expanded its catalog to publish books on contemporary art and artists; architecture and design; food and entertaining; as well as books for children.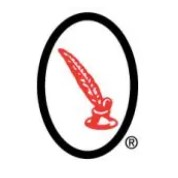 Designed In
Atglen, Pennsylvania
Reviews
Our reviews are verified for authenticity
What a wonderful book! These are all lovely and thoughtful designs. No filler photos. No junk. A good, beautiful, hard cover book that delivers.

Retro Cross Stitch is a delightful collection of vintage cross stitch patterns. The book contains over 500 full color patterns, basic instructions for cross stitching, and several pictures of completed projects. There is a variety of large and small projects, but I most look forward to completing the smaller projects as gifts. In fact, my first project will be to sew a tea towel and add the teapot design from this book as a border. The patterns cover everything from travel to sewing to fashion to food and drink, all in a vintage style. This is a great book for anyone interested in cross stitch with a vintage flair.

I am a huge fan of Veronique Enginger's designs, and this book does not disappoint. There are a number of vintage patterns ranging from small ones that would fit together nicely into a sampler, and larger projects for those that prefer that style. Even if you don't end up using most of the patterns, it's just a beautiful book with a great aesthetic to look through

A beautiful book on cross stitch designs which can be used for small or large projects and gifts, or as a learning tool for someone staring out with cross stitch. The designs are charming and depict the retro era, and just by looking at some of the project made, will encourage trying some out on various items. They are small, therefore quick to make and do not test the patience of either a beginner or someone who just want to complete something in a short time. I really love the layout and the examples are very inspiring.

I have cross stitched for many years and own a lot of patterns and encyclopedia style compilation books. I am a little bit jaded when it comes to new design books. In many ways, the designs all begin to look the same.This book, is another thing altogether. I have recently purchased the Fables and Fairy Tales by Ms Enginger and based on how much I enjoyed that book, I pre-ordered her Christmas book and picked up this book as well.The designs range from small to full size pages. You can design your own sampler style project using any number of the designs in this book and they will all match well together. The designs are definitely retro but will a European flair that I have not seen in a US published book before.What I have been really impressed by is the minimal use of backstitch in most of the designs. Usually, a book of small design uses intensive backstitch to give definition to the design. In this book, it is only used as part of the design element. As I am not one who loves backstitching (though, as hard as it is to believe, there are those who do love it), these designs are perfect for me.I've looked at this designer's previously published books which have been made available only in other languages and sincerely hope that she and the publisher will make those books available in English as well.
View full details
Featured store in media
Homekartz has been constantly featured on top media sites like Fox, USA Today, Market watch and others
13,452+ Positive Reviews
So many positive reviews and happy customers cannot be wrong!
Free 3 day shipping
We provide free first class USPS and FedEx shipping on all orders.
24 x 7 support
We won't leave you alone! Every one gets 24 x 7 priority support.
90 Day Money Back Gurantee
We offer 90 days risk free trial with 100% satisfaction guarantee.
You help someone today
When you buy from us, we donate 10% of each sale to a child in need in the USA.
Made with Love
"Each product is made with not only the best material but a little bit of happiness and kindness too."
What customers say
*****

My 5 year old grand son loves the products that we bought from homekartz. They provide a high quality product.

*****

My daughter loves the toys that I purchased for her and we keep buying more toys for her from time to time.

*****

My kid loves the clothes that i got for him. Home kartz has really great clothes for different occassion.