.
Regular price
$129.90
Sale price
$45.97
Unit price
per
Sale
Sold out
If you order within
Arrives by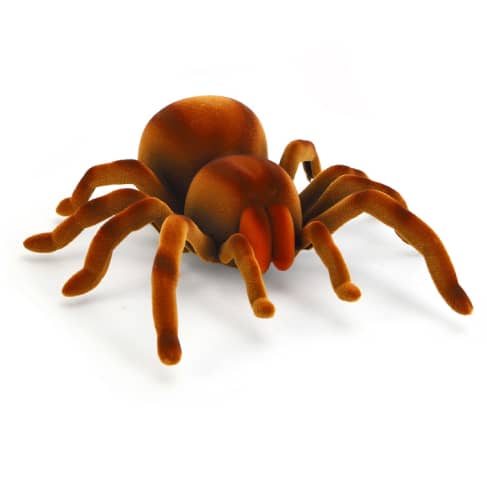 A remote-controlled tarantula
This spider will be a perfect gift for spider enthusiasts or those kids who want to overcome their fear of spiders. And naughty kids will appreciate the toy as well!
Spiders aren't scary!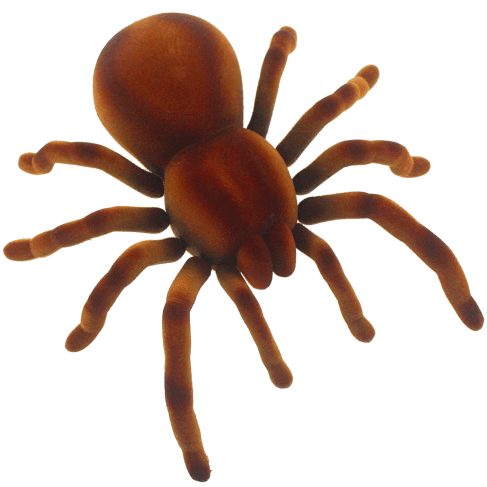 Spider's details
The spider is made from safe ABS & PP plastics, so it's not dangerous. The spider needs 3 AA batteries to move around.
Remote control details
2 buttons on the remote control make the spider move forward and rotate. Just like the spider, the remote control needs 3 AA batteries.
Delight your kid with this cool, moving spider! It may seem like an intimidating toy, but it can help overcome fears. It's realistic, but playing with it shows that spiders aren't that scary, and they're normal animals like any other. Throughout history, they symbolized good things like patience, wisdom, and artistry. They're peaceful creatures, and we all need to know that.

Tired of the same old toys? Want an exciting, unique experience that's guaranteed to amaze you?

Ordinary toys can be tedious, leaving you craving more excitement and adventure in your playtime.
Discover our Remote Controlled Spider Toy - a thrilling, spine-tingling adventure that captivates all ages and takes playtime to a new level.
Benefits of this Spider Toy:
Realistic Spider Design: Mimics the appearance and movements of a real spider for added excitement.
Wireless Remote Control: Easily maneuver your spider toy precisely from a distance.
Indoor and Outdoor Fun: Suitable for both indoor and outdoor play, providing year-round entertainment.
Creepy Crawly Effect: The lifelike appearance and crawling action will surely send shivers down your spine.
Educational Fun: Sparks curiosity and learning opportunities about arachnids.
Quality Materials: Made from durable, safe materials to ensure long-lasting enjoyment.
Multi-Directional Movement: Walks forward, backward, and turns for a truly interactive experience.
Rechargeable Battery: Convenient USB charging means no need for constant battery replacement.
Entertaining for All Ages: Perfect for kids and adults who crave excitement and adventure.
Unique Gift Idea: Surprise someone with an unforgettable gift they won't find anywhere else.


FAQ ( Frequently Asked Questions ):

Q1: Is the remote-controlled spider toy safe for kids?
A1: Yes, the toy is designed with safety in mind and made from non-toxic materials, making it suitable for children.
Q2: How far can I control the spider with the remote?
A2: The remote control allows you to operate the spider at a distance of up to [specify distance] feet.
Q3: Can I use it both indoors and outdoors?
A3: Absolutely! This spider toy is designed for indoor and outdoor play, providing fun in various environments.
Q4: Does it require batteries, and if so, how often do I need to replace them?
A4: The toy comes with a rechargeable battery and a USB charging cable, eliminating the need for constant battery replacement.
Q5: What age group is the Remote Controlled Spider Toy suitable for?
A5: It's suitable for a wide range of ages, from kids to adults who appreciate thrilling entertainment.
Q6: Is it easy to operate, especially for young children?
A6: Yes, the remote control is user-friendly and easy to operate, making it suitable for children as well.
Q7: How realistic is the spider's appearance and movement?
A7: The toy is designed to mimic the appearance and movements of a real spider for a genuinely captivating experience.
Q8: Can I use it as an educational tool to learn more about spiders? A8: Absolutely! The toy can spark curiosity and offer educational opportunities to learn about arachnids.
Q9: What if I encounter technical issues with the remote or spider toy?
A9: We provide customer support to assist you with any technical issues or questions.
Q10: Is the remote-controlled spider toy a good gift idea?
A10: It's an excellent gift choice for those seeking a unique and unforgettable present that adds excitement to playtime.
View full details
Enjoy Free Shipping on Every Order
Experience the ultimate convenience with our free 3-day shipping service available to all customers throughout the United States.
24 x 7 Customer Support at Your Service
We offer customer support through live chat, email, or phone, making it easy for customers to get assistance with their inquiries.
Crafted with American Pride: All Our Products Are Made in the USA
Experience the assurance of exceptional quality and support local industries with our wide selection of products, all proudly made in the USA.
Peace of Mind: Our 14-Day Return Policy Has You Covered
We want you to love your purchases, which is why we offer a hassle-free 14-day return policy. If you're not completely satisfied with your order, simply return it within 14 days for a full refund or exchange.
Explore Our Diverse Range of Products
Our store offers a vast selection of products, giving customers the convenience of finding everything they need in one place.
Our Customers Award Us 5 Stars
We are thrilled to share that our products has received widespread acclaim from our valued customers, with an abundance of 5-star customer reviews pouring in.
Your Choice, Your Security: Explore Our Multiple Payment Options
We offer secure payment options, giving customers peace of mind when making transactions.
Track Your Orders at Every Step
Customers can track their orders in real-time and receive updates on their delivery status.