.
Regular price
$184.90
Sale price
$62.47
Unit price
per
Sale
Sold out
If you order within
Arrives by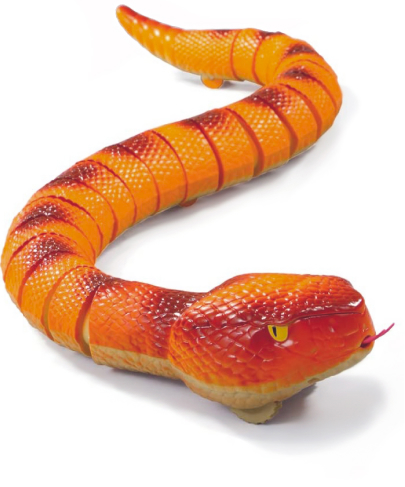 A remote-controlled anaconda
This snake is perfect for goofing around! But not only for that. The snake will be an excellent present for wildlife enthusiasts or children curious to learn more about snakes.
Snakes aren't that scary!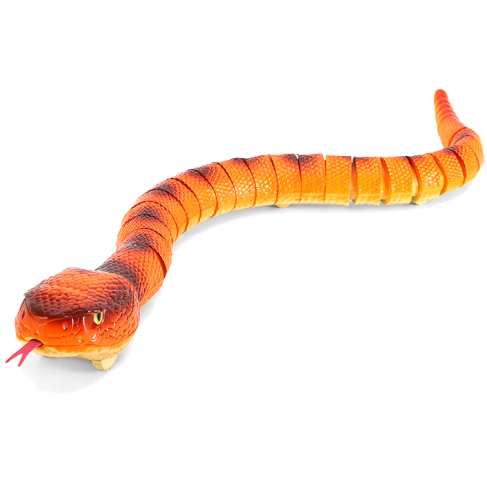 The snake details
The snake is made of non-toxic ABS plastic and is, therefore, completely safe. It requires four AA batteries to move around.
Remote control details
Make the snake move forward and rotate by pressing two buttons on the remote control. Three AA batteries are required for the remote control.
A
toy
that is both entertaining and useful
This fantastic moving snake will delight your child! It may appear to be a frightening toy, yet it can help you overcome your phobias. It's realistic, yet playing with it demonstrates that snakes aren't all that frightening and are just like any other animal. Throughout history, they have represented transformation. They're so cool!

Benefits of this Snake Toy:


Engaging Play: The Remote Controlled Snake Toy offers hours of interactive entertainment for babies and toddlers, stimulating their imagination and curiosity.

Early Learning: This toy introduces young children to the concept of remote control, promoting early cognitive development and hand-eye coordination.

Safe and Child-Friendly: Crafted from non-toxic materials, it's designed to ensure the safety and well-being of your child during play.

Fear-Free Fun: The snake's friendly and non-intimidating design ensures that playtime remains enjoyable without causing any fear.

Remote Control Practice: Children develop essential fine motor skills using the remote control to maneuver the snake in various directions.

Surprise and Delight: The snake's realistic movements and vibrant colors captivate young minds, offering an engaging play experience.

Parent-Child Bonding: Parents can join the fun, fostering quality bonding time as they control the snake with their child.

Compact and Portable: The toy is easy to take, providing entertainment during travel and outings.

Safe for All Ages: Designed for babies and toddlers, it offers age-appropriate and safe playtime for the little ones.

Encourages Exploration: The snake toy encourages children to explore and understand basic concepts of movement and control.

FAQ (Frequently Asked Questions):

Q1: What age is this toy suitable for?
A1: The Remote Controlled Snake Toy is designed for babies and toddlers, typically for children aged 12 months and older.

Q2: Is the snake toy safe for children?
A2: Yes, it's crafted from non-toxic materials, ensuring it's safe for your child's health and well-being.

Q3: How does the remote control work?
A3: The remote control is simple and user-friendly, making it easy for young children to operate and promoting early cognitive development.

Q4: Is this snake toy intimidating for young children?
A4: No, the snake's design is friendly and non-intimidating, ensuring that playtime is enjoyable without causing fear.

Q5: Can parents play with their child using the remote control?
A5: Parents can actively participate in playtime by operating the remote control and fostering parent-child bonding.

Q6: Is it easy to transport for travel and outings?
A6: Yes, the toy is compact and portable, making it an excellent source of entertainment during travel and outings.

Q7: What kind of movements can the snake perform?
A7: The snake can move forward backward, and make turns, providing an engaging play experience for young children.

Q8: How does this toy help with fine motor skills?
A8: Children develop fine motor skills by using the remote control to maneuver the snake in various directions, enhancing hand-eye coordination.

Q9: Can the snake be cleaned easily?
A9: Yes, it's easy to clean with a damp cloth, ensuring it remains in excellent condition for playtime.
View full details
Enjoy Free Shipping on Every Order
Experience the ultimate convenience with our free 3-day shipping service available to all customers throughout the United States.
24 x 7 Customer Support at Your Service
We offer customer support through live chat, email, or phone, making it easy for customers to get assistance with their inquiries.
Crafted with American Pride: All Our Products Are Made in the USA
Experience the assurance of exceptional quality and support local industries with our wide selection of products, all proudly made in the USA.
Peace of Mind: Our 14-Day Return Policy Has You Covered
We want you to love your purchases, which is why we offer a hassle-free 14-day return policy. If you're not completely satisfied with your order, simply return it within 14 days for a full refund or exchange.
Explore Our Diverse Range of Products
Our store offers a vast selection of products, giving customers the convenience of finding everything they need in one place.
Our Customers Award Us 5 Stars
We are thrilled to share that our products has received widespread acclaim from our valued customers, with an abundance of 5-star customer reviews pouring in.
Your Choice, Your Security: Explore Our Multiple Payment Options
We offer secure payment options, giving customers peace of mind when making transactions.
Track Your Orders at Every Step
Customers can track their orders in real-time and receive updates on their delivery status.