.
Regular price
$169.90
Sale price
$57.97
Unit price
per
Sale
Sold out
If you order within
Arrives by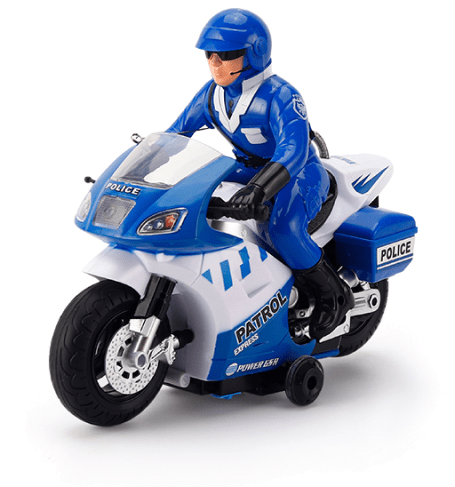 A motorcycle with a motorcyclist
This remote control toy is a perfect find for kids interested in racing. There are many car toys, but finding a good motorcycle can be difficult. Not anymore! This motorcycle will bring endless fun to your kid.
Vroom, vroom!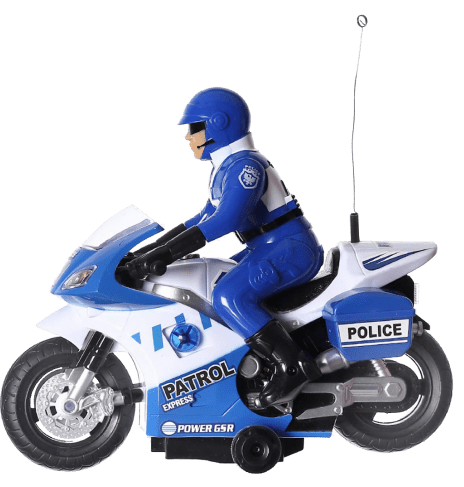 Remote control
It needs 2 AA batteries to work. With its help, the child can rotate the motorcycle any way they want and move it forward. A soft antenna won't poke anyone.
Product specifications
The motorcycle needs 4 AA batteries to work. Its size is approximately 9.44х7.87х4.33 inches, not overly big but not jokingly small. Just right!
Ride till the wheels fall off.
Let your child try out the exciting atmosphere of racing, competition, and speed. Automotive enthusiasts will LOVE it! Fast, realistic, and fun – even the adults might get interested. Your kid will pass many and many kilometers on this motorcycle with a smile on their face.
Looking for an exciting and interactive toy for your child?

Explore the Kids Remote Control Motorcycle! This thrilling toy is designed to provide young riders with hours of fun and adventurous play.

Here's why you'll love the Kids Remote Control Motorcycle:


Interactive Play: Control the motorcycle with a remote, allowing your child to experience the thrill of riding.
Safe and Durable: Crafted with child safety in mind, it's built to withstand play and provide lasting entertainment.
Realistic Design: The motorcycle's design and movements mimic the real thing, enhancing the play experience.
Parent-Approved: Join the parents who have seen their children's faces light up with joy while playing with the Kids Remote Control Motorcycle.

Ignite your child's sense of adventure with the Kids Remote Control Motorcycle. Click now to add this interactive and thrilling toy to your child's playtime.

FAQ (Frequently Asked Questions):

Q1: What is the kids' remote control motorcycle?
A1: The Kids Remote Control Motorcycle is an interactive and exciting toy that allows children to control a miniature motorcycle using a remote.
Q2: What age range is this toy suitable for?
A2: It's typically designed for children aged 3 and up, making it suitable for a broad age range.
Q3: How does the remote control work?
A3: The remote control allows children to maneuver the motorcycle forward, backward, left, and right, offering an interactive play experience.
Q4: Is the Kids Remote Control Motorcycle safe for kids to use?
A4: Yes, it's designed with child safety in mind and is typically made from non-toxic and durable materials.
Q5: Can the motorcycle be used indoors and outdoors?
A5: The suitability for indoor or outdoor use may vary depending on the product, so it's essential to check the product details for guidance.
Q6: Is the motorcycle easy for children to control?
A6: Yes, the remote control is typically user-friendly, allowing children to learn how to operate the motorcycle quickly.
Q7: Does the Kid's Remote Control Motorcycle require assembly?
A7: Assembly requirements may vary, but most products are designed to be easy to set up and use right out of the box.
Q8: How can I purchase the Kids Remote Control Motorcycle?
A8: You can buy the Kids Remote Control Motorcycle online through our website. Click on the product, add it to your cart, and follow the checkout process to make it yours.
View full details
Enjoy Free Shipping on Every Order
Experience the ultimate convenience with our free 3-day shipping service available to all customers throughout the United States.
24 x 7 Customer Support at Your Service
We offer customer support through live chat, email, or phone, making it easy for customers to get assistance with their inquiries.
Crafted with American Pride: All Our Products Are Made in the USA
Experience the assurance of exceptional quality and support local industries with our wide selection of products, all proudly made in the USA.
Peace of Mind: Our 14-Day Return Policy Has You Covered
We want you to love your purchases, which is why we offer a hassle-free 14-day return policy. If you're not completely satisfied with your order, simply return it within 14 days for a full refund or exchange.
Explore Our Diverse Range of Products
Our store offers a vast selection of products, giving customers the convenience of finding everything they need in one place.
Our Customers Award Us 5 Stars
We are thrilled to share that our products has received widespread acclaim from our valued customers, with an abundance of 5-star customer reviews pouring in.
Your Choice, Your Security: Explore Our Multiple Payment Options
We offer secure payment options, giving customers peace of mind when making transactions.
Track Your Orders at Every Step
Customers can track their orders in real-time and receive updates on their delivery status.