If you order within
Arrives by
Regular price
$111.00 USD
Sale price
$57.99 USD
Unit price
per
Sale
Sold out
If you order within
Arrives by
Squirrel to the rescue!
Kids. They're so cute, but sometimes so messy. That's when the suction cup plates come in handy! They stick to the table and are difficult to knock over. This amazing squirrel-shaped plate is a shining example!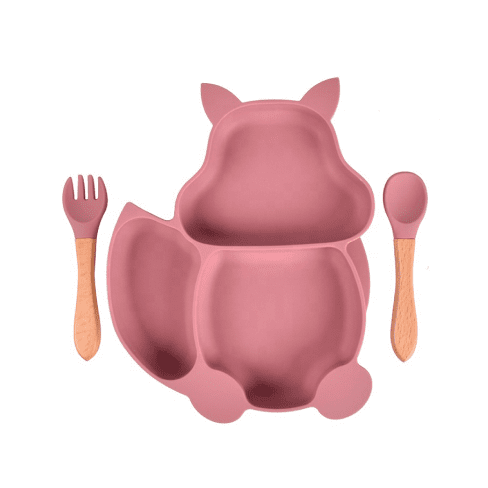 Clean table, happy mama and dada
This plate is the ultimate solution for clumsy kids
The materials are 100% safe
The set is made from food-grade silicone, is BPA-free and safe for heating and refrigerating. Utensils have wooden handles. Everything is harmless!
It has 3 compartments
The plate has 3 compartments for different foods. No more mixed tastes, and you can put different dishes on one plate. So convenient!
Your baby won't knock it over
Your table and baby will be clean, trust us. Suction cup on the bottom of the plate keeps it in place no matter how strong the baby is.
Product specifications
Plate size & weight: 9.52x7.28x1.29'', 9.91 oz Fork size & weight: 5.27x1.33'', 0.67 oz Spoon size & weight: 5.47x1.33'', 0.59 oz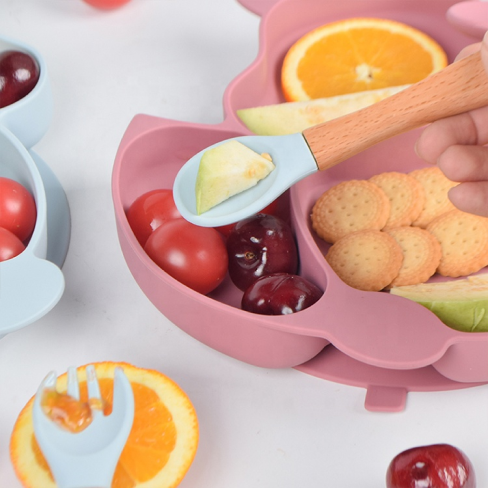 Product specifications
Plate size & weight: 9.52x7.28x1.29'', 9.91 oz Fork size & weight: 5.27x1.33'', 0.67 oz Spoon size & weight: 5.47x1.33'', 0.59 oz
Reviews
Our reviews are verified for authenticity
The suction is very powerful!Perfect size, capacity, and cute shape. Easy to Clean!

It's really cute, nice size, and my son loves it ! I haven't had a problem with it .

I have ordered the plate mats twice now for baby showers and the mothers love them. I think they are precious and a perfect idea. Thank you.

The plate comes with a bendable fork and spoon. It's super cute, and has great suction. The size is a perfect little one - the other brand I bought is too big for my little solid food beginner.

This baby plate sections so well to my kitchen table, my toddler can't swipe it off, I even stuck it to my textured fridge and it stayed. The compartments are a great size and I love that this is dishwasher safe. This plate is definitely a winner for me!!

This plate is so cute! My toddlers prefer this plate over any other. It helps make meal times more fun, which in turn helps my kids eat more. The different sections are the perfect portion sizes for toddlers. It sticks to my kids table very securely. They can still slide it around but they cannot pick it up. It's easy to wash, I just put it in the dishwasher.
View full details
Featured store in media
Homekartz has been constantly featured on top media sites like Fox, USA Today, Market watch and others
13,452+ Positive Reviews
So many positive reviews and happy customers cannot be wrong!
Free 3 day shipping
We provide free first class USPS and FedEx shipping on all orders.
24 x 7 support
We won't leave you alone! Every one gets 24 x 7 priority support.
90 Day Money Back Gurantee
We offer 90 days risk free trial with 100% satisfaction guarantee.
You help someone today
When you buy from us, we donate 10% of each sale to a child in need in the USA.
Made with Love
"Each product is made with not only the best material but a little bit of happiness and kindness too."
What customers say
*****

My 5 year old grand son loves the products that we bought from homekartz. They provide a high quality product.

*****

My daughter loves the toys that I purchased for her and we keep buying more toys for her from time to time.

*****

My kid loves the clothes that i got for him. Home kartz has really great clothes for different occassion.