.
Regular price
$84.90
Sale price
$32.47
Unit price
per
Sale
Sold out
If you order within
Arrives by
Smiling is contagious!
This hand crochet octopus rattle will likely make your little one smile. He's so smiley and friendly, and with eight perfectly sized legs, there's plenty of choice for grabbing and chewing.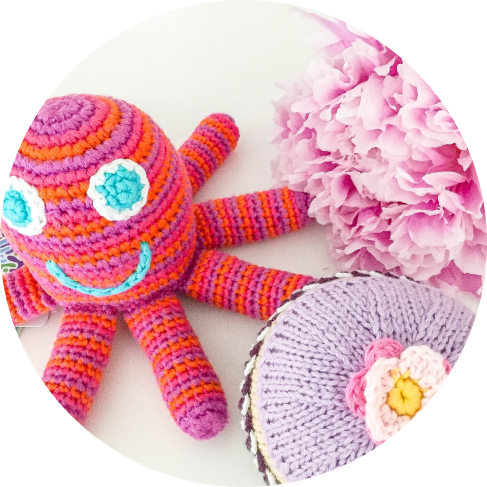 Pink octopus
rattle
: details and specifications
An adorable octopus rattle perfect for little hands
Child development
Colors, textures, and shapes spark tactile, auditory, and visual stimulation. Great for role play, storytelling, and imaginative play.
Machine washable
Place your
toy
in a mesh bag and launder it with cool water and non-toxic detergent for best results. Fluff in the dryer for a few minutes and then air dry.
High-quality materials for added safety
Safe for all ages, this toy is non-toxic and has been safety tested by a third-party testing company to ensure no choking hazards or toxic dangers.
An excellent gift
A quality gift that will be treasured for years. Perfect for
baby shower
gifts, baby's first birthday, or to decorate your nursery.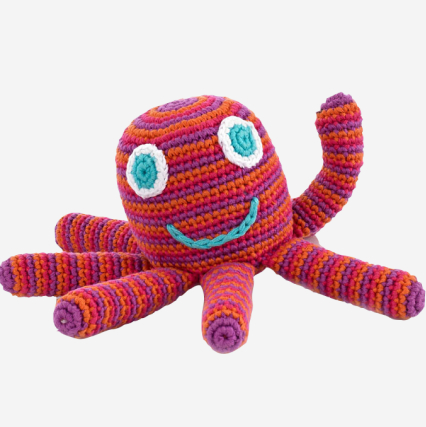 The smiling octopus will put a smile on your child's face

This happy little sea creature is the little hands' favorite! The octopus rattle is colorful and full of personality. Handmade with lightweight cotton yarn, its soft rattle, when shaken, will bring endless laughter and joy to your little one.

Searching for an engaging and educational baby toy?

Introducing our Octopus Rattle! This captivating toy is designed to capture your baby's attention while fostering essential developmental skills.


Here's why you'll love our Octopus Rattle:


Multi-Sensory Fun: The rattle's vibrant colors, different textures, and delightful sounds engage your baby's senses, promoting sensory development.
Safe and Durable: Crafted with baby-safe materials, it's designed to withstand hours of play and exploration.
Learning through Play: The Octopus Rattle encourages your baby's curiosity and fine motor skill development.
Endless Joy: Your baby will be enchanted by the playful octopus, ensuring hours of learning and entertainment.
Enhance your baby's play and learning with our Octopus Rattle. Click now to add this educational and adorable toy to your cart.

FAQ (Frequently Asked Questions):


Q1: What is the Octopus Rattle? 
A1: The Octopus Rattle is a baby toy shaped like an octopus, designed to engage and stimulate a baby's senses through colors, textures, and sounds.
Q2: Is the Octopus Rattle safe for babies? 
A2: Yes, our rattle toy is made from non-toxic, baby-safe materials, ensuring it's safe for babies to play with.
Q3: What age range is this toy suitable for? 
A3: The Octopus Rattle is suitable for infants and babies aged 3 months and older.
Q4: How does this rattle toy engage a baby's senses? 
A4: The rattle's vibrant colors, different textures, and delightful sounds engage a baby's sense of sight, touch, and hearing, promoting sensory development.
Q5: Is the toy easy for babies to hold? 
A5: Yes, the Octopus Rattle is designed for little hands to grasp quickly, making it ideal for babies learning to hold objects.
Q6: Can I clean the Octopus Rattle? 
A6: The rattle toy can be easily cleaned with a damp cloth or a mild baby-safe cleaner to keep it fresh and hygienic.
Q7: Does the Octopus Rattle require batteries? 
A7: No, this rattle toy does not require batteries. It produces delightful sounds with gentle shaking, making it easy to use and maintain.
Q8: Is it a suitable gift for a baby shower or a newborn? 
A8: The Octopus Rattle makes a fantastic and thoughtful gift for baby showers and newborns. It's an engaging addition to a baby's playtime and development.
Q9: How can I purchase the Octopus Rattle? 
A9: You can purchase the Octopus Rattle online through our website. Click on the product, add it to your cart, and follow the checkout process.
Q10: Do you offer international shipping? 
A10: We primarily ship within the United States, but don't hesitate to get in touch with our customer support for international shipping inquiries.
Reviews
Our reviews are verified for authenticity
My baby loves this toy and all of the other pebble ones that we have bought him.

Well made and cute. My daughter loves it.

It is super cute and really well made. My 10 month old loves it.

Love these toys. Huge plus that they are machine washable

Such a great first rattle. Very bright coloured and durable.

Bought it for a friend with her first baby coming. She liked it how the design is unisex. Got the same rattle in different colors for in between laundry time. Hope her baby will like it too :) Knitted and with the finger size tentacle legs I think the price is reasonable with the extra perk it has to keep-the-drool-in and not too hard when teething time comes.
View full details
Enjoy Free Shipping on Every Order
Experience the ultimate convenience with our free 3-day shipping service available to all customers throughout the United States.
24 x 7 Customer Support at Your Service
We offer customer support through live chat, email, or phone, making it easy for customers to get assistance with their inquiries.
Crafted with American Pride: All Our Products Are Made in the USA
Experience the assurance of exceptional quality and support local industries with our wide selection of products, all proudly made in the USA.
Peace of Mind: Our 14-Day Return Policy Has You Covered
We want you to love your purchases, which is why we offer a hassle-free 14-day return policy. If you're not completely satisfied with your order, simply return it within 14 days for a full refund or exchange.
Explore Our Diverse Range of Products
Our store offers a vast selection of products, giving customers the convenience of finding everything they need in one place.
Our Customers Award Us 5 Stars
We are thrilled to share that our products has received widespread acclaim from our valued customers, with an abundance of 5-star customer reviews pouring in.
Your Choice, Your Security: Explore Our Multiple Payment Options
We offer secure payment options, giving customers peace of mind when making transactions.
Track Your Orders at Every Step
Customers can track their orders in real-time and receive updates on their delivery status.