.
Regular price
$89.90
Sale price
$33.97
Unit price
per
Sale
Sold out
If you order within
Arrives by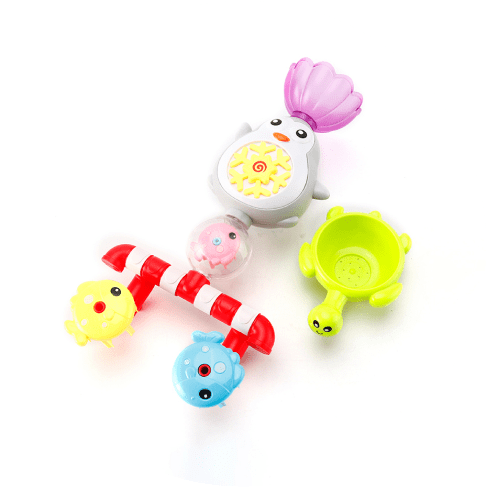 A bathing toy with rotating parts
This toy is a perfect find for parents who want to make bathing simpler and funnier for their kids. A colorful and sophisticated construction with rotating parts can mesmerize any child! Excite and distract your kid from the annoying process, or make it an exciting activity.
Bathing can be even funnier.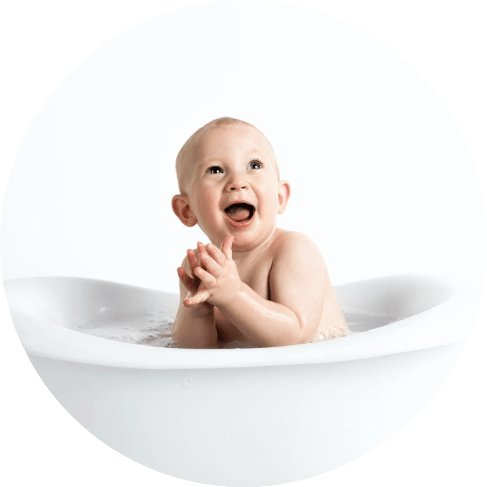 How does it work?
The penguin has a cup on top of it. When the water is poured into it, it goes down in the penguin, making the snowflake rotate. It drips down the pipe and makes the fish rotate as well. It sticks to the wall with a suction cup.
Product specifications
The
toy
is made from food-grade ABS plastic, so it's not harmful to your kid. The toy package size is 4.13x10.03x14 inches. It's so easy to store! Before putting the toy away, make sure it's dry.
Any parent's salvation
With this toy, even the most irritable kid who doesn't like water will sit still while you're bathing them. Rotating and colorful parts are impossible not to notice, and they can grab your kid's attention for a long time.

It's not necessarily a kid's attention; even the adults can get glued to it. Whatever the reason you're considering this toy, it will meet your expectations without a problem.

Need help to make bathtime an enjoyable learning experience for your child?

Ordinary bath routines can be dull and unexciting, leaving kids disinterested in the process.
Introducing our Penguin & Fish Bathing Toy – the perfect combination of fun and education to transform bathtime into an engaging adventure for your child.

Benefits of Fish Bathing Toy:


Educational Play: Teach kids about aquatic life, penguins, and fish in an interactive way.
Fine Motor Skills: Enhance hand-eye coordination as children engage with floating toys.
Sensory Stimulation: Engage multiple senses with water play for a holistic learning experience.
Vibrant Design: The colorful penguin and fish toys captivate kids' attention.
Safe and Non-Toxic: Made from child-friendly materials for a worry-free bath.
Versatile Play: Perfect for bathtubs, pools, and water tables.
Parent-Child Interaction: Encourage bonding as parents join in the water fun.
Imagination and Storytelling: Promote imaginative play during bathtime.
Screen-Free Entertainment: Create a break from electronic devices for a healthier bathtime routine.
Easy to Clean: Designed to dry quickly and resist mold for hassle-free maintenance.
FAQ ( Frequently Asked Questions ):
Q1: What is the Penguin & Fish Bathing Toy?
A1: It's a set of floating penguin and fish toys designed to make bathtime fun and educational for children.
Q2: Are the Penguin & Fish Bathing Toys safe for kids?
A2: Yes, they are made from non-toxic, child-safe materials, ensuring your child's safety.
Q3: What age group is this toy suitable for?
A3: These toys are ideal for toddlers and older children who enjoy imaginative play during bathtime.
Q4: How do these toys benefit my child's development?
A4: They enhance fine motor skills, sensory stimulation, and engaging learning about aquatic life.
Q5: Can I use these toys in pools or water tables, too?
A5: Absolutely! These toys are versatile and can be used in various water settings.
Q6: Are the toys easy to clean?
A6: Yes, they are designed to dry quickly and resist mold, making them easy to maintain.
Q7: Do you offer different designs besides penguins and fish?
A7: We may have other aquatic-themed toy sets available for you.
Q8: Can I interact with my child with these toys during bathtime?
A8: Yes, these toys allow parents to engage with their children and make bathtime more interactive and enjoyable.
Q9: Are the toys durable and long-lasting?
A9: These toys are built to withstand water play and are made to last through many bathtimes.
Q10: How can I store and maintain these toys for long-term use?
A10: You can rinse and dry the toys after each use, store them in a dry place, and periodically clean them to maintain quality.
View full details
Enjoy Free Shipping on Every Order
Experience the ultimate convenience with our free 3-day shipping service available to all customers throughout the United States.
24 x 7 Customer Support at Your Service
We offer customer support through live chat, email, or phone, making it easy for customers to get assistance with their inquiries.
Crafted with American Pride: All Our Products Are Made in the USA
Experience the assurance of exceptional quality and support local industries with our wide selection of products, all proudly made in the USA.
Peace of Mind: Our 14-Day Return Policy Has You Covered
We want you to love your purchases, which is why we offer a hassle-free 14-day return policy. If you're not completely satisfied with your order, simply return it within 14 days for a full refund or exchange.
Explore Our Diverse Range of Products
Our store offers a vast selection of products, giving customers the convenience of finding everything they need in one place.
Our Customers Award Us 5 Stars
We are thrilled to share that our products has received widespread acclaim from our valued customers, with an abundance of 5-star customer reviews pouring in.
Your Choice, Your Security: Explore Our Multiple Payment Options
We offer secure payment options, giving customers peace of mind when making transactions.
Track Your Orders at Every Step
Customers can track their orders in real-time and receive updates on their delivery status.