.
Regular price
$99.90
Sale price
$36.97
Unit price
per
Sale
Sold out
If you order within
Arrives by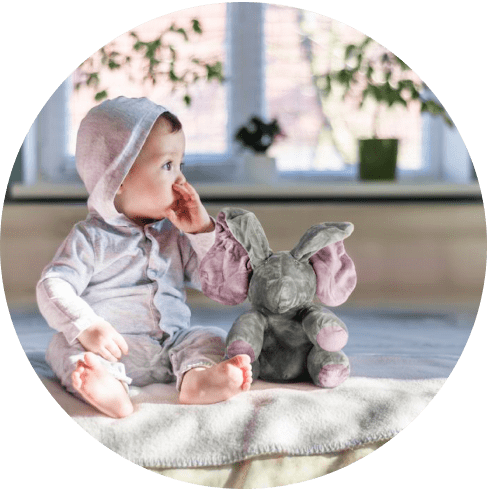 Protective. Comforting.
A friend indeed.

One of the largest, strongest animals in the animal kingdom sizes down to be a soft, cuddly friend to your little child. Our Peek-A-Boo Elephant Toy sings and interacts with your loved one for comfy, safe companionship while you're busy doing housework or working.
It sings. It plays.

It comes to life.
Your child's new elephant friend has two fun functions: press the left foot to play an interactive peek-a-boo game; press the right foot to hear the song "Do Your Ears Hang Low" in a cute child's voice. During both play modes, the elephant's ears move and flap as the elephant has come to life: it's sure to delight your little one.
Learn skills while playing with a friend.
Our elephant plush is always ready to play with your baby. He's created to stimulate the imagination of young minds, helping kids build fine motor skills and hand-eye coordination and enhance their creativity while keeping them engaged and entertained.

The built-in lullaby that plays is also great for letting young ones feel that they're not alone and have the most powerful animal of the forest and vast savanna lands far away there protecting them.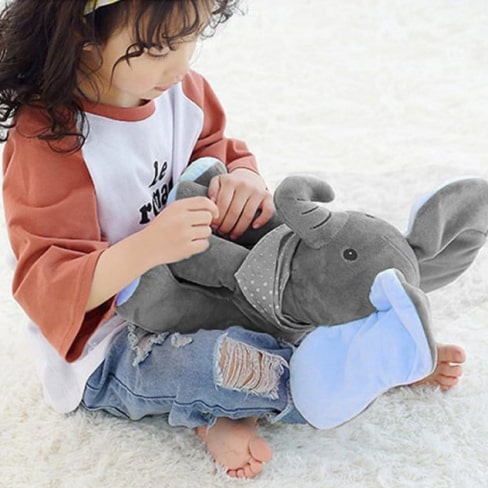 Just power it up.
The Peek-A-Boo Elephant
Toy
comes to life with just three AA batteries (not included).
Child-sized to match your baby
Measuring just 12 inches tall, this interactive plush is small-sized to match young children for something not too large that can be intimidating or scary. Choose from gray, gray/pink, and gray/blue color designs to match your baby's gender. The handkerchief color is random.

Are you looking for an adorable and engaging toy that keeps your baby entertained?

Finding the perfect toy for your little one can be a daunting task, leaving both parents and babies wanting more.
Meet our Peek-A-Boo Elephant Toy for Babies – the perfect companion for endless joy and entertainment in the beloved game of hide-and-seek.

Benefits of this Peek-A-Boo Elephant Toy:


Interactive Fun: Delights babies with peek-a-boo and sing-along features.
Developmental Play: Encourages cognitive and motor skill development.
Soft and Huggable: Made from plush, baby-friendly materials for cuddly comfort.
Sensory Stimulation: Engages multiple senses with sounds, movement, and textures.
Adorable Design: Captivates baby's attention with its cute and friendly elephant appearance.
Parent-Baby Bonding: Provides opportunities for quality time through play and laughter.
Easy Operation: Simple to use, ensuring instant amusement for both babies and parents.
Safe and Durable: Crafted from child-safe materials designed to withstand baby's curiosity.
Compact and Portable: Ideal for on-the-go entertainment to keep babies happy wherever you are.
Gift of Joy: This is a delightful and thoughtful gift for any baby occasion.

FAQ ( Frequently Asked Questions ):


Q1: What is a Peek-A-Boo Elephant Toy for Babies?
A1: It's an interactive and huggable elephant toy that plays peek-a-boo and sings, providing endless amusement for babies.
Q2: Is the Peek-A-Boo Elephant Toy safe for babies?
A2: Yes, it's made from baby-friendly materials to ensure safety during play and cuddles.
Q3: What age group is this toy suitable for?
A3: This toy is designed for babies and infants, providing developmental play and sensory engagement.
Q4: How does this toy encourage cognitive and motor skill development?
A4: The peek-a-boo and sing-along features engage babies' cognitive and motor skills, stimulating their development.
Q5: Is the toy easy to operate for both babies and parents?
A5: Yes, it's simple to use, ensuring instant amusement and bonding for babies and parents.
Q6: Can I take the Peek-A-Boo Elephant Toy on the go?
A6: Absolutely! It's compact and portable, providing on-the-go entertainment to keep babies happy wherever you are.
Q7: Can I rely on the toy's durability and safety features?
A7: Yes, it's crafted from child-safe materials and designed to withstand baby's curiosity, ensuring both safety and durability.
Q8: How can the toy be used for parent-baby bonding?
A8: Parents can interact with their babies through peek-a-boo games, sing-alongs, and shared laughter, creating cherished memories.
Q9: Are there different songs and phrases the toy plays?
A9: Depending on the model, the toy may offer a variety of songs, phrases, and peek-a-boo actions.
Q10: Is the Peek-A-Boo Elephant Toy a suitable gift for baby showers and other occasions?
A10: Absolutely! It's a delightful and thoughtful gift for baby showers, birthdays, and other baby-related celebrations.
Reviews
Our reviews are verified for authenticity
This thing is so adorable my daughter doesn't stop pushing the button! Will have to buy another soon as a gift!

Super fun, i bought it for my expected baby, every thing was as description, i am sure my baby will love it.

So cute! Wonderful quality and tons of fun for the little one!

One of the cutest toys I have bought. Purchased for granddaughter and she loves it! Her Mom always says, "hey, baby" to her so it amazed her. She loves the ears moving.This is second product review I have sent. Grandbaby plays with this all of the time and she loves it! It is also holding up nicely. She likes to put her face between the ears while it is playing.The most favorite toy I have bought in a very long time. It is so sweet.

So far so good. It's soft and cute. I will probably buy it for future baby gifts.

Very cute my niece adored the elephant. I only came across one problem. The screw was already stripped so I had major difficulty trying to open the battery door. I had to pry it open with some pliers. I ended up replacing the screw

Love love love this elephant! My baby loves it. It's so soft and it a perfect gift.

Cute toy and works well. But, for some reason, my baby was afraid of it...

What a sweet toy! My daughter became really interested in it at 6 months. It is durable and fun!

It was a great gift for two young children, who loved them right out of the package.

Purchased for my niece for her 1st birthday and she loves it! Hugged it immediately after opening and carries all around. Super soft and it's peakaboo is super cute.

Oh my gosh! This is too cute! I'm gifting it so I won't have to listen to it all the time. The voice is child like, not too loud. The big floppy ears are adorable.

So adorable!! Waaayyy cuter than I thought it would be. Got it for the baby but all the kids were playing with it. Very cute, would make an excellent gift.

My daughter received this as a gift and let me tell you, it is THE cutest singing stuffed animal i have ever seen! It's such great quality, so so soft and well made and the voice is super cute. (Not creepy like some!!) The elephant's ears move to the music and play peek-a-boo with baby. It's held up great so far even with my 1.5-year-old pulling on the ears and pushing the buttons a hundred times a day! We show this off to everyone! I think it will become my go-to baby gift for friends now, and would definitely purchase another one if anything were to happen to ours. I am shocked at the price, something this great of quality and cuteness would generally be upwards of $45-50, so at this price is the perfect buy!!

This is the most adorable elephant ever with the most adorable voice and ear action. Every child and parent loves it when we give it as a gift!

Cute and sweet, and my daughter absolutely LOVES it! Thank you for making me happy!

Very cute! Worth it to buy. My baby loves it.

My son has the gund version and our niece loved it so I thought I'd get her one in pink. It's not as good but still super cute and soft!

My baby love to play Peek-A-Boo! He loves the ears moving. The fur is very soft and cuddly. Very well made! It's one of the cutest toys I have bought. Makes me laugh every time too! There is just one song, the more songs the better.

This is the cutest toy I have ever seen! My 3-month-old grandson could not quit staring at it! I'm so glad I purchased this adorable elephant!

My 14 month old loves playing peek a boo so when I saw this, I knew I had to buy it for Her. I can't decide if she loves it more Or if I do. Haha!! It's so adorable and really nice quality and a good size. She gives the elephant hugs all day long and giggles when the ears move. This was the perfect toy for her!

My daughter received this as a gift, and it is so cute, plush, and soft. I had already purchased the book "If Animals Kissed Goodnight" separately, so now she has the set. I will definitely consider purchasing one of these as a gift in the future! As a side note, the gift fits perfectly with the elephant theme of the shower invitations, favors, and decorations.

I've been wanting this for my baby since before she was born. The minute I saw it I knew she would love it. She's 4 months now, we just received it this morning and she's been playing and screaming at it all morning so far she likes it.

My wife fell in love with this and we bought it for our first Great-Grand Child. When she gets a little older, she will Love It...

Honestly, when I saw that my sister bought a singing and talking toy for my daughter I squirmed... who wants another obnoxious toy. This guy isn't at all! He is super cute, so soft, and she loves him. Even my husband isn't annoyed! Win-win for everyone! I'll definitely buy one for a baby gift in the future.

The elephant is very cute and I like the colors better than the other brands. But you need to sit it on a pillow or blanket to be able to understand it. Loud and not great sound quality.

It was gifted to my almost 4-month-old son for Christmas this year. The voice of the elephant is very sweet and not annoying like some toys. It is a loud volume and piques the baby's interest. The ears cover the eyes and pass for a second before opening up. I like that it has buttons on the feet for singing or playing. It is crazy soft. So soft I almost dropped it a couple of times lol.

Wonderful toy for babies/toddlers. My neice loved it from the very start. The sound/voice is loud and clear. Perfect gift for the holidays!

This plush toy is adorable, super soft, just the right size for little hands, clear words, and music, the flapping ears playing peek a boo make you smile, would buy again!

I bought this for an almost 3 year old for Christmas and now I want to write a feedback. This little elephant has quickly become a favorite buddy. His fur is amazingly soft, his ears are very flexible (they will not be easily broken if your child bends them) and his voice is so sweet. The sound quality for the voice is great, and the volume is not too loud like some toys. This is the perfect gift for any occasion!

My grandbaby loves this toy! She didn't know what to think at first but now picks this first to play with when she comes over. She had the buttons figured out at 10 months old and carries it everywhere.

I found this elephant on lightening deal and it had great reviews. I decided to get it for my newborn and she loves it. I use it for when I change her diaper. it sings a song and also plays hide and seek. It's ears come down over its eyes and then back to normal. It is very cute and babies love it! It is a decent size as well.

We love Flappy! It was so fun watching my son discover Flappy — he's really captivated by it. I also enjoy singing along. It's nice because it doesn't stay on too long. Also, it can be shutoff at any point, your not forced to have it play to the end once it starts.

Very cute elephant for any baby or toddler who is an elephant fan. The only downside is that the volume is VERY loud and there is no way to turn it down. Otherwise, quality product for a great price.

I bought 3 of these they are absolutely adorable two are for my grandchildren I seriously couldn't stop playing with them but had to make myself stop so I didn't wear out the batteries before the kids got time for birthday. They are very soft.

Love this but would be nice if there were a volume option. It's kind of loud.

My 9 month old loves, LOVES this peek a boo elephant! She smiles when it sings or plays peek a boo and she lies on the floor and cuddles it sometimes for a half an hour. She absolutely adores it! Well worth it!

My four-month-old loves this elephant I thought he would get bored but it still occupies him two months later. We love our flappy the elephant.

My daughter loves this elephant!

It was a gift for my three month old niece. She likes it. She couldn't take her eyes off it. Her Mom loved it too.

This was a good size and very cute and cuddly ears flap over eyes and play peek a boo also plays music very nice gift for babys was very pleased

My niece who just turned 1 loved it! She loves to play peek a boo and this made her laugh

Soooo cute!! A little loud for me personally… But over all super cute

This is the cutest thing I have seen in a long time. It plays peek-a-boo and sings songs. Gave as a shower gift. Too cute!

The baby loves this and it seems petty durable. She pulls on those ears a lot and they still work lol.

Gift for 1 yr old granddaughter. She absolutely loves playing with this elephant! very soft and easy to push buttons on the feet. Makes her giggle!
View full details
Enjoy Free Shipping on Every Order
Experience the ultimate convenience with our free 3-day shipping service available to all customers throughout the United States.
24 x 7 Customer Support at Your Service
We offer customer support through live chat, email, or phone, making it easy for customers to get assistance with their inquiries.
Crafted with American Pride: All Our Products Are Made in the USA
Experience the assurance of exceptional quality and support local industries with our wide selection of products, all proudly made in the USA.
Peace of Mind: Our 14-Day Return Policy Has You Covered
We want you to love your purchases, which is why we offer a hassle-free 14-day return policy. If you're not completely satisfied with your order, simply return it within 14 days for a full refund or exchange.
Explore Our Diverse Range of Products
Our store offers a vast selection of products, giving customers the convenience of finding everything they need in one place.
Our Customers Award Us 5 Stars
We are thrilled to share that our products has received widespread acclaim from our valued customers, with an abundance of 5-star customer reviews pouring in.
Your Choice, Your Security: Explore Our Multiple Payment Options
We offer secure payment options, giving customers peace of mind when making transactions.
Track Your Orders at Every Step
Customers can track their orders in real-time and receive updates on their delivery status.