.
Regular price
$59.90
Sale price
$24.97
Unit price
per
Sale
Sold out
If you order within
Arrives by
Cute and practical

Perfect indoors and outdoors!
Do you need to remember pacifiers everywhere or lose them in your bottomless mom's bag? Admit it, we've all been there!
There is no need to worry about your pacifier's whereabouts anymore with this bright, adorable pacifier with a holder. Shaped to stay in your baby's mouth, gentle on gums and teeth.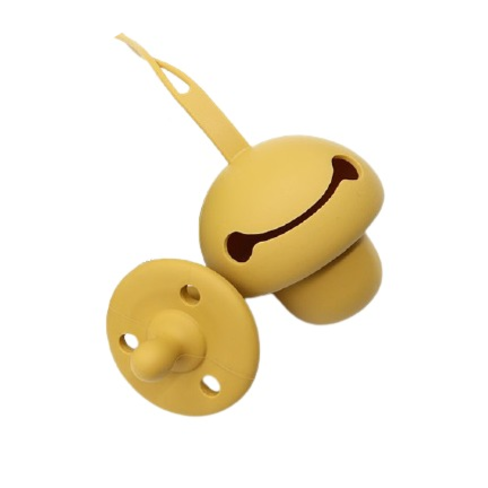 Pacifier with holder details
100% safe
Food grade BPA-free, FDA-approved silicone. We never use toxic materials in our products. One piece, no choking hazard.
Easy to clean and carry around
Dishwasher-safe. Clean after every use. The holder can be tied to your bag to carry around comfortably.
Safety guidelines
Do not tie the holder around a child's neck, as it presents strangulation danger.
Specifications
Made of quality food-grade silicone. Weight: 1.2 oz. Size: 2.8 x 2.6 x 8.7 in. Color: mango. Age: 0-1 years.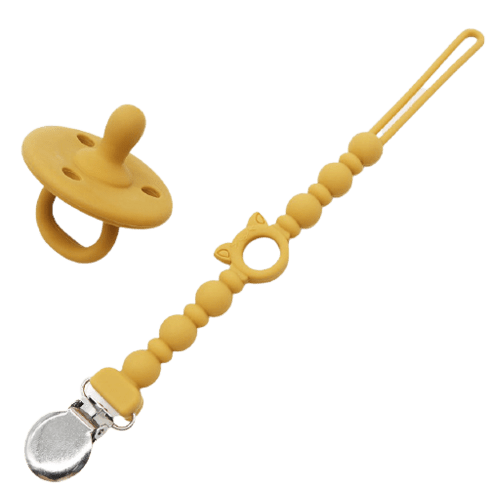 Must-have for every parent
Every parent knows the benefits of having a durable and safe binky. Pacifiers teach your
baby
to self-soothe between feedings and while the baby is falling asleep. Our 100%
safe pacifier
has an adorable mango holder for hassle-free storage and transportation. Order our fantastic pacifier now and enjoy the silence!

Are you tired of constantly searching for your baby's pacifier and dealing with their fussiness?

Keeping track of a pacifier can be a never-ending challenge, and your baby's comfort is always a top priority.
We are introducing our Baby Pacifier With Holder – the perfect blend of comfort and convenience to keep you and your baby smiling.

Benefits of this Baby Pacifier:


Peace of Mind: Never lose the pacifier again with the attached holder.
Easy Access: Always have the pacifier within reach for quick soothing.
Comfortable for Baby: Designed with your baby's comfort in mind, helping to soothe and calm.
Safe Materials: Made from non-toxic and BPA-free materials for your baby's well-being.
Stylish Designs: Choose from a range of cute and charming designs to suit your baby's personality.
Versatile Attachment: Easily clips to clothing, car seats, strollers, and more.
Durable and Easy to Clean: Built to last and simple for busy parents.
Reduces Stress: Minimize the stress of searching for lost pacifiers during outings.
Promotes Independent Sleep: Helps your baby self-soothe, aiding in more peaceful sleep.
Parent-Friendly: A must-have for parents looking to make life with a baby more convenient.

FAQ ( Frequently Asked Questions )
Q1: Is the Baby Pacifier With Holder safe for my baby?
A1: Our pacifiers are made from non-toxic, BPA-free materials for your baby's safety.
Q2: How does the pacifier holder work?
A2: The holder easily clips to your baby's clothing, ensuring the pacifier is always within reach.
Q3: Can I choose from different designs and colors?
A3: Yes, we offer a variety of stylish and charming designs to suit your baby's personality.
Q4: What age range is this pacifier suitable for?
A4: Our pacifiers are designed for babies from newborn to toddler age.
Q5: Is it easy to clean the pacifier and holder?
A5: Yes, the pacifier and holder are easy to clean and maintain.
Q6: Can the pacifier be detached from the holder for cleaning or replacement?
A6: Yes, the pacifier can be easily detached for cleaning or replacement.
Q7: Is it suitable for babies with teething needs?
A7: Yes, our pacifier is designed to soothe and provide comfort to teething babies.
Q8: Does it work well with car seats and strollers?
A8: Absolutely; the holder easily attaches to car seats, strollers, and other baby gear.
Q9: How does the Baby Pacifier With Holder promote independent sleep?
A9: Allowing your baby to self-soothe can help your little one sleep more peacefully.
Q10: Can the holder withstand everyday wear and tear?
A10: Yes, it's built to be durable and withstand the demands of everyday use, making it a parent-friendly choice. 
Reviews
Our reviews are verified for authenticity
Daughter Absolutely loves it!! Highly recommended!!

This is our baby girl's favorite!

Super cute and affordable pacifiers.

My son absolutely loves these!!

These pacifiers are very beautiful to look at and have a really luxurious feel.

I bought these for a photo prop so I can't attest to the durability but they photograph well lol!

My granddaughter could bite through the other brands during teething. She hasn't chewed through this.

Love the softness and color. Hard to find one that my daughter likes so this is the one she prefers.

Well, I wanted something other than the traditional looking pacifier. This fits the bill. Simple. Easy. Cute.

We did not use these as pacifiers, but did use them for teething. They're soft silicone that's easy to hold for tiny hands, yet durable.

I absolutely adore the color, style and material. Definitely worth getting! He has used them since he was a few hours old, and is still loving them after 3 weeks.

Our son would only take the soothie from the hospital until we found these. Easy to clean and in new condition after months of regular use. Easy for him to hold and pop right into his mouth. He started putting it in his mouth around 4 months ago.

I got this for my Granddaughter who is now almost three months old. She loved them so much my daughter asked me for the product name and link so she could order a few more. That's about as good of a recommendation one can give.

My son is very picky when it comes to pacifiers. He hates those "soothie" pacifiers. I was worried this was too similar to those and he wouldn't like it. But it was so cute I had to try. He LOVES IT. and it's adorable. Glad I made the purchase.

I absolutely love these! It's the only pacifier my son will take! Not only is it great as a pacifier but it's great for teething to my little cheeks on the sides! I would never recommend any other pacifier over this one!

I absolutely love these pacifiers. My newborn wouldn't keep the hospital supplied pacifiers in his mouth but they stay. Fast forward 3 months and this is still the only pacifier he will keep ahold of.

Great product, but the nipple is a bit wider that I thought but it's not a problem

My granddaughter loves both of them. Not a fan of the yellow color; however she liked the texture of the pacifier.
View full details
Enjoy Free Shipping on Every Order
Experience the ultimate convenience with our free 3-day shipping service available to all customers throughout the United States.
24 x 7 Customer Support at Your Service
We offer customer support through live chat, email, or phone, making it easy for customers to get assistance with their inquiries.
Crafted with American Pride: All Our Products Are Made in the USA
Experience the assurance of exceptional quality and support local industries with our wide selection of products, all proudly made in the USA.
Peace of Mind: Our 14-Day Return Policy Has You Covered
We want you to love your purchases, which is why we offer a hassle-free 14-day return policy. If you're not completely satisfied with your order, simply return it within 14 days for a full refund or exchange.
Explore Our Diverse Range of Products
Our store offers a vast selection of products, giving customers the convenience of finding everything they need in one place.
Our Customers Award Us 5 Stars
We are thrilled to share that our products has received widespread acclaim from our valued customers, with an abundance of 5-star customer reviews pouring in.
Your Choice, Your Security: Explore Our Multiple Payment Options
We offer secure payment options, giving customers peace of mind when making transactions.
Track Your Orders at Every Step
Customers can track their orders in real-time and receive updates on their delivery status.