Regular price
$159.99 USD
Regular price
$229.00 USD
Sale price
$159.99 USD
Unit price
per
Sale
Sold out
Owler 16000 Cordless Vacuum Cleaner
Forget about using your full-sized home vacuum or spending good money cleaning your car at a service center. Tidy up your car interior in just a few minutes with a compact yet powerful Owler 16000.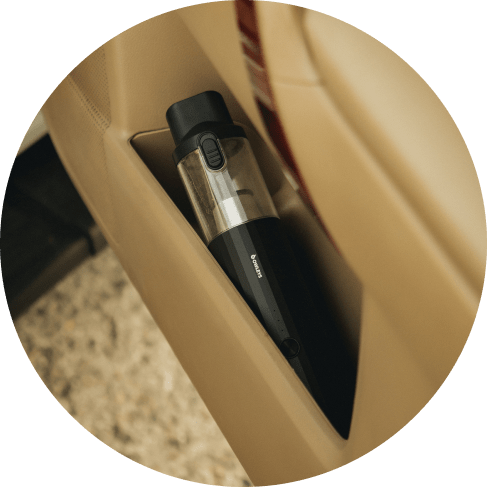 Keep your vehicle clean and tidy with ease
Your key to hassle-free car cleaning
No more car mess
Get rid of dust, crumbs, sand, dog hair, and other travel garbage effortlessly in a matter of minutes.
No need to rush
With three built-in 2200 mAh batteries, this vacuum cleaner works up to 40 minutes on a full charge.
Easy on-the-go cleanup
Both on road trips or daily cross-town commutes, car cleaning becomes quick and easy with Owleys.
Enjoy a comfortable ride
Improve your driving or passenger experience - make sure your car is always comfortable and tidy.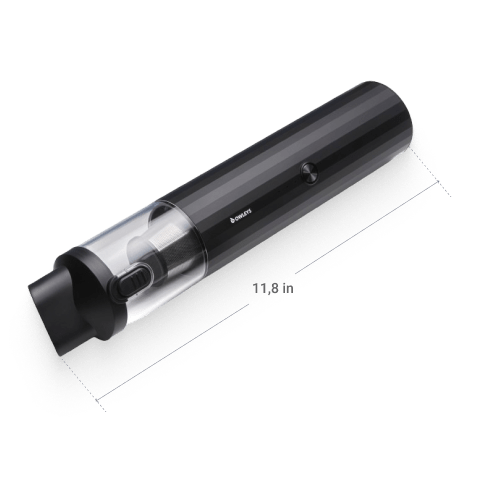 Compact size
This travel-sized vacuum cleaner takes up a minimum of space. Store it conveniently in your glove compartment, seat back pockets, or door pockets.
Get a clean car interior in minutes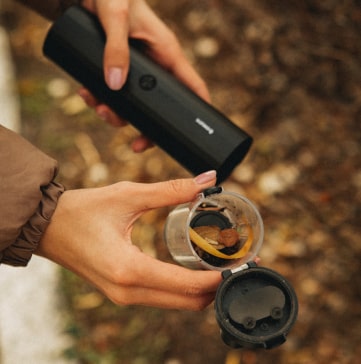 One-click dust removal function
Empty the dust cup with one click to get rid of dust and debris. Keep it easy - no need to remove or disassemble anything.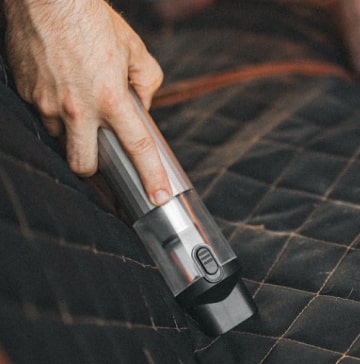 Double filtration for double protection
A HEPA filter and a steel filter destroy all the irritants and allergens, and an internal dust cup keeps them securely inside.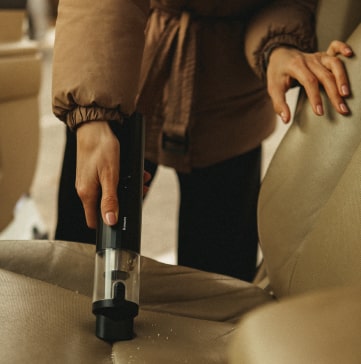 Power that won't disappoint you
This vacuum cleaner has two suction modes - from 6000 Pa to 16000 Pa - for battery saving and powerful cleaning.
FAQs
No, it isn't. Please do not use this vacuum cleaner to suck up water and other liquids, flammable substances, and uncooled ash.
Please read the Q&A section of the manual carefully. If your problem is still not resolved, feel free to contact us.
You just have to remove it and wash it under running water. Let dry before replacing it back in the vacuum.
About Owleys
Owleys is a premium car accessories brand based in California. We create accessories for any kind of car traveling - road trips, camping, picnics, nature trips, and daily rides. Our main goal is to bring comfort, convenience and emotions to every moment you spend in your car. We ourselves enjoy traveling with our family and friends, so we have two main product lines: traveling with kids and traveling with dogs. With these products, we want help you take care of your loved ones when traveling by car and spend a great time on a road together. Creating our accessories, we care for both kids and adults - as well as both pets and their owners. Therefore we never use genuine leather and choose vegan PU leather instead. For our products, we prefer using low-maintenance, eco-friendly and durable materials that will withstand your trips with the most mobile kids and pets.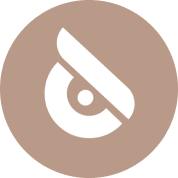 I chose this vacuum cleaner based on good reviews :) This is my first car vacuum so I have nothing to compare it to. A little pricey, but I decided to give it a try. Well, I didn't regret it! I got the whole car perfectly neat in just one go. I don't have a pet that travels with me, so I can't say anything about how it can deal with pet hair. But with dirt you usually have in the car, it does an excellent job. Delivery was a few days and in a nice sturdy package. Acording to my experience, I can definitely recommend this product 👍👍👍

Please don't expect the impossible from this mini car vacuum cleaner. This is not a full size home vacuum and certainly not a professional vacuum like the ones they have at car washes. However, this little car vacuum gets rid of sand, crumbs, dog hair and small stones perfectly well! In addition, it's very easy to store. Dust collector and filter are simple and quick to clean. Overall, I'm very happy that I decided to give it a try. Yes, it's a bit overpriced, but the smart design and usability are definitely worth it. If you're doubt, I still recommend giving it a chance.

At first I ordered this vacuum for my husband's car, then after a couple of weeks I ordered another one for me to use at home. We both love it!!! This vacuum cleaner is excellent for cleaning soft furniture, closets, carpets, next to the cat litter box. It charges pretty quickly and works for about 30-35 minutes. The size is super handy to use and store. Thank you for a great product and fast delivery!🥰

Immediately after I bought a new car, I began to look for a vacuum cleaner to always keep the interior clean. For me, small size, cute design and powerful suction were important. This vacuum cleaner has it all! It removes dog hair even in the first power mode, while the second mode removes dust, deep in the corners and smallest particles of dirt. I think the price is still a little high, but still I recommend it 👍

Received my order two weerks ago for my Toyota Corolla. Had enough time to test it and I can say this car vacuum is a real must have for every car driver. It can remove crumbs, dust,pet hair inside the car and the trunk, clean all the corners and seat creases… And this all for just one time, without any recharging needed! Very happy with my purchase and will order more for gifts 👏🏾

Received the parcel just yesterday. Really powerful vacuum cleaner for such small size. It includes 2 additional nozzles and a USB charging cord. I wanted such car vacuum for a long time and glad to made the right choice!

Lightweight,miniature vacuum, fits perfectly in the hand. Suction power is enough for thorough car cleaning. The charge lasted about 30-40 minutes. Perfectly removed all crumbs, dirt on the rugs, dust in the seat folds. Now I want to test it for home cleaning 👍🏻

The product meets all the characteristics described. Convenient to use and store, I keep mine in the glove box. Cleans small debris, food crumbs and dust just well. Can be also a good present for a driver

Nice and handy vacuum cleaner, fits comfortably in my small hand. It's also convenient to clean inside closets and other hard-to-reach places at home. I recommend it, definitely! Ideal for car cleanup and generally versatile device.

Very compact , easy - to - use car vacuum cleaner . With it, the speed and convenience of cleaning in my car has increased tenfold !!! Two suction modes and nozzles are MORE THAN ENOUGH to clean every corner inside the car and trunk !

I bought this car vacuum as a gift for my husband, but want to use it myself at home from time to time. For example, to clean the sofa :) It's powerful, handy and really cute. My husband keeps it in the seatback pocket.

really good vacuum cleaner. powerful, has extra nozzles, batteries last for 30 minutes of cleaning. easily collects dust, small crumbs, hair. indispensable thing to have in the car! btw I also use it at home to clean the carpets. very happy that I decided to try this vacuum despite the high price.

Gave this to my brother for his new car. According to him: the power of the vacuum is good, the size is convenient to hold in hand and store in the glove compartment. It would be nice to have a storage case included so as not to scratch it. Thanks for the fast delivery

cool auto vacuum cleaner! cleans car seats and all hard-to-reach places in the car quickly and effectively. easy to clean the dust cup and filters. received this as a gift, very impressed and satisfited!

Compact, cordless and powerful- pet hair is gone without a hitch! This vacuum can be used not only in the car, but also for home cleaning, when you need to quickly remove crumbs in the kitchen or tidy up the corners. 100% recommend this vacuum cleaner 😍

This vacuum cleaner does its job very well Before that I had a corded car vacuum, but this one is much more convenient for everyday use. On a full charge it's enough for more than 1 sedan. And yes, it's also handy for household use, especially for cleaning up after pets.

Surprisingly good power despite such a small size. Two suction modes and additional nozzles included. The filter is washable for reuse. Excellent accessory to always keep your car clean. Thank you.

This Owler vacuum cleaner is actually very compact and lightweight. Holds a charge for half an hour. If you clean only on the first suction mode, then it's 40 minutes. The suction power is excellent,dealt with cookies crumbs and dogs hair very quickly.

Super device for quick cleaning in the car and at home, even children can use it! My husband and I are very pleased with the purchase. This vacuum cleaner made cleaning much easier for us. Thank you, we can and will recommend it!!

Awesome auto vacuum cleaner,I've wanted one for a long time.Its suction power is excellent,and it has a special brush attachment nozzle that allows you to clean all inaccessible places.I also like this one-click dust-removal function and that filter is washable

very compact vacuum cleaner, good suction, easy cleaning of the dustcup and filter. haven't checked the full battery performance,used this for about half an hour,but the battery lasted well :)) thanks

Car vac of excellent quality! You can easily vacuum any part of your car without getting tangled in wires and get rid of dust,dirt,or crumbs. Doesnt take up space in the car -- I keep mine in the glove box.

Got my order in 4 days. This Owler 16000 vacuum is handy and lightweight. Has enoughh power to cleanup both the interior and the trunk, sucks well and holds the charge for a long time. I'm really satisfied with the purchase!

I am 100% happy with purchasing this vacuum cleaner! It's wireless, easy to store anywhere you want, charges via USB port. The suction power is good in both suction modes and the battery is enough for a good car cleaning! A great accessory for personal use and for a gift!

Compact and very convenient auto vacuum.Has enough power, battery and nozzles to make the car perfectly tidy. I ordered it for cleaning inside the car as I am a taxi driver. I am satisfied with everything.

perfectly remove small rubbish, dust and pet hair. especially recommend this vacuum cleaner if you have little children or pets

The order was delivered quickly and in nice packaging. Comes with two nozzles and USB charging cord. Quite powerful and at the same time small convenient device.

this vacuum cleaner is amazing for getting rid of tiny crumbs, dirt and dust, especially if there are kids in the family who like to eat cookies on the road

I'm impressed with this mini vacuum. Although it is very compact in size, it deals with car cleaning surprisingly well. The best thing for me is that it charges from USB.

great car vacuum cleaner, my wife is obsessed with it. charging from the usb port, two nozzles for different types of cleaning are included. and it takes up very little space in the car!

I purchased this vacuum cleaner a month ago for my son as a gift and he loves it!! now thinking of ordering another one more for my husband! thank you!

strong suction power and convenient to hold. dust cup empties with one click and the filter is re-washable. battery lasts for about 30 mins for me to clean the entire car, including the trunk

Just received mine, vacuum cleaner works great, compact size and high suction capacity, I can recommend this

I've wanted such a vacuum cleaner for a very long time! For those who have small kids, this is literally a magic wand! Received my order in 3 days! Thanks!

super convenient to store and operate car vac. in fact really powerful for a cordless vacuum cleaner. love its simple but smart design :)

good car vac! its only drawback is the small dust container. on a full charge it gives me 45 minutes of cleanup.

I use this vacuum cleaner for a week and so far can recommend this, everything is as advertised . Fast delivery, good packaging .

I expected it to be bigger the size is too small for me

Everything's fine good car vacuum

very handy little car vacuum great suction power, looks cute and doesn't take up a lot space

High-quality vacuum cleaner.Came in 3 days

best car vacuum cleaner i have ever tried 100% recommend
View full details
Featured site
Homekartz has been constantly featured on top media sites like Fox, USA Today, Market watch and others
24 x 7 support
We won't leave you alone! Every one gets 24 x 7 priority support.
2 to 4 day shipping
All products are shipped in 2 to 4 business days from USA Warehouse.
Happy Customers
So many positive reviews and happy customers cannot be wrong!
100% Satisfaction
We offer 90 days risk free trial with 100% satisfaction guarantee.
Support a cause
When you buy from us, we donate 10% of each sale to charity.