.
Regular price
$79.90
Sale price
$30.97
Unit price
per
Sale
Sold out
If you order within
Arrives by
Can this Dinosaur Push Toy help my child develop motor and grasping skills?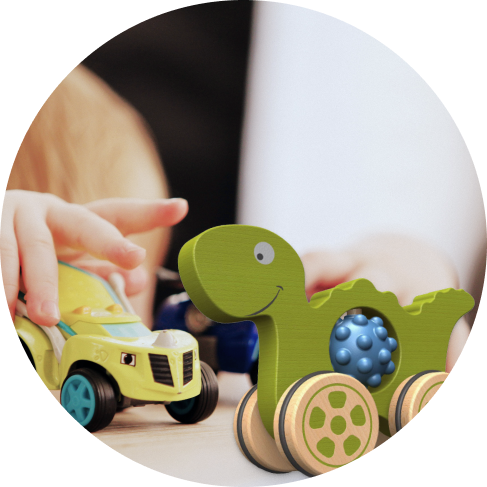 It's a fun dinosaur push toy.

The Nubble Rumblers encourage tactile stimulation and fine motor skill development with a bumpy, natural rubber ball in the middle. Promote considerable motor and grasping skills and engage kids in active playing and movement by pushing, pulling, and scooting this dinosaur push toy.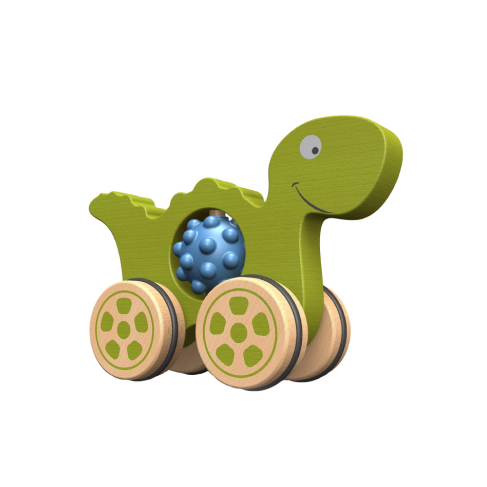 Tactile toddler fun
This cute little dino features a tactile natural rubber ball as a tummy! That's how this fabulous product helps to encourage tactile stimulation and fine motor skill development in your tiny tot!
For an active play
The Nubble Rumbler is perfect for developing considerable motor and grasping skills, and it also gets
kids engaged in active playing
and movement by pushing, pulling, and scooting this fantastic toy around!
Made from sustainably harvested rubber
The Nubble Rumbler from BeginAgain is a wooden
toy
dinosaur for toddlers handcrafted with non-toxic, child-safe stains from rubberwood and rubber. This toy is six inches tall. Four wheels make this a fun and safe push toy for children aged 18 months. Using sustainable materials helps benefit the environment. 
Looking for a Fun and Educational Toy for Your Kids?

In today's digital age, finding a suitable toy that combines fun and education can be challenging. You want your kids to have a blast while learning and developing essential skills. But with so many options available, how can you choose a truly engaging and educational toy?
Introducing our Fun Dinosaur Push Toy for Kids. It's the answer to your quest for an entertaining and educational toy. This delightful dinosaur toy encourages physical activity, imaginative play, and learning about these prehistoric creatures. This fantastic dinosaur push toy makes playtime fun and enriching for your kids.


FAQs (Frequently Asked Questions):


1. What does the Fun Dinosaur Push Toy include?
The set includes a dinosaur toy and a push handle for easy mobility.

2. Is the toy safe for kids to play with?
The toy is made from child-safe, non-toxic materials, ensuring your child's safety.

3. How does this toy promote learning in kids?
It encourages imaginative play and fine motor skills and allows kids to learn about dinosaurs.

4. What age range is this toy suitable for?
It's designed for kids aged 1 year and up.

5. Is the toy durable and able to withstand rough play?
Yes, the toy is built to be sturdy and can handle kids' energetic play.

6. Can this toy be used indoors and outdoors?
It's suitable for both indoor and outdoor play.

7. Does the push handle make it easy for kids to push the toy around? The push handle is designed for small hands and ensures easy mobility.

8. How does this toy benefit my child's development during playtime?
It promotes physical activity, imaginative play, and learning about dinosaurs, all essential for a child's development.

9. Is this toy a great gift for a child's birthday or special occasion?
It's a fantastic gift idea for birthdays, holidays, or any special celebration.
Reviews
Our reviews are verified for authenticity
Adorable! My nephew loves this happy little dinosaur! Would definitely recommend.

Great little toy, well made, 1 year old granddaughter loves it.

Bought for a friend. Her infant son really likes it.

I love how interactive this toy is and my one year old loves it as well.
View full details
Enjoy Free Shipping on Every Order
Experience the ultimate convenience with our free 3-day shipping service available to all customers throughout the United States.
24 x 7 Customer Support at Your Service
We offer customer support through live chat, email, or phone, making it easy for customers to get assistance with their inquiries.
Crafted with American Pride: All Our Products Are Made in the USA
Experience the assurance of exceptional quality and support local industries with our wide selection of products, all proudly made in the USA.
Peace of Mind: Our 14-Day Return Policy Has You Covered
We want you to love your purchases, which is why we offer a hassle-free 14-day return policy. If you're not completely satisfied with your order, simply return it within 14 days for a full refund or exchange.
Explore Our Diverse Range of Products
Our store offers a vast selection of products, giving customers the convenience of finding everything they need in one place.
Our Customers Award Us 5 Stars
We are thrilled to share that our products has received widespread acclaim from our valued customers, with an abundance of 5-star customer reviews pouring in.
Your Choice, Your Security: Explore Our Multiple Payment Options
We offer secure payment options, giving customers peace of mind when making transactions.
Track Your Orders at Every Step
Customers can track their orders in real-time and receive updates on their delivery status.