If you order within
Arrives by
Regular price
$111.00 USD
Sale price
$39.99 USD
Unit price
per
Sale
Sold out
If you order within
Arrives by
Your gluten-free, vegan, and GMO-free dye
What's a better way to celebrate the newborn spring and show how much you care for the environment than by opting for safe, natural dyes for your Easter eggs? Made from fruits, herbs, and veggies, this dye includes no petroleum products whatsoever, being a perfectly safe and eco-friendly choice.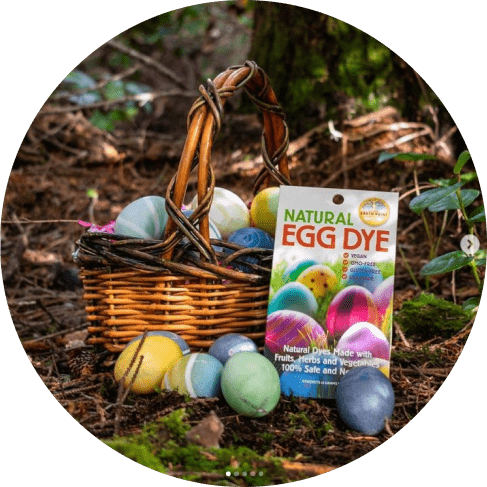 What's in the package?
Here's what this Natural Egg Dye is all about:
4 colors of natural dye
Use the colors as they are, or mix them together for even more exciting – and food-safe! – colorful combinations.
Fun and easy use
Pour the powdered dye into 1/2 cup of hot water and place eggs in this solution for 10-20 min. It's that simple!
Plain and simple ingredients
This non-toxic dye is made of pure, natural herbs & vegetable extracts (spinach, purple carrots, turmeric, beets, and red cabbage).
An extra source of inspiration
For added fun, the kit goes with an instruction sheet featuring a collection of fabulous "Creative Egg Art Ideas".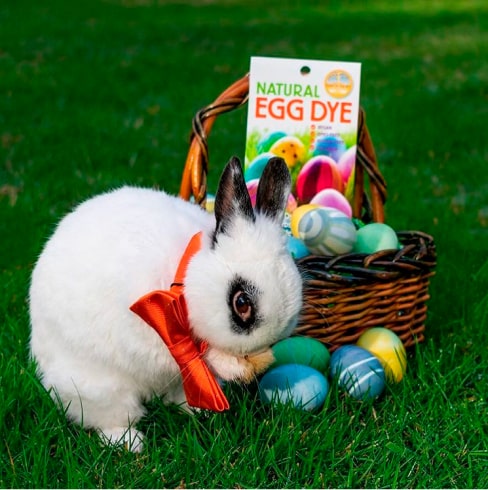 Your all-natural egg dye
Made in the United States of America with love, these non-toxic eco-friendly egg dyes (4 packets, 3 grams each) gently follow the ages-old tradition of using all-natural ingredients for coloring and dyeing. Safe and exceptionally easy in use, this kit makes a wonderful gift to your eco-conscious closest ones – and to yourself, of course!
About Natural Earth Paint
Natural Earth Paint was born from the mind of a professional artist, mom and environmentalist. After deep research on ancient paint making recipes and studied Renaissance techniques, coupled with extensive experimentation and testing, Natural Earth Paint began to blossom. Over the past 10+ years, we've developed a full line of children's products, natural face paints, fine art supplies and the world's first all-natural, non-toxic varnish. Natural Earth Paint products are made in small batches in our solar powered facility, with natural earth pigments, organic binders and ingredients. We hope you enjoy creating memorable art with our products which we bring to you, with love and a passion for a better, brighter world.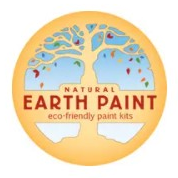 Designed In
Ashland, Oregon
Reviews
Our reviews are verified for authenticity
I'm very impressed. Super easy and worked well. Pretty colors. The package says to let the eggs sit for 15-20 mins but I found we didn't need that much time. Some may look a bit muddy because our 4 year old kept dunking them in every color.

The colors were beautiful! They were as bright as a standard egg dyeing kit or brighter, but with a special richness to the tone that can only come from natural pigments. I loved them so much with my students that I bought a second one for my family. We experimented using them on wool yarn too and it worked well. Great!

Absolutely beautiful colors. My eggs are Brown and blue shells and these plant based dyes came out perfect. I will absolutely be getting this set again. LOVE them! I purposely cracked some shells before putting in the dye and it looks amazing. I don't have to worry about artificial dyes being on the egg since it's all plant based!

These dyes worked so well! They smelled a little "natural" but the colors were bright and my kids (2,4) definitely didn't let them soak very long. hands and fingers were covered in the color and i felt i didn't have to stress about them using unhealthy ingredients. Now we can safely eat our eggs! highly recommend. will use again. we even used the wax crayon from another kit to draw pictures before dying and it worked great!

We just used this kit to dye eggs today...the eggs turned out beautiful! The colors were more rich and vibrant than I expected for a natural dye. We loved this so much, I went ahead and ordered another kit for next year! (The mottled red eggs in the attached picture were dyed using beet juice; the other eggs were dyed using this kit).

From a natural momma we look for natural 'food coloring' but it is usually blah. So I bought this egg dye without high expectations. The dye dissolves in hot water relatively easy. Had to stir a lot to ensure there were no clumps. It made 4 colors, purple, blue, green and yellow-orange. The longer the egged were in the water the darker the 'stain.' I am very happy with how they turned out. I am even happier we will be able to eat them without the worry of artificial dyes!
View full details
Featured store in media
Homekartz has been constantly featured on top media sites like Fox, USA Today, Market watch and others
13,452+ Positive Reviews
So many positive reviews and happy customers cannot be wrong!
Free 3 day shipping
We provide free first class USPS and FedEx shipping on all orders.
24 x 7 support
We won't leave you alone! Every one gets 24 x 7 priority support.
90 Day Money Back Gurantee
We offer 90 days risk free trial with 100% satisfaction guarantee.
You help someone today
When you buy from us, we donate 10% of each sale to a child in need in the USA.
Made with Love
"Each product is made with not only the best material but a little bit of happiness and kindness too."
What customers say
*****

My 5 year old grand son loves the products that we bought from homekartz. They provide a high quality product.

*****

My daughter loves the toys that I purchased for her and we keep buying more toys for her from time to time.

*****

My kid loves the clothes that i got for him. Home kartz has really great clothes for different occassion.