If you order within
Arrives by
Regular price
$79.99 USD
Sale price
$97.99 USD
Unit price
per
Sale
Sold out
If you order within
Arrives by
Go from tree to balcony
Wherever you decide to hang our Modern Hanging Birdfeeder, you'll love the feed and comfort it provides to birds.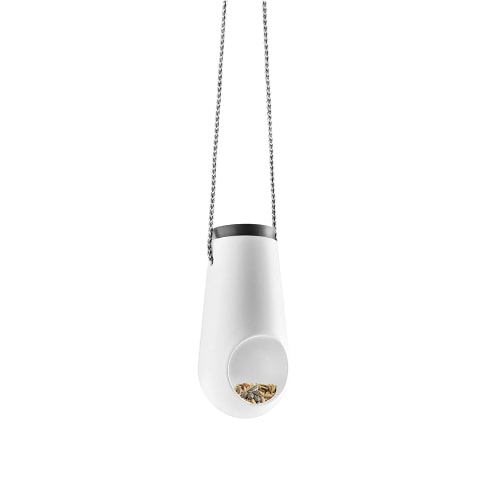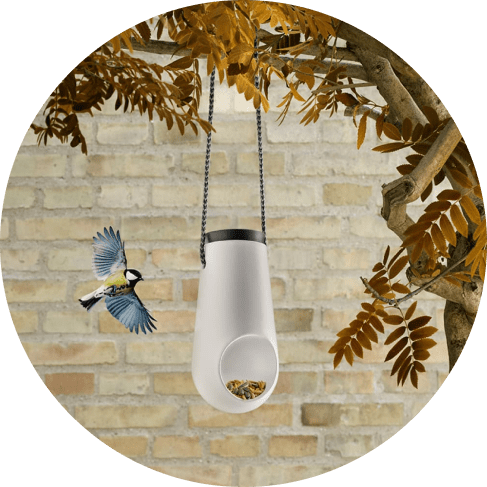 It's a place of shelter
Hey, birds need protection from the elements too. So when it rains or snows or is unbearably cold, this birdfeeder doubles as a place of shelter.
It's a place to eat
Like a cafe to pop in for a quick bite at, our Modern Hanging Birdfeeder allows birds to fly into the entrance and get a quick fill before flying off elsewhere.
Modern, sleek design
Create a bird's new favorite chill-out spot
Refill with ease
Running low on bird feed? The lid atop our feeder is easy to open for convenient refilling of feed.
Be confident in Danish craftsmanship
Our Modern Hanging Birdfeeder is built from ceramic, rubber, and nylon for a functional item that holds up in the rain or heat for long-lasting endurance.
Clean up with ease
Feeder empty? Probably in need of a clean? Simply unhook the housing and wipe down with a cloth or rinse with water for quick cleaning.
Rope included
A sturdy nylon rope comes with each birdfeeder so you can hang your new purchase up anywhere.
Small and cozy does it
The feeder measures 7.7" in height and 2" in width, while measuring just 1.25 pounds, for a hand-sized addition that isn't bulky or heavy (making installation easy)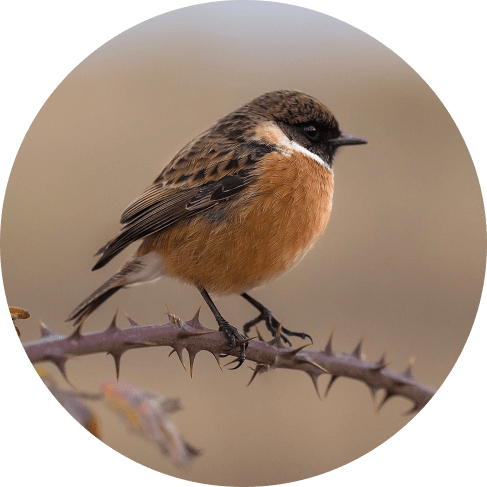 Style you won't find elsewhere
The unique craftsmanship and attention to detail provided by Tools® ensures you won't find another dynamic, capsule-shaped birdfeeder like ours. Our Modern Hanging Birdfeeder is made with the greatest attention to detail and quality for a decorative piece that will remain timeless. The Tools® name is a mark of dedicated product research, minimalist Euro-inspired design, and modern color palettes to outfit any interior (or exterior) effortlessly.
This feeder works very well and is very attractive.

This product is very sturdy and extremely easy to refill.

Looks good, easy to load and food stays dry in the rain.

The birds love this feeder! Big enough to fit many birds at one time. Great purchase!

Love this bird feeder. Beautiful design.

This bird feeder is very pretty, plus holds a lot of seed. Very Happy with this purchase.

I got this bird feeder for a Christmas gift for my husband-He loves it-It's very nice looking and the birdies seem to 😍 love it!

Without sounding dismissive.... It's a hanging bird feeder. The birds love it and it stays clean and dry... so it's awesome.

It's a very nice looking bird feeder with a simple design. More sturdy than some plastic or cheaper made feeders I have owned in the past. I expect it to last longer. I haven't had to clean it yet so I'm not sure how easy that will be.

Easy to see from a distance when it's empty. The birds seem to like it, they empty it every morning after I fill it up!! So it's easy to add seed, just lift the top and pour in the seeds. Very attractive feeder, should last without falling apart like my last one did.

Great bird feeder. It has wide holes for feed, to hold loose feed and give birds a place to stop. Materials felt great. I highly recommend it!

This bird feeder is amazing. It looks great, just like the photo. I have not had any issues with its installation. This thing is STURDY! I'm very happy with this product. Highly recommend it!

Really well made, the finish is nice & I love the style. Because of the way the reservoir curves at the top I was somewhat worried when ordering that filling it might be a pain but it's very easy & I like that I can just lift the top and fill it while it's hanging. Recommend it!

Even though this is a small feeder, it is a nice color and material. It is very attractive, and should last a long time. Only drawback is that it is small.

This isn't large. But it will be the prettiest feeder you own. I'm very happy with it, easy to load.
View full details
Featured store
Our products are featured in top news publications including Fox, Newyork times & USA Today
Trusted by 1000+ customers
We are thankful to each customer for showing trust in our products.
24 x 7 support
We won't leave you alone! Every one gets 24 x 7 priority support.
2 to 4 day shipping
All products are shipped in 2 to 4 business days from USA Warehouse.
Happy Customers
So many positive reviews and happy customers cannot be wrong!
100% Satisfaction
We offer 90 days risk free trial with 100% satisfaction guarantee.
Made in the USA
All our products are made with love in the USA