.
Regular price
$104.90
Sale price
$38.47
Unit price
per
Sale
Sold out
If you order within
Arrives by
Mini Vehicle Set

The perfect gift for any enthusiastic little driver!

Looking for the perfect gift to ignite your child's imagination and provide hours of endless fun?

Introducing the Mini Vehicle Set Toy for Kids! This exciting and versatile set is designed to spark creativity, enhance fine motor skills, and offer countless adventures. It's not just a toy; it's a gateway to a world of imagination and play.
Imagine the joy and excitement in your child's eyes as they explore the Mini Vehicle Set, creating their own stories and adventures. Picture them developing essential skills while having a blast. This set isn't just play; it's a key to a world of boundless creativity.
Take advantage of the opportunity to provide your child with endless hours of fun and learning. Experience the thrill of watching your child's imagination come to life through play. Order now and let the adventures begin!
City streets, busy highways, country roads. Whether it's the Ambulance, Police Car, Taxi, or Fastback, the
Toys Mini
Vehicles (4-pack) will stop traffic wherever little imaginations venture. These planet-pleasing automobiles are made in the USA from 100% recycled plastic milk jugs, with no BPA, phthalates, or PVC. Recommended for children ages 3+.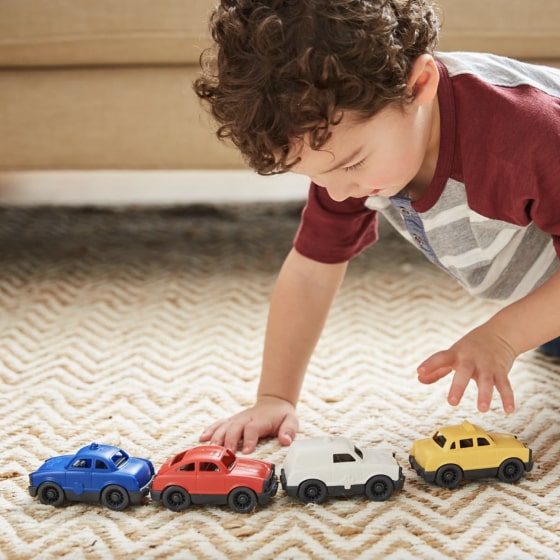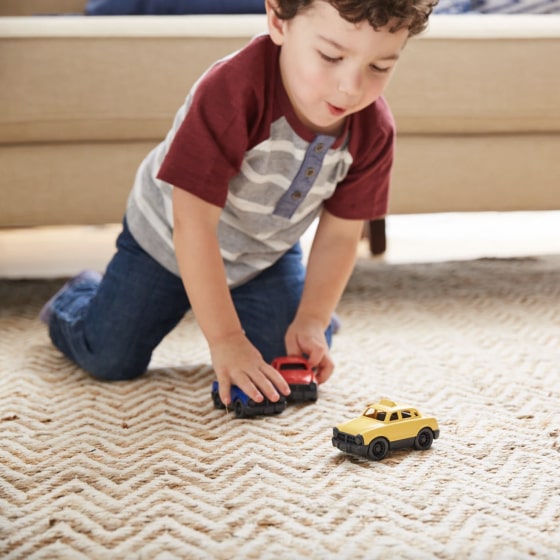 Turn on the engine - it's time to play!
Mini Vehicle Set: features & highlights
100% sustainable & eco-friendly
These planet-pleasing automobiles are made in the USA from 100% recycled plastic milk jugs, saving energy and reducing greenhouse gas emissions. Packaged with recycled and recyclable materials and printed with soy inks.
Safe for your kid
Each pint-sized car sports its own unique details, while the whole fleet features a super-eco design with no metal axles or external coatings. No BPA, phthalates, or PVC. Meets FDA food contact standards.
Play anywhere, anytime.
Ride inside or roll outdoors with these mini vehicles! With no metal axles or external coatings, these toy vehicles are dishwasher-safe for easy cleaning. They are made to last and to be enjoyed for generations to come.
Fun and educational
The realistic details and diversity of vehicles spark the imagination and encourage creative play. These vibrant toy cars are also tiny hands-friendly and can improve your little driver's fine motor skills and hand-eye coordination.
Details and specifications

What you get: 1 x Ambulance, 1 x Police car, 1 x Taxi, 1 x Fastback. Product Dimensions: 4" L x 2" W x 2" H. Product Weight: 0.08 lbs.



Benefits of the Mini Vehicle Set Toy for Kids:
Imagination Boost: Inspires creative play and storytelling.
Fine Motor Skills: Enhances hand-eye coordination and dexterity.
Educational Play: Encourages learning through play.
Versatile Set: Includes various vehicles for diverse adventures.
Interactive: Fosters social skills through cooperative play.
Quality Construction: Made from safe and durable materials.
Problem Solving: Encourages critical thinking and decision-making.
Entertainment: Provides hours of engaging entertainment.
Portable: Compact and easy to take on-the-go.
Parent-Child Bonding: Offers opportunities for quality bonding time.
Versatile Play: Suitable for solo or group play.
Immersive Playtime: Keeps kids engaged and entertained.
Gender-Neutral: Suitable for boys and girls.
Encourages Exploration: Sparks curiosity and exploration.
Affordable: A cost-effective way to provide hours of fun.
Frequently Asked Questions (FAQ)  

1. Is the Mini Vehicle Set safe for children to play with?
Yes, it's typically designed with child safety in mind, using non-toxic materials and rounded edges.
2. What age group is this set suitable for?
The set is often designed for kids aged 3 and up but can vary by manufacturer.
3. What vehicles are included in the set?
Contents may vary, but the set often includes cars, trucks, and buses.
4. Can I combine this set with other toys or playsets?
It can be combined with other toys to create even more exciting adventures.
5. How can I clean and maintain the Mini Vehicle Set?
Most pieces can be cleaned with mild soap and water. Follow the manufacturer's care instructions.
6. Can this set be used for educational purposes?
Absolutely! It encourages learning through imaginative play and can support various educational themes.
7. Is this set suitable for use in schools or daycare centers?
Yes, it can be a valuable addition to educational environments.
8. Are replacement parts or additional vehicles available for purchase?
Availability may vary, so check with the manufacturer or retailer for accessories.
9. Does the set require batteries or any additional purchases?
No, it typically does not require batteries or additional purchases.
10. Can I use this set to encourage cooperative play among children? 
It's ideal for fostering social skills and teamwork among kids during play.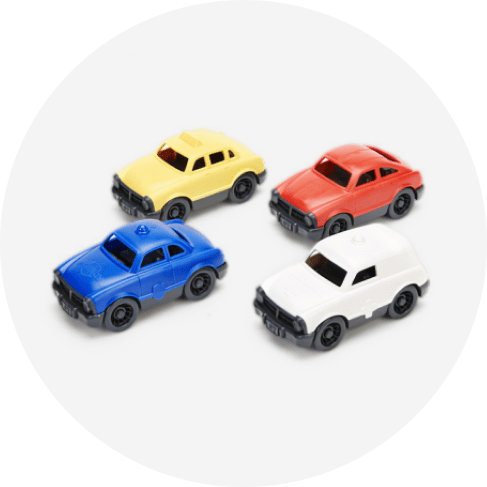 Reviews
Our reviews are verified for authenticity
My son loves all the Green toys, so I bought these for my nephew. These toys are durable and fun!

Green toys are the best very simple design very durable will last forever and it can be passed down to generations to come.

This is a really great product and I have bought others in the range for my 2 year old grandson.

Just the right size - love they are made from recycled stuff and double love they are dishwasher safe!

Safe and well made! Lead free! Wonderful company. Encourages creative play! The 4 cars are great size for little hands. My 3 yr old loves them.

I don't know what my 2 year old grand kid's fascination is with cars, but he loves these...we also have the ferry boat and trailer from Green Toys. They are very durable and can't be taken apart or disassembled....even better!

I have always been so pleased with anything from this company. I bought this for our youngest grandson, but both the boys played with it, and left the other gifts laying there. I bought the 4 pack of cars, they fit this set, and again a great item.

We love the Green Toys products that we have purchased over the years. They may not have all the 'bells & whistles' that most similar toys do, but they are perfect & safe for the little ones!

I love Green Toys. My son can throw them, get them wet, step on them and generally abuse them but they have held up perfectly. Plus they are made in America from recycled materials. Win win for sure.

Awesome cars. My 18 month old baby loves them and we've had them since he turned one. They are solid and durable, easy to clean and can go everywhere - even in the bath.

Best toy cars ever! I have gotten these cars for both my boys and every baby/toddler in my life! They are bright, durable, can go in the bath without rusting, are perfect size for baby and toddler hands and good for the environment.

Great little cars from a company that never disappoints! My son drives these all over our house every day, he holds one in each hand and "bear crawls" around with no problems so they are definitely durable! I got them on sale but they are worth every penny of the full price, and I love that they are made with recycled material!

Green toys are great!! We love the toys from them we have. My kids and I picked these out for my youngest's first birthday. He loves cars and he absolutely loves these! I don't have to worry with him putting them in his mouth because the material and quality are great!

My wife and I love Green Toys. We have gotten several of their toys for my daughter and have never been disappointed. The same goes for these small cars. The size is great for my daughter who is 20 months old. She has been playing with them nonstop for hours now and loves saying "cars!" The quality is great, the toys are easy to clean, and in addition to all that, they are recycled. Can't go wrong!

They feel a little cheap, unlike other green toys we have.

My kids love them. But they are too light to roll far or straight if you try to roll them away from you. After you release them, they will almost immediately turn around and stop almost every time. Doesn't seem to bother the kids too much.

Kids love the cars. They are waterproof (or seem to be) which is great for the bathtub and swimming pool as well.
View full details
Enjoy Free Shipping on Every Order
Experience the ultimate convenience with our free 3-day shipping service available to all customers throughout the United States.
24 x 7 Customer Support at Your Service
We offer customer support through live chat, email, or phone, making it easy for customers to get assistance with their inquiries.
Crafted with American Pride: All Our Products Are Made in the USA
Experience the assurance of exceptional quality and support local industries with our wide selection of products, all proudly made in the USA.
Peace of Mind: Our 14-Day Return Policy Has You Covered
We want you to love your purchases, which is why we offer a hassle-free 14-day return policy. If you're not completely satisfied with your order, simply return it within 14 days for a full refund or exchange.
Explore Our Diverse Range of Products
Our store offers a vast selection of products, giving customers the convenience of finding everything they need in one place.
Our Customers Award Us 5 Stars
We are thrilled to share that our products has received widespread acclaim from our valued customers, with an abundance of 5-star customer reviews pouring in.
Your Choice, Your Security: Explore Our Multiple Payment Options
We offer secure payment options, giving customers peace of mind when making transactions.
Track Your Orders at Every Step
Customers can track their orders in real-time and receive updates on their delivery status.