If you order within
Arrives by
Regular price
$49.00 USD
Sale price
$37.00 USD
Unit price
per
Sale
Sold out
If you order within
Arrives by
Escape from danger
Have this life-saver on hand
In dire car accident or emergency situations, escaping to safety is sometimes down to just a few seconds. So be quick -- and prepared -- with this Mini Car Emergency Glassbreak Hammer & Belt-Cut Tool. Its dual-functionality ensures swift action for you (and passengers) to break free.
Compact yet functional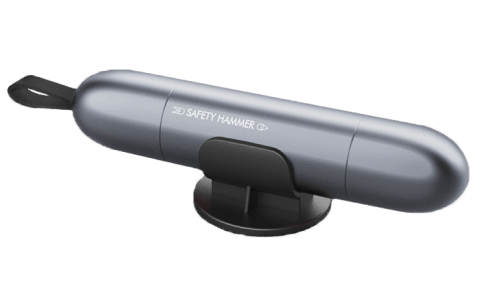 Dual-ended power
A tungsten-steel head on one end acts as a glassbreak hammer to shatter away car windows or windshield glass; a concealed stainless-steel blade on the other end helps slice away at seatbelts.
One tiny tool; one big responsibility
Measuring just 4.7" x 3.1" (L x W) and weighing just three ounces, this escape tool is compact and easy to store in your center or glovebox compartment.
Be prepared, always
Whether it's your own car or a family member's, equipt it with this life-and-death escape tool that can literally be a lifesaver. This Mini Car Emergency Glassbreak Hammer & Belt-Cut Tool is a no-brainer to use and a must-have for any emergency.
I love this little safety tool. I hope to never have to use it but I feel better just having it in my center console. Everyone should have one just in case!

This is a quality tool. Simple to operate and effective at accomplishing the task. But It's smaller than I expected.

This is a quality tool. Simple to operate and effective at accomplishing the task. It's small and easy to store in a handy place in your car for quick easy access. It surpassed my expectations. Thanks for the right tool for an important job.

Have you ever hung upside down in your car from your seat-belt? I have and it's pretty scary. I have a survival kit in my car for earthquakes and I've wanted to add this gizmo to the set. The absolute best is they send a piece of glass with the box for you to test it. I strongly advise putting it in a box to contain the shards because it shatters. The directions say to use your head, I believe that is a typo and it's super easy to use your hand.

This is super awesome! I wanted a window breaker but I want to avoid clutter in my car and most of my storage there is in use. This one is great because it's compact, comes with its own storage, and it's GREY - my favorite color. It can also fit into my door handle if I want. I did have to put some work into breaking the test glass but I'm glad it had the glass because now I know how much force I need. It's super cool! Now I need to find a way to test the belt cutter 🤔😈
View full details
Featured store
Our products are featured in top news publications including Fox, Newyork times & USA Today
Trusted by 1000+ customers
We are thankful to each customer for showing trust in our products.
24 x 7 support
We won't leave you alone! Every one gets 24 x 7 priority support.
2 to 4 day shipping
All products are shipped in 2 to 4 business days from USA Warehouse.
Happy Customers
So many positive reviews and happy customers cannot be wrong!
100% Satisfaction
We offer 90 days risk free trial with 100% satisfaction guarantee.
Made in the USA
All our products are made with love in the USA