If you order within
Arrives by
Regular price
$111.00 USD
Sale price
$36.99 USD
Unit price
per
Sale
Sold out
If you order within
Arrives by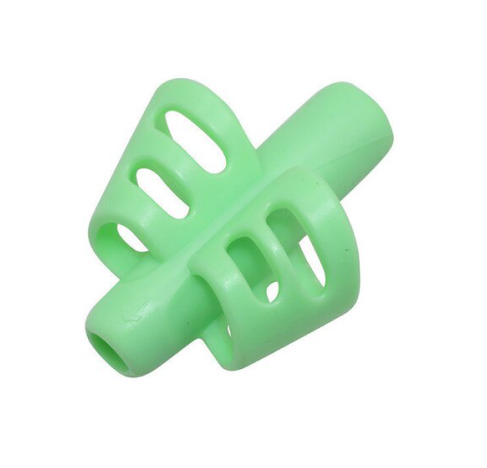 Proper penmanship starts right here
Have no idea what you're looking at when your child leaves you a note or when you're reviewing his or her homework? It may be time to look into improving your kid's penmanship skills. But everyone's method of writing is unique, so it's hard to manually correct each person's hand position through show and tell. That's why our Kids' Creative Writing Tool is a great solution for gradual physical correction.
Get a grip on legible handwriting.
Let your kid easily hold their pen or pencil in the proper pinch-to-pinch, a forefinger-and-thumb grip that helps improve penmanship. It may feel unnatural to a writer whose writing is not very proper or legible, but over time, the grip will feel more and more natural.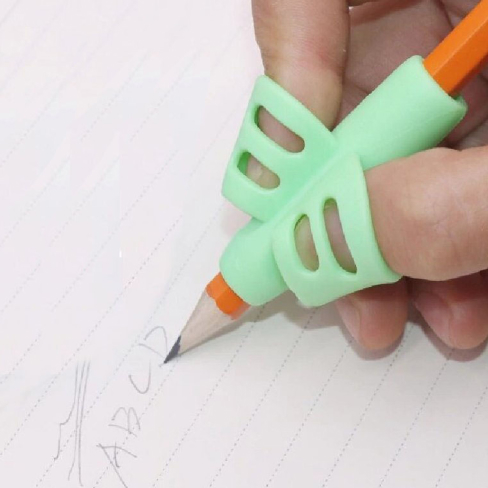 Soft and comfortable
Each creative writing tool slides right onto any standard-sized pen or pencil, and feels soft yet firm thanks to soft-silicone construction. Plus, no funky scents or toxic materials for ease of use.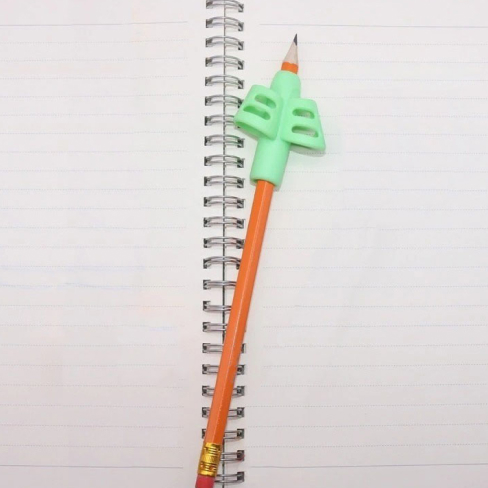 Great for children
Our tool is perfect for kids aged 3 to 12 to correct their penmanship form while they are still learning. But hey, adults...if your writing is hard to read, you might want to give this a shot!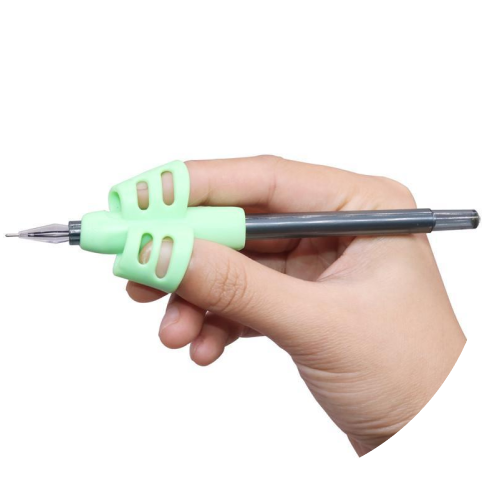 Ambidextrous use
No matter if you are right- or left-handed, this writing tool will work for your writing orientation. With on purchase, you get 3 writing tools (green, blue, orange).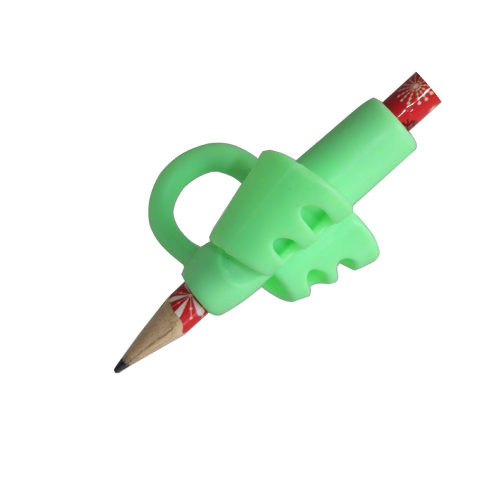 A tool to end the frustration and create a better tomorrow
The ultra-versatility of this product makes it an excellent gift or aid tool to a teacher, frustrated parent, daycare staff, or administrative office staff of a school.
Legible writing makes for better grades and better opportunities in the future, so it's great to have such a helpful tool on hand for anyone in need.
Reviews
Our reviews are verified for authenticity
My son is three years old and I was teaching him to write and he would get frustrated when he would hold the pencil wrong and this defeated the whole issue. It is impossible for him to hold the pencil incorrectly and he is so proud of himself because his writing has improved tremendously and I love seeing him happy!

They are GREAT!!!!! My 4 year old grandson loves the product!

Great pencil grip to have in your bag of tricks. Be careful, you may find a similar pencil grip cheaper but they do not necessarily fit on a standard pencil. Some are slightly too large and slide down a pencil making them useless. These are great and fit a standard pencil! Highly recommend.

My kids have fine motor skills problem and they are having hard time holding the pencil correcly, now its easier for them to hold the pencil and learning to write letters is much fun now. This pencil grip is awesome!

Great set of accessories. My daughter is autistic and struggles with holding pencils. This has helped with her tracing so much. I do wish one set was large for markers or the larger #2 pencils they use in kindergarten. Other than that, great item.

can't complain, is of top quality

These are way cool my kids are always complaining about their fingers hurting from pressing on their writing utensils and these help alot. And it has a cute holding tin too.

These are great for any kid! The ones with the loop to hold the finger in place are perfect to help kids develop a good tripod grip. Occupational Therapists that work with special needs kids could use these for writing help.

They arrived faster than the expected and well packed. Overall quality is good. I'm satisfied with my purchase and store work.

My daughters hand wringing isn't very good. I was told by a teacher friend of mine that this would help her. I have to admit that I wasn't sure about this product but it is helping her. She will not write without using this product. She still needs to work on her handwriting but this product is helping her improve day by day.

I bought these for the preschool kids in my daycare. They work great & are cute!

My little one is turning 3 year old soon. He has been holding pens in a weird way (no matter how I correct him). I bought this to pencil grip to see if he will start holding pens correctly. It's a bit tough to get him to use the grip at first, but after I put the grip on tightly he had no choice but using it. It made a great difference on how he holds his pens. Love it! Will definitely recommend it!

We had a hard time teaching my son how to keep pencils correctly in his hand until we hered about this product from a friend. After only two weeks of using them he shows a great improvement in correct use of pencils.

Works well with my 3 year old. He figured it out pretty quick. It somehow works with any finger size as his tiny fingers fit, but mine can fit as well. Helps him hold the pencil correctly and really helped him follow lines and draw shapes better. It is really quite hard to get pens or pencils into it though, but I guess it helps keep them secure

Exactly what my three year old needed to learn how to grip his pencil. I COULD NOT get him to hold it well so that meant no writing at all. With these I have been able to teach him a letter a week! He loves learning to write now because he can actually do it.

This product has been a lifesaver for my child's handwriting ever since he's been home due to the pandemic. He had a tendency to hold his forefinger higher up on the pencil. Even after our corrections it would find itself back up higher on the pencil. The pencil grips have trained his fingers to hold a pencil/pen more correctly, now even when we use one with out the grip! My son loved to use the grips, firstly because there was a blue one, his favorite color, and also because they were comfortable on his fingers and he wasn't worried about how they felt. That allowed him to concentrate more on his handwriting. Highly recommend this product for anyone who's child is learning to write or needs a trainer in holding the pencil correctly to neaten their handwriting.

Perfect for my 4 year old to correct his pen holding. His preschool teacher liked it so much she ordered some for the whole class.

These are fun and great for my LO to learn to grip a pencil correctly.

recieved today, it's so nice! thank you so much

I got this for my 3 year old daughter. She will be starting preschool soon and struggles to hold a pencil correctly. I showed her how to hold it correctly using these grips once and she has it down pat. Shes tracing letters so much better with using these grips. I highly recommend these for teaching your littles!

I bought these in hopes that we could work on the fine motor development of several students in my childcare center. I have tried others but they only had one type. I love that these have different options to be fit the student and what they need. Parents have even been asking where they can get them. Will definitely be buying these again!

Excellent store! fast shipping, great quality. Will order again :)

I have had such difficulties trying to teach my youngest daughter to hold her implement. She is a lefty in a right-handed home. Since receiving these pencil grips, she can hold her implement properly 100% of the time and WITHOUT frustration for either of us. If you are having frustrations, give this a try. Highly recommended!

Some of my first-graders were having problems with pencil grip. They loved using these, and I was very pleased to see their grip improving. After they had used them for a while, I told my students they were allowed to stop using them, as long as they continued holding their pencils correctly. Some of the students liked them so well they didn't want to stop using them! I'd definitely buy them again. They seem to hold up well and do the job.

I was worried about how this would fit, but it fits my 10 yr olds hands perfectly and is slightly big on my 4 yr old's hands. Great for kids with fine motor issues. My son has serious trouble holding utensils and pencils due to poor pincer grasp with ADHD. This solves his issues. I do have to check his middle finger bc he will wrap it around the top of the pencil over his index finger if I'm not watching.

My son uses these to hold pencil better. Its helped him a lot. I can actually read his writing.

I couldn't get my almost 5 year old to hold his pencil right, and I was having a hard time teaching him where to place his fingers. These worked out perfectly and are easy to use. Hopefully soon he won't need to use these at all. Definitely recommend to anyone who needs to teach their child how to hold a pencil

My 6-year-old has been battling the fisted pencil grip since he learned to pick up a writing utensil. It's been his preferred grip for so long that he's actually surprisingly dextrous with his wrist to the point that he can actually write legible letters and color inside the lines very well. BUT that's not what we want forever! I've been experimenting with different pencils and grips for years- chunky pencils, triangle-shaped crayons, short and stubby markers and colored pencils, special triangle-shaped pencil grips, grips with indents and bumps on them to promote better finger posture- anything that forces him to use some type of pinch in his grip instead of holding it in his fist. Nothing has stuck. He loves these grips, though! I can't say much for their durability, because once he's got them in a pencil case at school at some point they may not last long, but for the price I'm totally cool with replacing these a few times a year. I haven't once uttered the words, "Use your pencil pinch!" in days and it's been blissful to do our summer workbook.

Thank you. My son writing was a mess. Even the teacher was having problem with him. Then I bought this. And in less than two hour he took it off and started writing the correct way. This is a most have for early years in school.

My son is 4 and has a hard time holding his pencils and crayons. This grippers work wonders and his writing has improved so much. So grateful I bought these.

My kids loves to us it, there super cute and easy to us. I totally recommend this to anyone

Of all of the grips I tried when I put my 5yr old on to "level 1" of these grips he liked it, said it was better than the other grips he tried that did not hold your fingers in place, and these actually worked. Very happy.

My 4yr old was having trouble holding his crayons and pencils. These grips have helped soooo much! Definitely recommend!

Great for pre kindergarten. My daughter is able to find the best grip for herself with multiple grips to chose from.

Bought this product for my 5 yr old. Perfect size for a child who is learning to write. Product did not slide when on pencil.

Good value for the money. They're durable and a bunch were included. They're ambidextrous so that I (left handed) can teach my daughter (suspected right handed) how to hold a pencil and get her to practice doing it. The only thing I wish that the company would have done is make them in different sizes to fit crayons, colored pencils, markers, etc. Otherwise, I'm happy with my purchase.

I bought these for my daughter as it was recommended by her kindergarten teacher to get something like this to adjust her pencil grip. The issue I have with these is that they won't fit on the thicker pencils that are typically used in kindergarten for smaller fingers. It will fit on a normal size pencil only.

It works fine for my students. Yet, it is a little bit hard to put it on fine markers. My students use markers to practice writing instead of pencils. Other than that, it is perfect for young children. The price is reasonable. I recommend it.

This product improves mobility issues with holding writing utensil correctly. Great for beginners and elderly.

This works well but doesn't fit all pencils.

These are great for kids that are trying to hold the pencil and it keeps slipping out of their hands. My kids love these and are also great for drawing for long periods of time. Very comfortable, flexible, non-slip, and soft. It definitely helps with keeping fingers in place for learning kids to write. This variety pack of different colors helps identify pencils for each kid. Definitely recommend.

This was perfect for my three year old. It fits on regular size pens and pencils. With oil it can fit on the larger beginning pencils

These are quite good in terms of helping position the fingers but the should have an indicator of top finger and bottom finger and be designed with a slight difference for both.
View full details
Featured store in media
Homekartz has been constantly featured on top media sites like Fox, USA Today, Market watch and others
13,452+ Positive Reviews
So many positive reviews and happy customers cannot be wrong!
Free 3 day shipping
We provide free first class USPS and FedEx shipping on all orders.
24 x 7 support
We won't leave you alone! Every one gets 24 x 7 priority support.
90 Day Money Back Gurantee
We offer 90 days risk free trial with 100% satisfaction guarantee.
You help someone today
When you buy from us, we donate 10% of each sale to a child in need in the USA.
Made with Love
"Each product is made with not only the best material but a little bit of happiness and kindness too."
What customers say
*****

My 5 year old grand son loves the products that we bought from homekartz. They provide a high quality product.

*****

My daughter loves the toys that I purchased for her and we keep buying more toys for her from time to time.

*****

My kid loves the clothes that i got for him. Home kartz has really great clothes for different occassion.