If you order within
Arrives by
Regular price
$111.00 USD
Sale price
$54.00 USD
Unit price
per
Sale
Sold out
If you order within
Arrives by
Seaplane Kids Toy
Let your young captain navigate from water to air and back again!
We are introducing the most excellent new toy on the market!

A seaplane is a kid's toy that allows them to navigate from water to air and back again. It's made entirely from recycled plastic, so it's eco-friendly too!

Your child will have hours of fun with this imaginative toy. It's sturdy and colorful and encourages creativity and eco-awareness.

It also meets all international toy safety standards and contains no BPA, lead, or phthalates. With its vibrant colors and winsome, cartoonish look, the seaplane will delight young children ages one and up.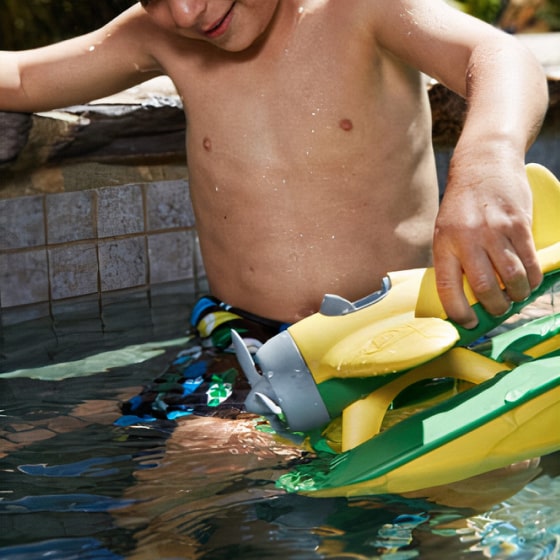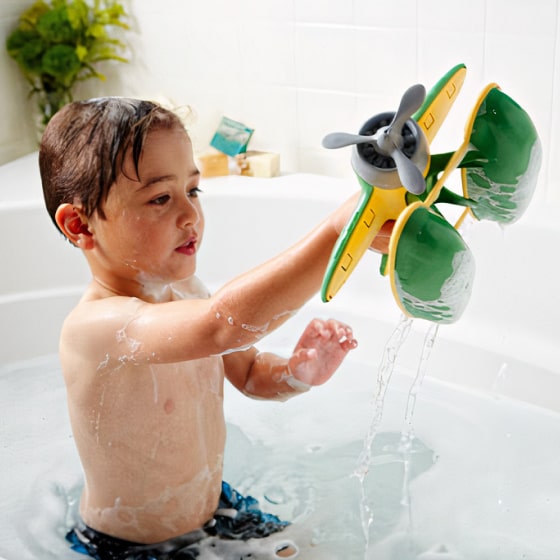 Fly away to the world of fun and joy!
Seaplane toy: features & highlights
Fun and interactive
The Seaplane sports a cheerful, colorful design that will catch the eyes of young children. It features a spinning propeller, rounded wings, and thick, oversized pontoons. There is also a cockpit where a child can place a small action figure or doll.
Ideal for bath time or pool play
Just like a real seaplane, the toy is designed to float in water. Your young pilot will love to pretend coasting into a port during bath time or soaring above oceans during day trips to the beach or pool.
Constructed from 100% recycled plastic
Made in the USA from 100% recycled plastic milk jugs that save energy and reduce greenhouse gas emissions. The packaging is also made from recycled materials and contains no plastic twists, ties, or films.
A smart, safe choice
Seaplane adheres to FDA standards and contains no BPA, lead, phthalates, or other harmful substances. It is safe for use around food and is dishwasher safe for easy cleaning. As sturdy and durable as toys come, it is designed to withstand rough play.
Details and specifications
Product dimensions: 9.5" L x 9" W x 5.25" H.
Product weight: 0.61 lbs. Awards:
ASTRA Best Toys for Kids - Early Play.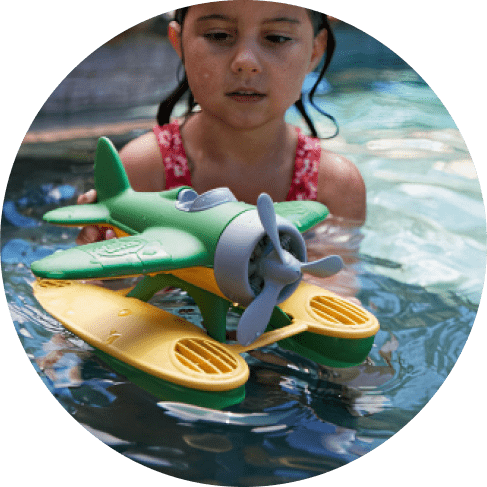 Reviews
Our reviews are verified for authenticity
Cute Seaplane. Colorful in yellow and green. Propeller twirls around.

Seems quite sturdy and should last a long time! Great for kids and adults!

I like the design and very nice quality. Kids will love it for sure.

Very high quality toys, I love the texture of the plastic and the fact that it is recycled. Colors look exactly like in the picture. Kids love them, perfect for bath time.

It doesn't get better than this. The toy is amazing, perfect for infants, and of quality unseen these days. Your products have an obvious personal touch for quality.

Love this product. Have bought a couple for my grandsons and they were a big hit and dishwasher safe!

This is now my grandsons favorite new toy, he sleeps with it, takes a bath with it and carries it around with him. I'm looking forward to the summer in the pool.

Very high quality toys, I love the texture of the plastic and the fact that it is recycled. Colors look exactly like in the picture. Kids love them, perfect for bath time.

We've purchased a number of Green Toys and they have all been quality. I love that they're made in the USA! The recycled plastic really has a nice feel to it and is very sturdy, we have had some for years and they still pretty much look like new.

This toy is fun, educational, eco-friendly, made in the USA, and phthalate, BPA, and lead free. It's a guilt-free toy! It is one of our favorite bath toys. It floats very well (compared to many other bath toys that don't), and it sparks my 5-year old's imagination. He likes to pretend that the plane is landing on the water, or he will push the plane under so it fills up with water and pretend it is sinking (so his superheroes can save the day). His 1.5 year old sister loves filling it up and dumping it out as well.

I purchased two of these seaplanes for my 2 great-grandsons, one green and one yellow and they absolutely love them. They are made so durable and they did take them in their small pool and they loved how they floated....I'm so glad that I got them and I'm sure they will last them forever. They absolutely a Great Gift Idea!! I highly recommend!

It's a very well made product but despite all the drain holes, I worry about mold. I wish there was a way to easily open it. It looks like it might come open but I'm scared I'll break it. Hopefully there's nothing harmful growing inside.

Fun toy for my son to play with in the bath. Does fill with water fairly easily, but drains well too. Floats pretty good. I think we'll get some good use out of it for a few years. Seems well made.

I got this airplane for my one-year old daughter. The quality of the toy is wonderful. It is durable, easy to grasp, and is oh-so happy and colorful. The only downside is that the toy isn't very interactive. You can hold it, play with the propeller, and take in the tub (it floats), but that is about it. So if you are looking for something more complicated, this isn't the toy for you.
View full details
Featured store in media
Homekartz has been constantly featured on top media sites like Fox, USA Today, Market watch and others
13,452+ Positive Reviews
So many positive reviews and happy customers cannot be wrong!
Free 3 day shipping
We provide free first class USPS and FedEx shipping on all orders.
24 x 7 support
We won't leave you alone! Every one gets 24 x 7 priority support.
90 Day Money Back Gurantee
We offer 90 days risk free trial with 100% satisfaction guarantee.
You help someone today
When you buy from us, we donate 10% of each sale to a child in need in the USA.
Made with Love
"Each product is made with not only the best material but a little bit of happiness and kindness too."
What customers say
*****

My 5 year old grand son loves the products that we bought from homekartz. They provide a high quality product.

*****

My daughter loves the toys that I purchased for her and we keep buying more toys for her from time to time.

*****

My kid loves the clothes that i got for him. Home kartz has really great clothes for different occassion.