.
Regular price
$114.90
Sale price
$41.47
Unit price
per
Sale
Sold out
If you order within
Arrives by
Let your young captain navigate from water to air and back again!
Looking for a thrilling and educational toy that will take your child's imagination to new heights?
Introducing the Seaplane Adventure Toy for Kids! This exciting toy inspires creativity, promotes learning, and provides hours of thrilling play. It's not just a toy; it's an invitation to embark on high-flying adventures.
Imagine the joy and wonder in your child's eyes as they pilot their seaplane, exploring imaginary worlds and taking on daring missions. Picture them developing problem-solving skills, nurturing their love for exploration, and experiencing the thrill of flight. This isn't just a toy; it's your child's passport to limitless adventures.
This Seaplane offers imaginative, eco-friendly fun. This sturdy, colorful toy is constructed entirely from recycled plastic. It also meets all international toy safety standards and contains no BPA, lead, or phthalates. With its vibrant colors and endearing, cartoonish look, the seaplane will delight young children ages one and up.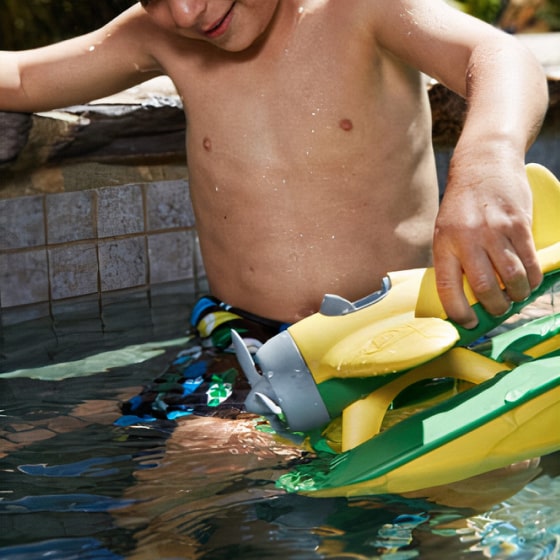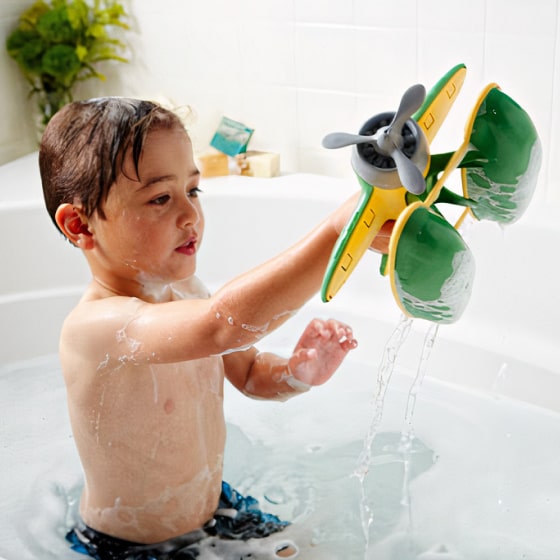 Fly away to the world of fun and joy!
Seaplane toy: features & highlights
Fun and interactive
The Green Toys™ Seaplane sports a cheerful, colorful design that will catch the eyes of young children. It features a spinning propeller, rounded wings, and thick, oversized pontoons. There is also a cockpit where a child can place a small action figure or doll.
Ideal for bath time or pool play
Just like a real seaplane, the toy is designed to float in water. Your young pilot will love to pretend to coast into a port during bath time or soar above oceans during day trips to the beach or pool.
Constructed from 100% recycled plastic
Made in the USA from 100% recycled plastic milk jugs that save energy and reduce greenhouse gas emissions. The packaging is also made from recycled materials and contains no plastic twists, ties, or films.
A bright, safe choice
Green Toys™ Seaplane adheres to FDA standards and contains no BPA, lead, phthalates, or other harmful substances. It is safe for use around food and is dishwasher-safe for easy cleaning. As sturdy and durable as toys come, it is designed to withstand rough play.
Details and specifications
Product dimensions: 9.5" L x 9" W x 5.25" H. Product weight: 0.61 lbs. Awards: ASTRA Best Toys for
Kids
- Early Play.

Frequently Asked Questions (FAQ) 

1. Is the Seaplane Adventure Toy safe for kids to play with?
Yes, it's typically designed with child safety in mind, using non-toxic materials and rounded edges.
2. What age group is this toy suitable for?
The toy is often designed for kids aged three and up, but parental supervision may be needed for younger children.
3. Does the seaplane toy require batteries or assembly?
Most seaplane toys for kids do not require batteries, and assembly is often minimal.
4. Can I use this toy in water, like a pool or a bathtub?
It's essential to check the manufacturer's instructions, but many seaplane toys are designed for imaginative play and may not be intended for use in water.
5. Does the set include any additional accessories or figures? 
Contents may vary, but some sets include figures, cargo, or other accessories to enhance play.
6. Is it easy to clean and maintain?
Most seaplane toys can be cleaned with mild soap and water if needed.
7. Can this toy be used for educational purposes?
Absolutely! It can be a valuable tool for teaching kids about aviation, exploration, and imaginative play.
8. Can I use this toy to encourage cooperative play among children? 
It's ideal for fostering social skills and teamwork among kids during play.
9. Can I purchase it as a gift for other adventurous children?
Yes, it makes a thoughtful and exciting gift for kids who love adventure and exploration.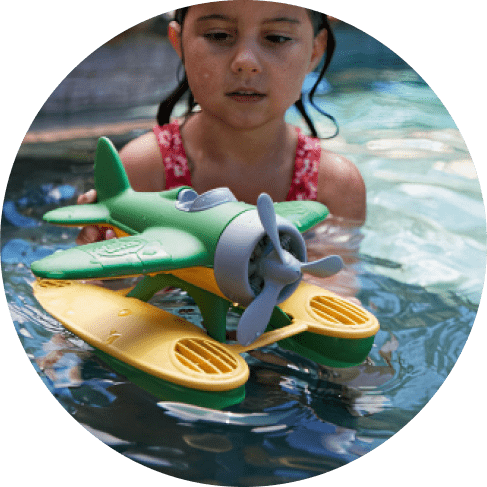 Reviews
Our reviews are verified for authenticity
Cute Seaplane. Colorful in yellow and green. Propeller twirls around.

Seems quite sturdy and should last a long time! Great for kids and adults!

I like the design and very nice quality. Kids will love it for sure.

Very high quality toys, I love the texture of the plastic and the fact that it is recycled. Colors look exactly like in the picture. Kids love them, perfect for bath time.

It doesn't get better than this. The toy is amazing, perfect for infants, and of quality unseen these days. Your products have an obvious personal touch for quality.

Love this product. Have bought a couple for my grandsons and they were a big hit and dishwasher safe!

This is now my grandsons favorite new toy, he sleeps with it, takes a bath with it and carries it around with him. I'm looking forward to the summer in the pool.

Very high quality toys, I love the texture of the plastic and the fact that it is recycled. Colors look exactly like in the picture. Kids love them, perfect for bath time.

We've purchased a number of Green Toys and they have all been quality. I love that they're made in the USA! The recycled plastic really has a nice feel to it and is very sturdy, we have had some for years and they still pretty much look like new.

This toy is fun, educational, eco-friendly, made in the USA, and phthalate, BPA, and lead free. It's a guilt-free toy! It is one of our favorite bath toys. It floats very well (compared to many other bath toys that don't), and it sparks my 5-year old's imagination. He likes to pretend that the plane is landing on the water, or he will push the plane under so it fills up with water and pretend it is sinking (so his superheroes can save the day). His 1.5 year old sister loves filling it up and dumping it out as well.

I purchased two of these seaplanes for my 2 great-grandsons, one green and one yellow and they absolutely love them. They are made so durable and they did take them in their small pool and they loved how they floated....I'm so glad that I got them and I'm sure they will last them forever. They absolutely a Great Gift Idea!! I highly recommend!

It's a very well made product but despite all the drain holes, I worry about mold. I wish there was a way to easily open it. It looks like it might come open but I'm scared I'll break it. Hopefully there's nothing harmful growing inside.

Fun toy for my son to play with in the bath. Does fill with water fairly easily, but drains well too. Floats pretty good. I think we'll get some good use out of it for a few years. Seems well made.

I got this airplane for my one-year old daughter. The quality of the toy is wonderful. It is durable, easy to grasp, and is oh-so happy and colorful. The only downside is that the toy isn't very interactive. You can hold it, play with the propeller, and take in the tub (it floats), but that is about it. So if you are looking for something more complicated, this isn't the toy for you.
View full details
Enjoy Free Shipping on Every Order
Experience the ultimate convenience with our free 3-day shipping service available to all customers throughout the United States.
24 x 7 Customer Support at Your Service
We offer customer support through live chat, email, or phone, making it easy for customers to get assistance with their inquiries.
Crafted with American Pride: All Our Products Are Made in the USA
Experience the assurance of exceptional quality and support local industries with our wide selection of products, all proudly made in the USA.
Peace of Mind: Our 14-Day Return Policy Has You Covered
We want you to love your purchases, which is why we offer a hassle-free 14-day return policy. If you're not completely satisfied with your order, simply return it within 14 days for a full refund or exchange.
Explore Our Diverse Range of Products
Our store offers a vast selection of products, giving customers the convenience of finding everything they need in one place.
Our Customers Award Us 5 Stars
We are thrilled to share that our products has received widespread acclaim from our valued customers, with an abundance of 5-star customer reviews pouring in.
Your Choice, Your Security: Explore Our Multiple Payment Options
We offer secure payment options, giving customers peace of mind when making transactions.
Track Your Orders at Every Step
Customers can track their orders in real-time and receive updates on their delivery status.