.
Regular price
$84.90
Sale price
$32.47
Unit price
per
Sale
Sold out
If you order within
Arrives by
Airplane Toys for Kids

Take your kid's dreams to the skies!
Airplane Toys offers your little pilot a great way to use their creativity while learning the value of recycling to make Mother Earth happy!
Fly it, spin and roll it, or drive it over and let their imagination soar up high with this eco-friendly aircraft. This single-seater plane is designed to withstand active play.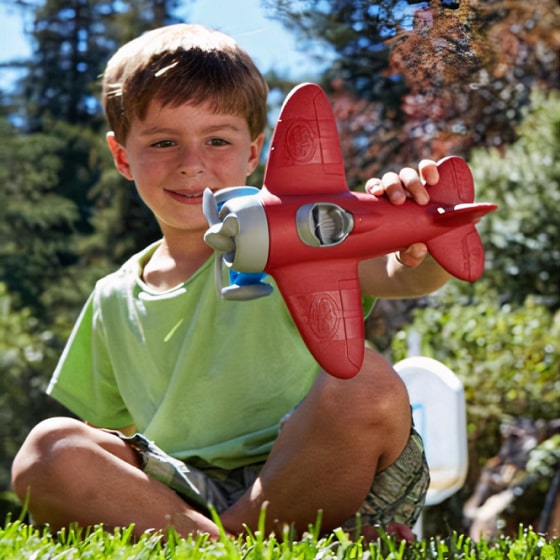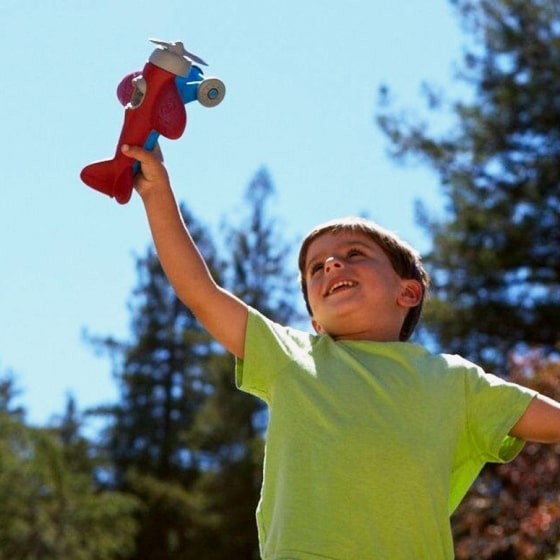 About the Airplane Toys

The best gift for your little pilot
Safe for your kid and the planet
This
toy
airplane is made using 100% recycled plastic milk jugs that can help save energy and reduce greenhouse gas emissions. It meets FDA food contact standards and does not contain BPA, phthalates, or PVC, providing safety to your child.
Encourages imaginative play
Imagination will soar to new heights as pilots-in-training practice loops, rolls, and spins with this flyer. The lightweight design and tapered, easy-to-grasp body shape let even the littlest aviators ascend through flight school with ease.
Fun and educational
This aircraft is a practical way of introducing your child to the aeronautical world. It features a spinning propeller, two-wheeled landing gear, and racing stripes on its rounded wings.
Eco-friendly packaging
Packing this aero toy has been done using recycled and recyclable materials, including soy ink prints, which further help contribute towards a healthier environment.
Details and care
Product dimensions: 8.5" L x 9" W x 4.5" H. Product weight: 0.35 lbs. Dishwasher safe. Recommended for ages 1 and above.

Searching for the perfect toy to fuel your child's imagination?


Introducing our Airplane Toys for Kids! These captivating toys are designed to take your child on a soaring adventure while enhancing their creativity and cognitive skills.


Here's why you'll love our Airplane Toys for Kids:


Endless Adventures: These toys inspire imaginative play, allowing your child to explore the skies and embark on thrilling missions.
Educational Value: They promote cognitive development, enhancing problem-solving and fine motor skills.
Durable and Safe: Crafted with child-friendly materials, they're built to withstand hours of play and ensure your child's safety.
Parent-Approved: Join the parents who have seen their child's joy and development flourish with these airplane toys.

Elevate your child's playtime with our Airplane Toys for Kids. Click now to add these exciting and educational toys to your cart.

Benefits of Airplane Toy:


Imaginative Play: Airplane Toys for Kids inspire creativity and imaginative adventures, helping children develop storytelling and role-playing skills.

Cognitive Development: These toys enhance cognitive skills, including problem-solving, spatial awareness, and hand-eye coordination.

Durable and Safe: Crafted with high-quality, child-safe materials, they can endure rough play while prioritizing your child's safety.

Parent-Approved: Parents value the educational and entertainment aspects of these toys, making them an excellent addition to playtime.

FAQ (Frequently Asked Questions):


Q1: What are Airplane Toys for Kids?
A1: Airplane Toys for Kids are engaging and educational toys designed to inspire imaginative play and promote cognitive development in children.

Q2: Are these toys safe for kids to play with?
A2: Absolutely. They are made from child-friendly materials, free from harmful chemicals, and designed to ensure a safe playtime experience.

Q3: What age range are these toys suitable for?
A3: Airplane Toys for Kids are typically suitable for children aged 3 and older, depending on their ability to engage in imaginative play.

Q4: How do these toys promote cognitive development?
A4: These toys enhance cognitive skills, spatial awareness, and fine motor coordination by encouraging imaginative play and problem-solving scenarios.

Q5: Are the toys easy to clean?
A5: Yes, most Airplane Toys for Kids can be easily cleaned with a damp cloth or mild baby-safe cleaner to maintain cleanliness and hygiene.

Q6: Can adults enjoy these toys too?
A6: While designed for kids, adults can join in imaginative adventures and create memorable playtime experiences with their children.

Q7: Do the toys require batteries?
A7: Most Airplane Toys for Kids do not require batteries. They rely on imaginative play and manual operation, making them hassle-free and eco-friendly.

Q8: Is this a suitable gift for special occasions?
A8: Yes, Airplane Toys for Kids makes lovely gifts for birthdays, holidays, or special occasions. They offer both entertainment and educational value.

Q9: How can I purchase Airplane Toys for Kids?
A9: You can buy Airplane Toys for Kids online through our website. Simply click on the product, add it to your cart, and follow the checkout process.

Q10: Do you offer international shipping?
A10: We primarily offer shipping within the United States. For international shipping inquiries, please get in touch with our customer support.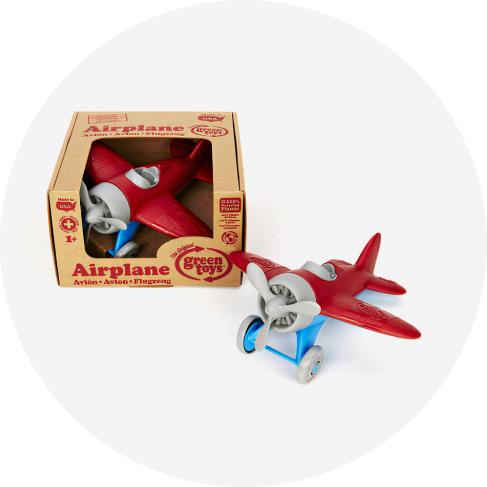 Reviews
Our reviews are verified for authenticity
I am very impressed with the quality of these toys..They are well made and nicely designed for children...Highly recommend these toys....

I love this little airplane. I used it for decorate my son's airplane theme first birthday and it was perfect.

This little airplane is super cute and very well made. We have had it for a couple years and it has really stood the test of time, and love from my two boys!

I bought airplanes for two grandsons and they were a hit! I like the fact that they are made from recycled milk cartons and can be washed in the dishwasher. Colors are bright.

This toy plane is awesome. It comes in a fully recyclable easy to open cardboard box. The plane itself is durable and the colors are vibrant. The propeller does turn when you manually rotate it. Size was good for a toddler or child up to about age 5 or 6. The 4 year old we gave it to loved it.

Bought this as a gift for my nephew and he loves it. It's very sturdy, seems to be built well and should last. The colors are very vibrant also. To sum it up, the airplane that I received matches the item description. I would buy it again and recommend this airplane to anyone who in search of one.

We love this airplane! My 7 month old loves to spin the propellers and wheels. It is eye-catching & she loves to watch her dad pretend to fly it around the room. It is very lightweight, but sturdy. It is larger than I expected- 8 inches across the wings and 8 inches from propeller to tail which was a pleasant surprise. We are excited for the day that she will be able to play with it creatively!

I have found from experience that Green Toys make some of the best toys for little kids these days and this airplane is no exception. They are very durable (we bought two) and can withstand lots of play by kids. Our kids have played with these airplanes for about two years now and they are in great shape without any damage.The plastics used in the manufacture of these airplanes is high quality and has no funny chemical smells whatsoever upon arrival. The design is great with lots of rounded edges, minimizing spots that can hurt a kid. These are well made toys that I can readily recommend. Made in USA.

In all fairness, my grandson who is 8 months is too young for this airplane. He's at the sensory age where toys need to feel different, make noise and therefore cause stimulation. Perhaps he will enjoy better when he is older. For the price, it is a very well made toy for little ones who are into airplanes.

Bought for my 4 year old, he loved it, just wish it made noise and wasn't so basic. Overall happy with the purchase, thank you.
View full details
Enjoy Free Shipping on Every Order
Experience the ultimate convenience with our free 3-day shipping service available to all customers throughout the United States.
24 x 7 Customer Support at Your Service
We offer customer support through live chat, email, or phone, making it easy for customers to get assistance with their inquiries.
Crafted with American Pride: All Our Products Are Made in the USA
Experience the assurance of exceptional quality and support local industries with our wide selection of products, all proudly made in the USA.
Peace of Mind: Our 14-Day Return Policy Has You Covered
We want you to love your purchases, which is why we offer a hassle-free 14-day return policy. If you're not completely satisfied with your order, simply return it within 14 days for a full refund or exchange.
Explore Our Diverse Range of Products
Our store offers a vast selection of products, giving customers the convenience of finding everything they need in one place.
Our Customers Award Us 5 Stars
We are thrilled to share that our products has received widespread acclaim from our valued customers, with an abundance of 5-star customer reviews pouring in.
Your Choice, Your Security: Explore Our Multiple Payment Options
We offer secure payment options, giving customers peace of mind when making transactions.
Track Your Orders at Every Step
Customers can track their orders in real-time and receive updates on their delivery status.