If you order within
Arrives by
Regular price
$111.00 USD
Sale price
$46.99 USD
Unit price
per
Sale
Sold out
If you order within
Arrives by
Airplane Kids Toy
Take your kid's dreams to the skies!
Your child loves airplanes and wants to help the environment?

With Home Kartz, they can do both! Our eco-friendly airplanes are made of recycled materials and help teach your little one the importance of recycling.

Not only is this toy good for the environment, but it's also tons of fun for your child. They can fly it, spin it and roll it around however they please. It's a perfect way to let their imagination soar.

Purchase an airplane today on our website!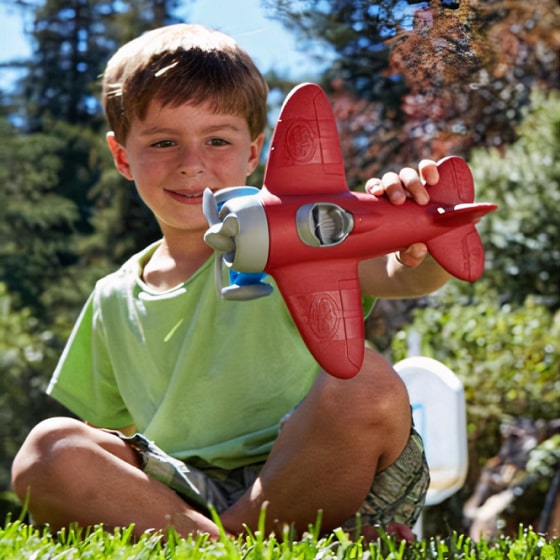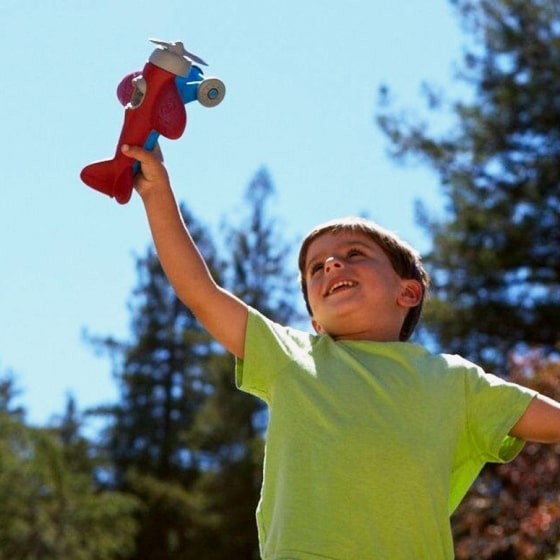 About the Airplane
The best gift for your little pilot
Safe for your kid and the planet
This toy airplane is made using 100% recycled plastic milk jugs that can help save energy and reduce greenhouse gas emissions. It meets FDA food contact standards and does not contain BPA, phthalates, or PVC, providing safety to your child.
Encourages imaginative play
Imagination will soar to new heights as pilots-in-training practice loops, rolls, and spins with this flyer. The lightweight design and tapered, easy-to-grasp body shape let even the littlest aviators ascend quickly through flight school.
Fun and educational
This aircraft is a practical way of introducing your child to the aeronautical world. It features a spinning propeller, two-wheeled landing gear, and racing stripes on its rounded wings.
Eco-friendly packaging
Packing this aero toy has been done using recycled and recyclable materials, including soy ink prints which further help contribute towards a healthier environment.
Details and care
Product dimensions: 8.5" L x 9" W x 4.5" H.
Product weight: 0.35 lbs.
Dishwasher safe.
Recommended for ages 1 and above.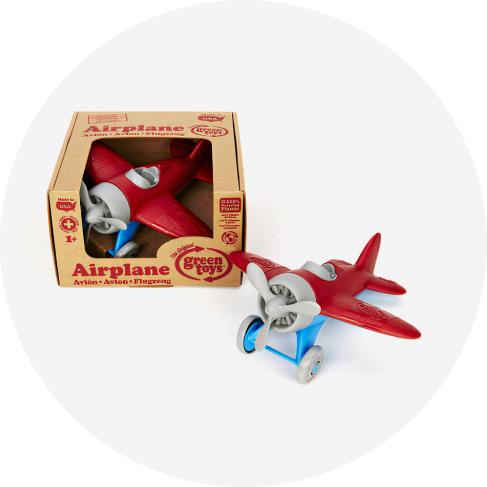 Reviews
Our reviews are verified for authenticity
I am very impressed with the quality of these toys..They are well made and nicely designed for children...Highly recommend these toys....

I love this little airplane. I used it for decorate my son's airplane theme first birthday and it was perfect.

This little airplane is super cute and very well made. We have had it for a couple years and it has really stood the test of time, and love from my two boys!

I bought airplanes for two grandsons and they were a hit! I like the fact that they are made from recycled milk cartons and can be washed in the dishwasher. Colors are bright.

This toy plane is awesome. It comes in a fully recyclable easy to open cardboard box. The plane itself is durable and the colors are vibrant. The propeller does turn when you manually rotate it. Size was good for a toddler or child up to about age 5 or 6. The 4 year old we gave it to loved it.

Bought this as a gift for my nephew and he loves it. It's very sturdy, seems to be built well and should last. The colors are very vibrant also. To sum it up, the airplane that I received matches the item description. I would buy it again and recommend this airplane to anyone who in search of one.

We love this airplane! My 7 month old loves to spin the propellers and wheels. It is eye-catching & she loves to watch her dad pretend to fly it around the room. It is very lightweight, but sturdy. It is larger than I expected- 8 inches across the wings and 8 inches from propeller to tail which was a pleasant surprise. We are excited for the day that she will be able to play with it creatively!

I have found from experience that Green Toys make some of the best toys for little kids these days and this airplane is no exception. They are very durable (we bought two) and can withstand lots of play by kids. Our kids have played with these airplanes for about two years now and they are in great shape without any damage.The plastics used in the manufacture of these airplanes is high quality and has no funny chemical smells whatsoever upon arrival. The design is great with lots of rounded edges, minimizing spots that can hurt a kid. These are well made toys that I can readily recommend. Made in USA.

In all fairness, my grandson who is 8 months is too young for this airplane. He's at the sensory age where toys need to feel different, make noise and therefore cause stimulation. Perhaps he will enjoy better when he is older. For the price, it is a very well made toy for little ones who are into airplanes.

Bought for my 4 year old, he loved it, just wish it made noise and wasn't so basic. Overall happy with the purchase, thank you.
View full details
Featured store in media
Homekartz has been constantly featured on top media sites like Fox, USA Today, Market watch and others
13,452+ Positive Reviews
So many positive reviews and happy customers cannot be wrong!
Free 3 day shipping
We provide free first class USPS and FedEx shipping on all orders.
24 x 7 support
We won't leave you alone! Every one gets 24 x 7 priority support.
90 Day Money Back Gurantee
We offer 90 days risk free trial with 100% satisfaction guarantee.
You help someone today
When you buy from us, we donate 10% of each sale to a child in need in the USA.
Made with Love
"Each product is made with not only the best material but a little bit of happiness and kindness too."
What customers say
*****

My 5 year old grand son loves the products that we bought from homekartz. They provide a high quality product.

*****

My daughter loves the toys that I purchased for her and we keep buying more toys for her from time to time.

*****

My kid loves the clothes that i got for him. Home kartz has really great clothes for different occassion.