If you order within
Arrives by
Regular price
$79.99 USD
Sale price
$58.99 USD
Unit price
per
Sale
Sold out
If you order within
Arrives by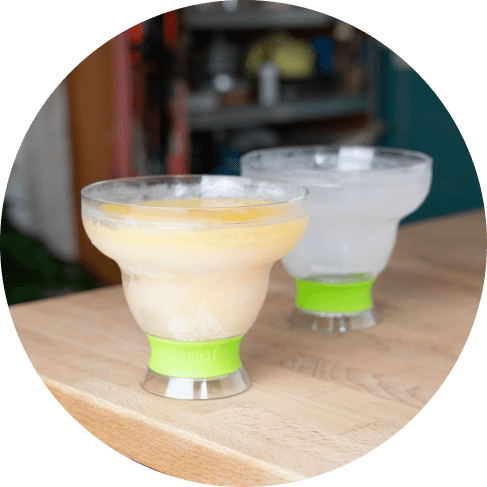 Margarita FREEZE™ Cooling Cups (set of 2) by HOST®
The Host Margarita Freeze cocktail glasses are specifically engineered for frozen cocktails and mixed drinks. Don't be left with a puddle of margarita mix: keep your slushies and more nice and crisp! The cooling gel inside the double-walled glasses provides thermal insulation, keeping drinks chilled for longer. Just pop our Margarita FREEZE™ in the freezer, pour your favorite drink and enjoy!
About Margarita FREEZE™ Cooling Cups
Keep your frozen margaritas frosty!
The magic is in the gel
The insulated plastic walls of these stemless martini cocktail glasses are filled with proprietary cooling gel. This works as a beverage chiller when frozen. Freeze for two hours and keep your drinks chilled for longer
Comfort-grip silicone band
The BPA-free plastic construction creates a sturdy margarita glass that is perfectly suited for outdoor use. An insulated silicone band on the base makes for comfortable handling, perfect for the outdoors!
Ideal for a variety of cocktails
Plastic construction with no-sweat silicone grips make this the best outdoor boozy slushie glass. Use at summer backyard barbecues, tailgates, and anywhere you need a cold drink on a hot day
A great gift for any margarita lover
This margarita glass set is great for any fun-loving cocktail enthusiast as an outdoor cocktail set, gift for moms on Mother's day, and more. Great for anyone who loves fun and drinks in the sun!
Details and care
Comes in a set of two Margarita FREEZE™ Cooling Cups. Each cup accommodates 12 oz., measures 5.25" x 5" x 9" and weighs 0.47 lb. Hand wash only.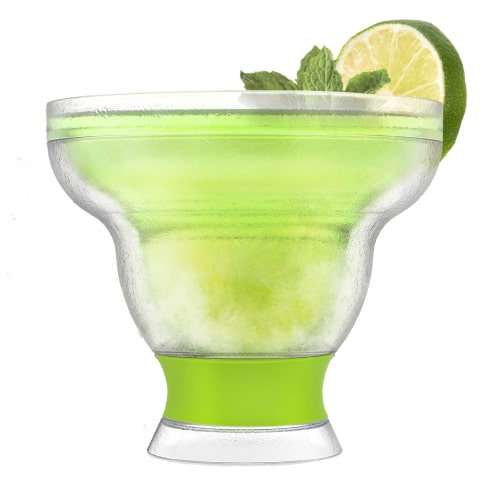 About HOST
HOST® HAS THE GADGETS. YOU BRING THE WINE. HOST's internationally recognized beverage accessories were created by geeks, for you. And our geeks aren't a bunch of nerds. They don't say things like, "Actually, isotopic isn't the same as isotropic." They don't build unfathomable gadgets that make people feel stupid. Instead, our geeks harness the power of science to bring you the best drinkware and wine tools they can dream up. HOST's industrial designers and engineers develop each product through rounds of meticulous testing and revision, manufacturing only the most uniquely functional items.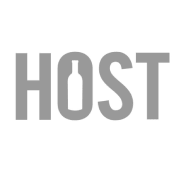 Designed In
Seattle, Washington
Awesome. So happy with purchase. Keep drink chilled! Best to place upside down in freezer to spread the gel. Nice and easy to hold as well.

I love these products! I have the wine glasses and the margarita glasses. They keep your drink nice and cold without the need of ice watering it down. It doesnt even take that long to freeze or refrigerate them.

I bought these for my husband and he absolutely loves them. It's easy to just keep them in the freezer and bring them out once you want a drink. They truly keep your drink colder for longer. I would recommend these to everyone!!

I really love the glass design. Not only do I use them for drinks, but I also use them for ice cream. Great glasses.

Best Margarita. I contribute to this cup, the sugar rim and of course the tequila. Only wish I had 4 and they were larger to hold more margarita.

Bought this for my Aunt as a Mother's Day gift and she uses it daily. She's 70 and hard to buy for, but she made a place of honor in the freezer for her cup.

I ordered one set to try them out. Have made Margaritas several times now and used the cups every time. They keep them nice & frozen :) I had to order another set! Definitely recommend these!

These cups are beautiful and very sturdy. They Chill in the freezer very well which is a plus when you're drinking margaritas. I am very pleased with this product this is something that I bought for myself and I cannot wait to continue to use them throughout the summer.

This is my third type of Host Freezing Glasses. I have a set of four wine glasses, four whiskey glasses, and two margarita glasses. These are great for the patio, taking on picnics, taking for beach vacation, or just keeping your drink cold for hours on a hot summer day! Host makes a quality product. I keep my glasses in the freezer all of the time....ready to go. Have never had a problem with any style of glass that I own. If you share one.....you might never get it back. Everyone loves them.
View full details
Featured store
Our products are featured in top news publications including Fox, Newyork times & USA Today
Trusted by 1000+ customers
We are thankful to each customer for showing trust in our products.
24 x 7 support
We won't leave you alone! Every one gets 24 x 7 priority support.
2 to 4 day shipping
All products are shipped in 2 to 4 business days from USA Warehouse.
Happy Customers
So many positive reviews and happy customers cannot be wrong!
100% Satisfaction
We offer 90 days risk free trial with 100% satisfaction guarantee.
Made in the USA
All our products are made with love in the USA