.
Regular price
$89.90
Sale price
$33.97
Unit price
per
Sale
Sold out
If you order within
Arrives by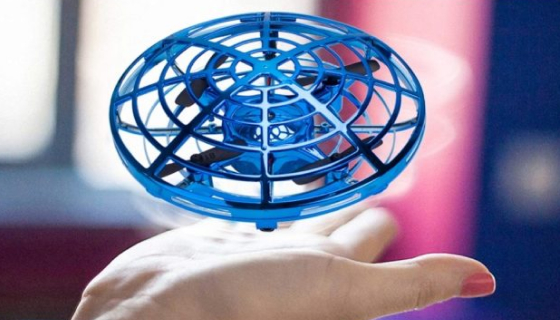 Let's take flight.

We may not be able to see UFOs, but we can make believe with a toy that can fly at your command. Our Gravity-Defying Flying UFO Toy flies high when it's time to have fun. Ready for fun?
Turn on the power button, toss this UFO into the air, and watch it hover around you. You can also control it with your hands to make it fly in multiple directions — it's perfect for impressing friends and family or for self-entertainment.
It's brilliant (like out-of-this-world)
Guided by an ultra-smart infrared sensor, this
toy
follows you and flies with a mind of its own. Just turn it on and drop (or toss) it into the air and watch it go.
Gesture it to go forwards, backwards, or upwards with the signal of a hand- no controllers are required- for 360-degree rotation.
Plus, the built-in infrared sensor utilizes hover technology so that the UFO can detect nearby objects and won't crash into valuables, walls, or people.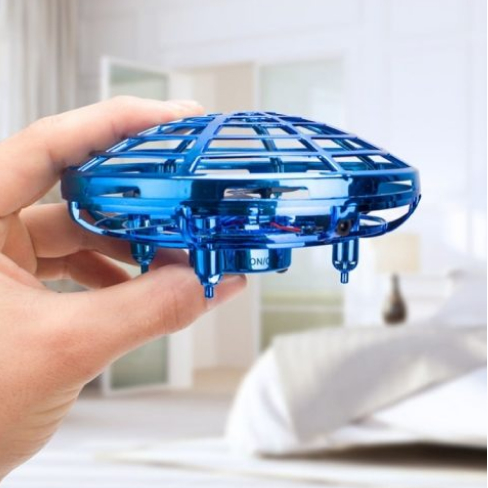 High-flying fun that's safe
Aside from its ultra-sharp sensor, the Gravity-Defying Flying UFO Toy also features a flexible mesh barrier for its propeller, meaning you can move or hold the toy in your hand without fear of getting cut or hurt. Constructed from ABS plastic, the toy is also non-toxic.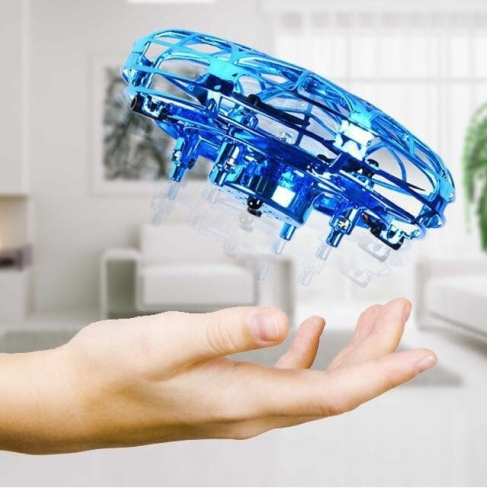 Lights up the night
Built-in LED lights help illuminate the night sky or a dark room. Choose from red, blue, or gold finish for your UFO, purchase, and get ready to command your own spacecraft!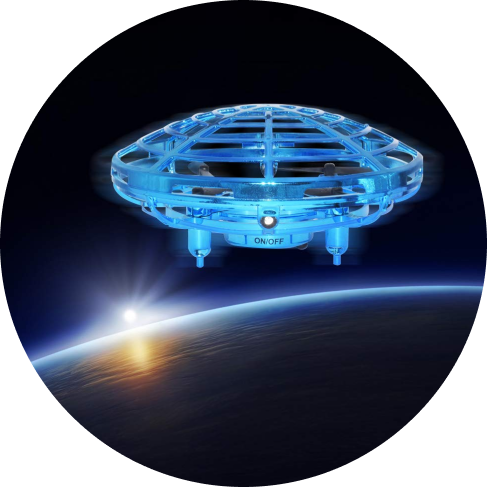 Charge this lithium battery-powered toy with a USB cord (included with purchase). The UFO fully charges in 35 minutes for eight uninterrupted flying times.
Go near or far.
The UFO's sensor detects up to 33 feet (10 meters) for commands up close or from a distance.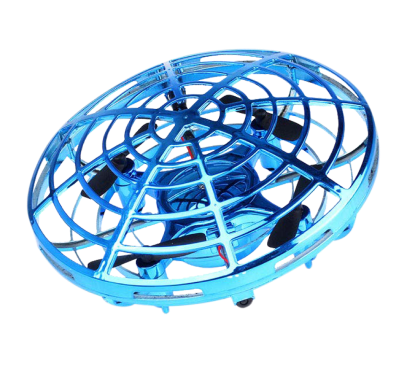 Fun for anyone
Suitable for
kids
as young as five years old, this out-of-this-universe toy will impress and delight children big and small. Adults will love it too!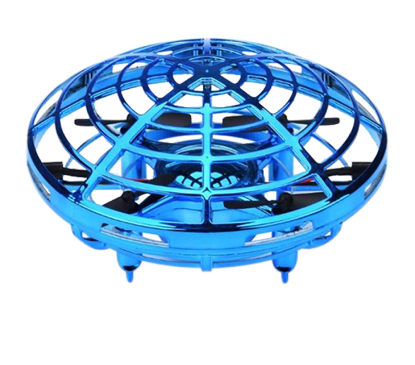 Looking for an out-of-this-world and exhilarating toy experience?

Introducing our Gravity-Defying Flying UFO Toy! This mind-blowing toy is designed to defy gravity, capturing the attention and imagination of children and adults alike.

Here's why you'll love our Gravity-Defying Flying UFO Toy:


Astonishing Fun: Watch in amazement as this UFO toy hovers and glides above you, creating a sense of wonder and excitement.
Easy to Operate: Anyone can become a pilot with a simple remote control, making it an instant hit at playtime.
Durable and Safe: Crafted with high-quality materials, it's built for indoor and outdoor adventures, prioritizing safety and long-lasting enjoyment.
Customer Favorites: Join the ranks of those who have witnessed the magic and thrill this UFO toy delivers.

Elevate your playtime with the Gravity-Defying Flying UFO Toy. Click now to add this captivating and gravity-defying toy to your collection.


Benefits of UFO Toy:


Astonishing Fun: The Gravity-Defying Flying UFO Toy offers a sense of awe and amazement as it hovers and glides, making playtime unforgettable.

Easy to Operate: With a user-friendly remote control, this toy is suitable for kids and adults, providing instant excitement.

Durable and Safe: Crafted with high-quality materials, it's designed for indoor and outdoor adventures, ensuring safety and durability.

Customer Favorites: Customers love the thrilling and magical experience that this UFO toy delivers, making it a must-have for playtime.

FAQ (Frequently Asked Questions):

Q1: What is the Gravity-Defying Flying UFO Toy?
A1: The Gravity-Defying Flying UFO Toy is an exciting and unique toy that hovers and glides, creating a gravity-defying experience.
Q2: How does this UFO toy work?
A2: The toy utilizes advanced technology to defy gravity, allowing it to hover and glide with the help of a user-friendly remote control.
Q3: Is it suitable for indoor and outdoor use?
A3: Yes, this UFO toy is designed for indoor and outdoor adventures, providing flexibility and versatility in play.
Q4: Is it safe for kids to operate?
A4: Absolutely, the toy is safe for kids to operate, and its user-friendly remote control makes it easy for them to enjoy.
Q5: What age range is this toy suitable for?
A5: The Gravity-Defying Flying UFO Toy is suitable for kids and adults, providing excitement for a wide range of ages.
Q6: Are replacement parts available?
A6: Yes, replacement parts are available to ensure the longevity and continued enjoyment of your UFO toy.
Q7: Does the UFO toy require batteries?
A7: Yes, it requires batteries, and the package typically includes details about the battery requirements.
Q8: Is this a suitable gift for special occasions or holidays?
A8: Yes, the Gravity-Defying Flying UFO Toy makes an exceptional and unique gift for birthdays, holidays, and special occasions, creating moments of wonder and fun.
Q9: How can I purchase the Gravity-Defying Flying UFO Toy?
A9: You can buy the Gravity-Defying Flying UFO Toy online through our website. Click on the product, add it to your cart, and follow the checkout process to make it yours.
Reviews
Our reviews are verified for authenticity
I was a little unsure what to expect with this drone - my experiences so far with drones have involved learning curves figuring out the control of and quirks of different ones. Some are really sensitive and flying can take a while to get accustomed to, which means it's not very conducive to using with smaller kids. THIS one - was one everyone could enjoy though. Simply using our hands to keep it flying around was a lot of fun - older kids could do more to guide it, while younger kids could participate with very little eye/hand coordination. Wish the charge lasted longer, but understand the trade off for the lightweight flight ability vs short battery life. Charging time was fairly short. I'd like to give more of a review on longevity, but after I played with it for a while, I took it with me to get feedback from an assorted age group - they were having so much fun with it, I didn't have the heart to take it with me when I left. I will say, we crashed it fairly hard, often, without any real damage. As others have noted - remove the (tiny) screws when taking out of the box, otherwise you'll not be near as impressed. :)

Oh my gosh! I am surprised this is still in stock. Love love love it. My grandson who is 7 fell in love with it. His 92 yo grandfather loves it too! Bought a bunch more. It is sooooo much fun.

Very easy to play with and use. It does have a bit of a high pitched whine but it is not intolerable. Although I haven't timed it, it seems to run for about 7-10 minutes between charges; long enough to enjoy playing with it but not so long that the kids start to drive me crazy with it. You can direct the motion by placing your hand under it or in front of the sensors when it is flying but it does a good job of avoiding crashes on its own, in my living room with a vaulted ceiling. I don't know how it would operate it's low ceilings, and I definitely would not fly it outside. I'm pretty sure you would only get one opportunity to fly it outside before it disappears into the sky, since there is really no way to have any control over it remotely. Fun toy, worth the reasonable price.

This drone is SO much fun and SO easy to use. My five y.o. son and ten y.o. daughter each have one. They are easy to get the hand of. They love playing with them, doing tricks, and playing "catch" with them. And they have been dropped, bumped, hit hundreds of times, and even taken away in the mouth of a dog, and they haven't had one issue, not a scratch or dent! They last about 20 minutes on full on non-stop play and charge back up pretty quickly. I highly recommend this drone for little and big kids!

Read all the directions first. The drone is screwed down to the pedestal that it is on. It feels delicate when trying to get it out of the box, but once you get the drone out, it was so easy to charge, calibrate and let it fly. Very durable, lots of fun for not only kids but adults too. It really can take a beating. We had a great time playing with it on christmas.

Our kids love these scoot drones. They are easy to handle and really fun. I like that they can bump into furniture without causing damage. I wish the battery lasted a little longer, but fortunately, they charge pretty quickly.

my two boys (5 and 7) love it and of course fight over it. it is very cool how you just control it with your hands. and still works after my youngest layed on top of it crushing it. i did have to pop one of the blades back on that popped off after that incident. but still works great and is fun to play with. (for adults too)

Very cool little toy. Lots of entertainment for everyone.. the box came damaged but the product was fine. Purchased for my nephews 7th birthday and was a huge hit for him and the 6 and 5 year old as well.

This thing is awesome for my 4 year old! Couldn't be happier with it. Honestly its fun I fly out around once in awhile while my son is at school. Only advice I have is just keep it inside the house. It has sensors so won't run into anything, we took it to the park and it just flew off over a lake out of sight. My son was hysterical and I never expected to see it again but lucked out finding it in shallow water on the other side of the lake. Still works! This is a must buy!

The grandchildren loved these things for about a day. Now they just sit around and never get used, but the do work and from an adult perspective, they are fascinating. I just wish they'd bring them out and let me play with them more often.

I bought these for my grandsons, ages 11,8 and 5. They had a ball with them. Much better than sitting with a remote control. They are very interactive with lots of running around and laughing. The two oldest even learned how to toss it just right so it would fly into the others hands across the room. You do have to read the directions and calibrate them after charging. They can take some knocking around as the cage is flexible. They seem to hit the ceiling in my living room quite often, but I think this had something to do with the lighting ( recessed), as it skimmed right around my kitchen ceiling. I would never let these loose outside, you'd never see them again. Definitely the more room you have inside the better.

Bought for my grand son's 6th birthday. He loves it as does the rest of the family. It took him no time to learn how to fly it. He is not good with remote controls but doesn't need one for this drone. I highly recommend this. Lots of fun for the kids and adults!

I bought this as a gift for my 5yr old son. He loves it! It is by no means a drone that has precision flight, or a long flight time (maybe 6 or 7 minutes) but it is fun to just let float around, and try to "push" back and forth in a little game of "catch". It's definitly an indoor only toy, since the slightest breeze moves it around, and there are no controllers so if you fly it outside there's no telling where it will go. it's a good rainy day activity for kids.

This is a great little drone. My 7-yr-old is obsessed with it. It does everything advertised. It is quite loud so you'll be glad that the batteries only last about 10 minutes, haha. It's held up well over a few crashes and despite its relatively high cost, I'm happy with it.

This charges up by USB port, and it was a gift for my grandson's birthday. So we very carefully took it out of the box to charge it up before we gave it to him. Actually, it already had a charge and worked just like the instructions said it would. This is a very nice drone for a kid, even the adults enjoyed it too. A nice indoor toy, safe because of the cage around the blades.

I was very skepticle that this would work but it's very cool. It worked right out of the box after charging and didn't crash into anything. It doesn't run for a super long time but it's small and not expensive so that didn't surprise me. It works remarkably well though. Lots of fun.

I bought a kid's drone so my two grandchildren could play with it in the house. It worked great for them because it could avoid objects by itself and take cues from hand movements. Also it doesn't hurt if it touches them, and it won't fly off into the blue sky. However, my 10 yr old grandson was disappointed that it only lasts 10-15 minutes, and then you have to wait for it to recharge. He lost interest in it. I understand that at that price point, you can't expect a whole lot. I will be patient and wait for an indoor drone with more battery life to be available. It would be worth the extra money to me.

I wasn't sure if my 2-yr old nephews would understand the concept, but they were completely mesmerized by this toy and had fun with it. One even would sit and wait for it to recharge to play again. They did not understand that it went higher from sensing their hand, so their goal was to be able to catch it (not keep it in the air). It was surprisingly sturdy and didn't break when they did grab it multiple times. The adults also were amused and had fun playing with it too. Thanks for making me the most popular aunt, and at such an affordable price!

The whole family enjoys using this! We looked on YouTube for a video on how to operate it as the directions included don't make it as easy as it really is. We always have fun with this item and I would recommend. I bought this for my ten year old nephew and he loves it.

This is a super fun toy. We loved it the 2 times we played with it. The battery is VERY short lived. Probably 6-7 mins. I ordered 2, one for both my kids. We have only played with one so far. After the 2nd time playing it wouldn't start. My husband figured out that if you manually place each propeller parallel to each other, it will work. However, once it stops you have to do it again. Not something a kid is gonna take the time to do. It was super awesome at the beginning and we were very impressed.

My 6 year old has been wanting a drone of his own, but we knew he wouldn't be able to handle anything complex. Then we found this drone. This thing is absolutely perfect for the kid and, quite frankly, all of us love it. The only complaint is the charging, which as others have noted, does not provide the ability to play with the drone for more than 10-15 minutes at a time. However, we are very happy with the purchase.

My kids love this drone! Unfortunately it broke a couple months later but I put most of the blame on the kids for being rough with it. A couple of the sensors would come unglued and a blade came off. Overall I think it's a good product for the price. It's very fun to run around and play with!

Needed a gift for a 4 yr old, this was perfect. Easy to setup and he could fly around on his own.

The drone is like a toy from the future. It doesn't take much to operate it - just throw it in the air and move it around using your hands. It is so much fun that it is addictive. Everyone that I show it to loves and wants to get one. The only downside is that the shell is a bit fragile. After many crashes, some parts of the connection pts of the shell starts to break but everything can be fixed with crazy glue.

This drone is super fun. Even a toddler could play with it. You have to charge it when you receive it and it only comes with the chord for the USB and not the actual plug. Luckily, it fits into our computer and the usb phone charger base. Once it is charged all you do is toss it up and it will start working. Even if you toss it upside down it will correct itself and fly. Just be aware that it's kind of noisy and the battery doesn't stay charged longer than five to ten minutes, which is fine because that's normally how long my kids play with it at a time. It feels flimsy but it's been dropped and has run into things multiple times and still works. I also thought the price was great. I just wish it could stay charged a little longer and was a little quieter. Would still buy it again.

Even cooler than what we thought it would be!! It totally reminds me of the movie Batteries Not Included!!! My son loves it! The box says for ages 14 and above but my 8 year old isn't having any problems being careful with it. The body is very light and pretty tough. The way it is able to fly around by itself is amazing!! Definitely one of his favorite gifts not to mention we enjoy playing with it too!!

This was a stocking stuffer type present and I didn't have much in the way of expectations. After using it, I'm surprised this toy isn't more popular. After charging you turn it on and rock it back and forth for just a few seconds to calibrate it. Then toss it in the air and it takes care of itself. In an open room it moves around on its own and kids can control it with what looks like Jedi hand gestures. In a cramped room it can start acting like a fly on a window screen and bounce around until it loses control because the sensors over compensate. Even so, the propellers are contained inside the body and don't get damaged or get thread or hair wrapped up in them like other drones. The battery only lasts for about 5+ minutes, but so does my toddler's attention span, so it's still a great little toy.

It works really well for a small drone. Durable, it handles crashes very well. The battery lasts about 6 minutes. The sensors on the drone also work well. It knows when it is close to the ceiling or walls & goes in the opposite direction.

This toy was a huge hit with the kids and adults , I had many adults asking where I got it and wanting one for themselves ! This was bought for my 5 year old but the entire family from age 5-55 enjoyed playing with this little guy. Charge time between play is about 15/20 mins and it runs roughly 7/10 mins, works exactly as described and seems to have a personality even. We were impressed with its ability to sense walls and other objects to avoid crashing. We were further impressed by its durability when crashing , it is very light weight and impact is very light and falling doesn't harm it at all even from great heights. We have Catherdral ceilings in part of our home and it was a delight to watch it soar so high on its own. We can't stop playing with this little saucer it simply is a delight, if it ever stops working we will buy another one as it is well worth the price, easy to use ,and durable if used as intended ( don't use outside , don't get it wet, don't overcharge it , don't try to make it carry anything or add anything to it ) I highly recommend this little flyer to anyone

I bought this for my son's 4th birthday and he absolutely loves it. So do I. So does his grandfather. The dog and cat don't mind it. His mother could do without something flying around the house but tolerates it because it's harmless. :) Flight time is around 8 minutes and charge time is around an hour, which is not bad. Gives just enough of a break from the whirring sound to make usage tolerable for parents. As a programmer I'm fascinated by just how much tech and logic is packed into such a small, inexpensive toy. Once it starts flying it spins and scans for close objects, ceilings, floors, dogs, kids, etc. and once sensed, the spinning stops and it moves a few feet away from whatever it was too close to before starting its spin/scan mode again. If it gets into a situation where it's just bumping into way too many things, it shuts down and harmlessly drops to the floor rather than cause problems. It weighs practically nothing and the casing keeps fingers from contacting the propellers. This is a great little no-brainer of a toy for just about any age. If someone is tall enough to drop the thing (which is how it turns on), they're old enough to use and enjoy it.

I purchased this toy for my 8 year old grandson's birthday. I was unable to see it work because it needed to be charged before use. My son later confirmed that he LOVED it. I wasn't sure about how it functioned so the next time they visited they brought it with them. I was so delighted with it that I will be purchasing again for other grandchildren.

This is a fun product, very easy to use and play with. Simple, quick 1-2-3 instructions. They operate just as promised. The only small criticism would be that they don't last very long, maybe 5 or 6 minutes before they require a re-charge. Other than that, they pretty much exceeded my expectations. They are fascinating and fun!

Great toy but don't bring it outside unless you're ready to chase it down. Great indoor toy. Fun and keeps a charge for a while. Took it outside and the thing always takes off to the left?! Why? Flys away and my kids have to throw balls at it to get it to come down.

To be honest, when my husband purchased this for our small grandsons, my first though was what a waste of money. I was wrong. My older grandson absolutely loves this thing. He is only 14 months old, but constantly holds it out to have us launch it again. The drone is actually safe for his fingers -- even at 14 months, his fingers are too big to fit between the slots. My only complaint is that you have to charge it constantly, but on the plus side, the charging time is relatively quick. It actually worked out quite well.
View full details
Enjoy Free Shipping on Every Order
Experience the ultimate convenience with our free 3-day shipping service available to all customers throughout the United States.
24 x 7 Customer Support at Your Service
We offer customer support through live chat, email, or phone, making it easy for customers to get assistance with their inquiries.
Crafted with American Pride: All Our Products Are Made in the USA
Experience the assurance of exceptional quality and support local industries with our wide selection of products, all proudly made in the USA.
Peace of Mind: Our 14-Day Return Policy Has You Covered
We want you to love your purchases, which is why we offer a hassle-free 14-day return policy. If you're not completely satisfied with your order, simply return it within 14 days for a full refund or exchange.
Explore Our Diverse Range of Products
Our store offers a vast selection of products, giving customers the convenience of finding everything they need in one place.
Our Customers Award Us 5 Stars
We are thrilled to share that our products has received widespread acclaim from our valued customers, with an abundance of 5-star customer reviews pouring in.
Your Choice, Your Security: Explore Our Multiple Payment Options
We offer secure payment options, giving customers peace of mind when making transactions.
Track Your Orders at Every Step
Customers can track their orders in real-time and receive updates on their delivery status.