If you order within
Arrives by
Regular price
$111.00 USD
Sale price
$41.99 USD
Unit price
per
Sale
Sold out
If you order within
Arrives by
The always cheerful pineapple
Bring smiles to your kids daily!
The perfect size for little hands to grasp, this soft little yellow pineapple has pink cheeks, and bright green leaves stitched on its top. Handmade with buttery cotton yarn, it is very lightweight and makes a soft sound when shaken. This friendly rattle is sure to put a smile on any face.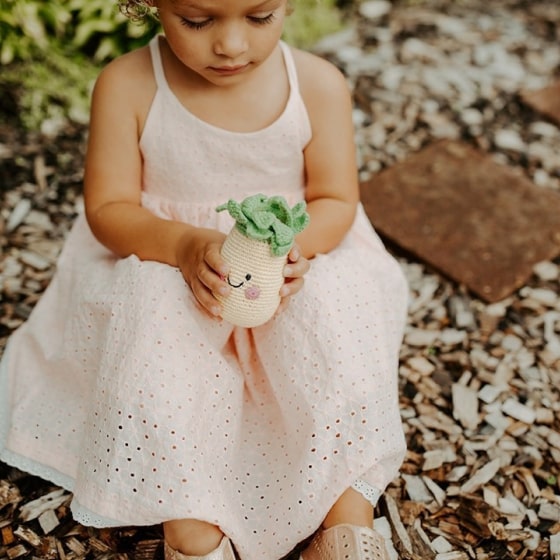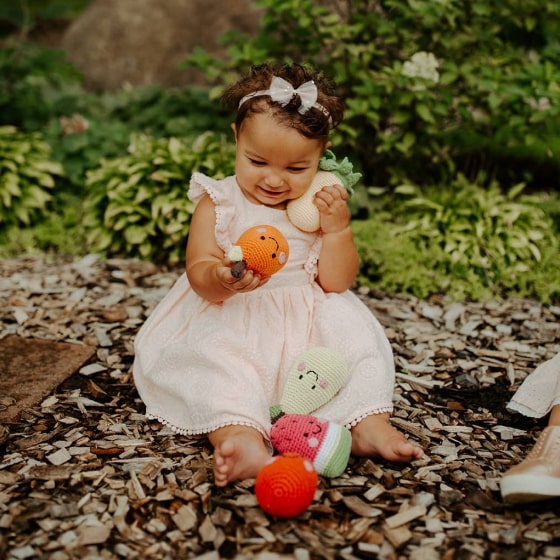 Pineapple rattle details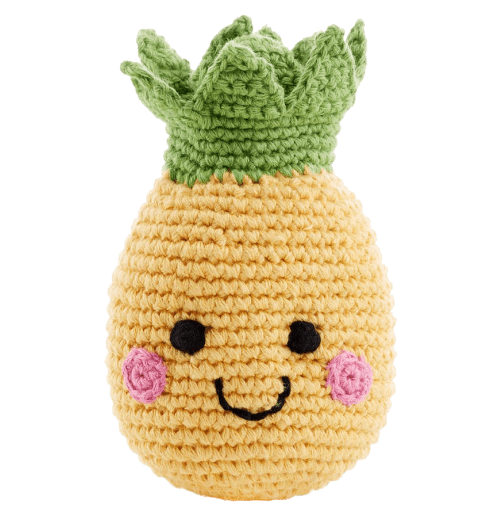 Machine washable
For best results, place your pineapple toy in a mesh bag and launder it with cool water and non-toxic detergent. Fluff in the dryer for a few minutes and then air dry.
Materials and size specifications
Hand crocheted with 100% cotton yarn and polyfill. This smiling fruit measures at 4.8" (L) x 2.5" (L) x 2.5" (H) and weighs 0.11 lb.
An uplifting friend for the little ones
Provide your child with nonstop smiles and happiness all day long with this soft friendly fruit. It will generate plenty of giggles and memorable moments for any face. The design philosophy ensures child development. Colors, textures, and shape spark tactile, auditory, and visual stimulation.
About Pebble
Once upon a time, a young woman from the UK fell in love with a young man from Bangladesh. Eventually they moved to Bangladesh and had a baby. As the new mother cuddled her tiny boy, she couldn't help but notice all of the young women streaming into the garment factories every morning. She was deeply saddened when she discovered that many of these woman had babies back home in their villages, left for months at a time with grandparents while the mom worked in the city. Lack of rural employment for women was separating families and putting the mothers in harmful situations and the babies without their mothers. So this new mom did what she could. She gathered a few women around her and taught them how to knit and crochet little dollies that could be sold in the Western markets. Samantha Morshed dreamed that this would grow and become an alternative source of income for women throughout Bangladesh. 15 years later, her dream is becoming a reality. More than 13,000 women are now employed making Pebble toys in their home village. They walk to work, taking their babies with them. There they sit together, yarn spilling onto their laps as they knit community and love together in each heirloom Pebble toy. Pebble was born out of a love for babies and their mothers. Pebble : Putting Smiles on Faces Worldwide!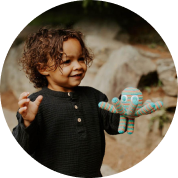 Reviews
Our reviews are verified for authenticity
My LO loves this. Perfect size for tiny hands.

The mini pineapple is charming.

My daughter loves this toy! Its perfect for her small hands and a great travel toy in the car. Its a bit hard to clean because of the material but not a huge deal.

Fantastic pineapple, nice sound, vibrant colors. Baby loves this thing. Easy for little hands to hold and shake

Soft toy with a soft sound.

Soft and pleasant sounding, my daughter likes to carry it around in her mouth while she crawls across the floor.

It's more a rattle than a stuffed animal but cute

As usual I play never disappoints, we had gotten a bear/ cat rattle for my son 2 yrs ago and he loved it and had to always have it by his side! We recently received this rattle which is just a rattle shape but still has all the same lovable, chewable qualities. Our little girl loves this pineapple! A definite buy, worth the money as it a quality all the way and will stand the test of time for any future little ones!
View full details
Featured store in media
Homekartz has been constantly featured on top media sites like Fox, USA Today, Market watch and others
13,452+ Positive Reviews
So many positive reviews and happy customers cannot be wrong!
Free 3 day shipping
We provide free first class USPS and FedEx shipping on all orders.
24 x 7 support
We won't leave you alone! Every one gets 24 x 7 priority support.
90 Day Money Back Gurantee
We offer 90 days risk free trial with 100% satisfaction guarantee.
You help someone today
When you buy from us, we donate 10% of each sale to a child in need in the USA.
Made with Love
"Each product is made with not only the best material but a little bit of happiness and kindness too."
What customers say
*****

My 5 year old grand son loves the products that we bought from homekartz. They provide a high quality product.

*****

My daughter loves the toys that I purchased for her and we keep buying more toys for her from time to time.

*****

My kid loves the clothes that i got for him. Home kartz has really great clothes for different occassion.