.
Regular price
$69.90
Sale price
$27.97
Unit price
per
Sale
Sold out
If you order within
Arrives by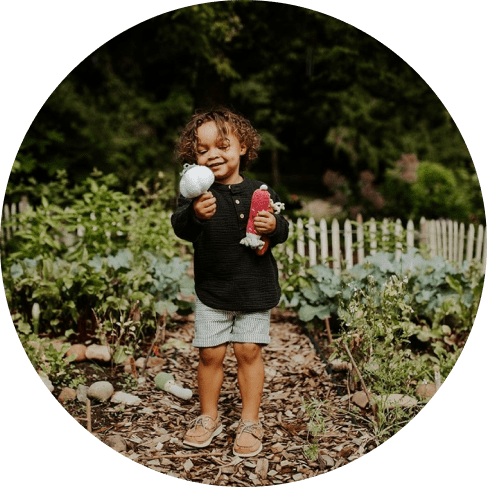 The new best friend for your little ones
This happy garlic rattle is a favorite from farm to table, garden to grocery store. With his ever-ready smile, he will surely win over the shyest of playmates. Perfect for hours of imaginative play.
Garlic rattle details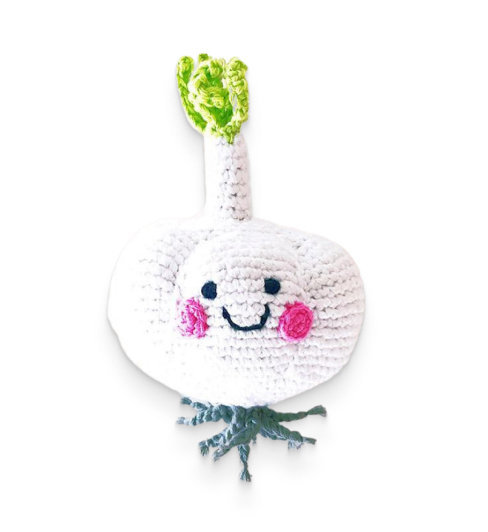 Machine washable
Place your garlic
toy
in a mesh bag and launder it with cool water and non-toxic detergent for best results. Fluff in the dryer for a few minutes and then air dry.
Materials and size specifications
Hand-knit with 100% cotton yarn and polyfill. This smiling garlic measures 5" (L) x 3.5" (W) x 3" (H) and weighs 0.14 lb.
A cheerful partner for your child
Give your little
kids
a cheerful little friend they can always play with! You can count on his cheery little face to provide your child endless fun and excitement. The design philosophy ensures child development. Colors, textures, and shapes spark tactile, auditory, and visual stimulation.
Are you searching for a delightful, engaging toy to bring smiles and laughter to your child's playtime?

Let us introduce the Friendly Garlic Rattle Toy for Kids, Babies, and Toddlers! This charming and unique rattle is designed to provide endless joy and developmental benefits for your little one.

Here's why you'll adore it:


Safe and Gentle: Crafted from non-toxic materials, our Friendly Garlic Rattle ensures a secure and gentle playtime for your baby.


Multisensory Stimulation: With its soft rattle sound, appealing colors, and various textures, it engages your child's senses and encourages early sensory development.


Easy to Hold: The garlic-shaped design is perfectly sized for tiny hands, making it effortless for your baby to grasp and shake.


Endless Entertainment: Watch your child giggle and explore as they interact with this lovable toy, fostering a sense of wonder and delight.
Elevate your child's playtime with our Friendly Garlic Rattle Toy today. Click now to add it to your cart and provide your little one with a fun and educational toy.

FAQ (Frequently Asked Questions):


Q1: Is the Friendly Garlic Rattle Toy safe for newborns?
A1: Absolutely! It's designed with safety in mind and is suitable for newborns. The materials used are non-toxic.

Q2: Can I wash the rattle if it gets dirty?
A2: Yes, it's easy to clean. Wipe it with a damp cloth or use a mild baby-safe cleaner to keep it fresh.

Q3: What are the developmental benefits of a rattle toy for my child?
A3: Rattle toys like our Friendly Garlic Rattle stimulate your child's senses, encourage motor skill development, and provide entertainment and fascination.

Q4: Does the garlic rattle have small parts that could be a choking hazard?
A4: No, it's designed to be safe. The Friendly Garlic Rattle doesn't have small detachable parts that could pose a choking hazard.

Q5: Is the rattle suitable for both boys and girls?
A5: Absolutely! The Friendly Garlic Rattle Toy's design and colors appeal to both boys and girls. It's a unisex toy that any child will enjoy.

Q6: How durable is the rattle?
A6: We use high-quality materials and craftsmanship to ensure the rattle can withstand everyday play and remain a cherished toy for your child.
Reviews
Our reviews are verified for authenticity
Really fun rattle. I love that it's soft. Baby can bend it every which way.

Very cute! My Daughter is 3 1/2 months old and is beginning to play with things more all the time.

The only rattle that doesn't hurt when my 9 mont old bonks himself in the face with it.

A perfect rattle for a 4 month old. Made really well

My son is seven months old and loves his garlic. He will carry it all day and chooses it over other toys offered at the same time. It makes a cute little chime noise

I absolutely love this! My husband and I use this all the time to build out babies strength up. She is just turning 4mos and was a premmie so she is a little behind in growth. But this is turning out to work well. It is very soft and I feel comfortable when she gets to the point of putting things in her mouth that it is not going to harm her.
View full details
Enjoy Free Shipping on Every Order
Experience the ultimate convenience with our free 3-day shipping service available to all customers throughout the United States.
24 x 7 Customer Support at Your Service
We offer customer support through live chat, email, or phone, making it easy for customers to get assistance with their inquiries.
Crafted with American Pride: All Our Products Are Made in the USA
Experience the assurance of exceptional quality and support local industries with our wide selection of products, all proudly made in the USA.
Peace of Mind: Our 14-Day Return Policy Has You Covered
We want you to love your purchases, which is why we offer a hassle-free 14-day return policy. If you're not completely satisfied with your order, simply return it within 14 days for a full refund or exchange.
Explore Our Diverse Range of Products
Our store offers a vast selection of products, giving customers the convenience of finding everything they need in one place.
Our Customers Award Us 5 Stars
We are thrilled to share that our products has received widespread acclaim from our valued customers, with an abundance of 5-star customer reviews pouring in.
Your Choice, Your Security: Explore Our Multiple Payment Options
We offer secure payment options, giving customers peace of mind when making transactions.
Track Your Orders at Every Step
Customers can track their orders in real-time and receive updates on their delivery status.