.
Regular price
$89.90
Sale price
$33.97
Unit price
per
Sale
Sold out
If you order within
Arrives by
Wooden Teething Ring
Rattle
Fox
Are you looking for a teether toy for your kid? Meet a sly but lovable fox and a teething ring made of beech wood! It's designed to let your child play and develop. This wooden teether helps soothe my baby's gums and keep them engaged.
Will this wooden teether help soothe my baby's gums and keep them engaged?

The Fox Wooden Teether Ring Rattle Toy is designed not only to provide a soothing experience for your baby's gums but also to keep them engaged and entertained.

Here's how:
Soothing Gum Relief: The wooden teether ring is made from natural, baby-safe materials. Babies often experience discomfort when their teeth are coming in, and the gentle pressure from chewing on the wooden ring can help alleviate this discomfort. The natural wood is safe for babies to put in their mouths, and its texture provides relief during teething.

Engaging Rattle Sound: This teether also functions as a rattle, producing a soft, pleasant sound when shaken. Babies are naturally drawn to sounds and movement, making the rattle feature fascinating. It not only entertains but also encourages sensory development and hand-eye coordination.

Natural and Safe: The wooden teether ring is crafted from non-toxic, eco-friendly materials, ensuring your baby's safety. The natural wood is smooth and free from harmful chemicals, making it safe for teething infants.

Easy to Hold: The ring shape is easy for tiny hands to grasp, promoting fine motor skills as your baby learns to hold and manipulate objects.

Wooden Teething Ring Rattle Fox
Colorful, meantime, playful handmade fox
Featuring our sly but lovable fox and a teething ring made of beech wood, this handmade rattle is as colorful as it is playful. Size: 5" (L) x 3.25" (W).
Your kid's absolute safety
This
toy
is safe for your kids: it's made of a beechwood ring and hand-crocheted with 100% cotton yarn and a polyfill.
Design Philosophy
They are made with child development in mind. Wood ring provides a soothing surface for sore gums. Colors, textures, and shapes spark tactile, auditory, and visual stimulation.
Easy and convenient to care
This toy is machine washable: Spot-wash your Pebble teething ring with cool water and non-toxic detergent for best results. Air dry in an open area.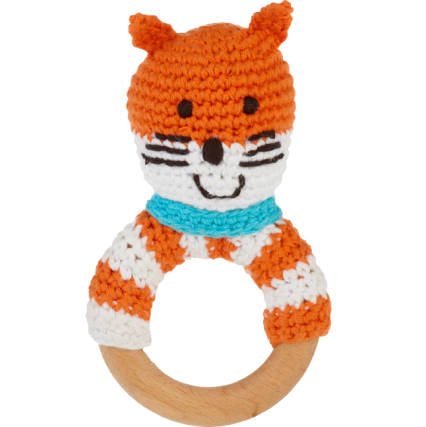 Please give it a shake for a gentle jingle.

Wooden Teething Ring Rattle Fox has all the chances to become your perfect toy for little hands to hold and teeth to chew on, making it a safe and stylish teething toy. Please note that slight color variations make each rattle a truly one-of-a-kind piece.

Looking for the Perfect Teething and Rattle Toy for Your Baby? 

Discover our Fox Wooden Teether Ring Rattle Toy, the ideal blend of soothing teething relief and playful entertainment. Crafted with care, it's designed to bring smiles to your baby's face and peace to parents' minds.
Watch your baby giggle, explore, and chew away teething discomfort with this adorable wooden fox. With its soft rattle sound and tactile appeal, it's a teething toy your baby will adore. Make teething time a breeze for your little one.
Elevate your baby's playtime and teething relief. Get the Fox Wooden Teether Ring Rattle Toy today and witness the joy it brings to your baby's world!
FAQs (Frequently Asked Questions):
1. What is the Fox Wooden Teether Ring Rattle Toy made of?
It's made from natural, non-toxic wood, ensuring safety for your baby.
2. Is this rattle toy suitable for teething babies?
Yes, it's designed to provide teething relief with its wooden ring and soothing texture.
3. What age range is this rattle toy suitable for?
This rattle toy is perfect for babies aged 3 months and up.
4. How does the rattle feature benefit my baby's sensory development?
The gentle rattle sound and textured wood help stimulate your baby's auditory and tactile senses.
5. Is the rattle toy easy for babies to hold and play with?
Yes, the wooden ring is designed for little hands to grip and explore.
6. Can I use this rattle toy as a gift for a baby shower or a newborn baby?
It makes a charming and thoughtful gift for both occasions.
7. Is the wood treated with any chemicals or varnishes?
No, the wood is natural and untreated, making it safe for your baby to chew on.
8. How can I clean and maintain the Fox Wooden Teether Ring Rattle Toy?
Wipe it with a damp cloth. Avoid submerging it in water to preserve its quality.
9. Can this rattle toy be a part of my baby's playtime routine?
Yes, it's a beautiful addition to your baby's play and teething routine, providing entertainment and relief.
Reviews
Our reviews are verified for authenticity
I love them! My baby is still too small to be interested in them but they are really gorgeous and have a soft rattle/not annoying. I would definitely recommend these.

Great gift for new granddaughter

Love it! So cute, perfect for babies.

Very cute and son enjoys chewing them! Exactly what I wanted

Super cute packaging and good quality

So cute and my baby loves this rattle!! I love that it's soft and won't harm my baby if he happens to hit himself in the head. Well made. Durable. The rattle noise isn't too loud!

Great quality, beautiful! One of baby's favorite items for teething aid! A bit difficult to clean although we tend to run it through the UV Box which makes things easier.

In a world of disposable plastics, these rings are a gem! This is what a baby toy should be: made of natural materials with that "hand-made" high-quality feel. We absolutely love the teethers.

Adorable fox but my baby never used them for teething, just for playing. I think they are washable, but I would not put them in the washing mash in since it's wood. Looks very cute, but for us the use of these is as a toy.
View full details
Enjoy Free Shipping on Every Order
Experience the ultimate convenience with our free 3-day shipping service available to all customers throughout the United States.
24 x 7 Customer Support at Your Service
We offer customer support through live chat, email, or phone, making it easy for customers to get assistance with their inquiries.
Crafted with American Pride: All Our Products Are Made in the USA
Experience the assurance of exceptional quality and support local industries with our wide selection of products, all proudly made in the USA.
Peace of Mind: Our 14-Day Return Policy Has You Covered
We want you to love your purchases, which is why we offer a hassle-free 14-day return policy. If you're not completely satisfied with your order, simply return it within 14 days for a full refund or exchange.
Explore Our Diverse Range of Products
Our store offers a vast selection of products, giving customers the convenience of finding everything they need in one place.
Our Customers Award Us 5 Stars
We are thrilled to share that our products has received widespread acclaim from our valued customers, with an abundance of 5-star customer reviews pouring in.
Your Choice, Your Security: Explore Our Multiple Payment Options
We offer secure payment options, giving customers peace of mind when making transactions.
Track Your Orders at Every Step
Customers can track their orders in real-time and receive updates on their delivery status.