.
Regular price
$104.90
Sale price
$38.47
Unit price
per
Sale
Sold out
If you order within
Arrives by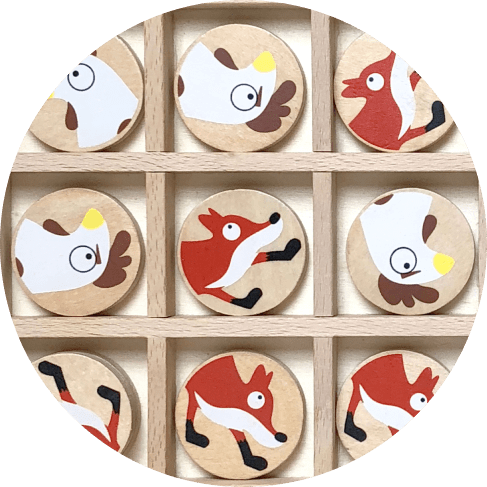 A simple yet fun game
Fox vs. Chickens is a tremendous double game pack for road trips, family vacations, or just good old-fashioned gameplay at home. Kids love to play tic-tac-toe, and with this game set, we've also included a simple yet fun game called Farm Chase.
For road trips, vacations & play at home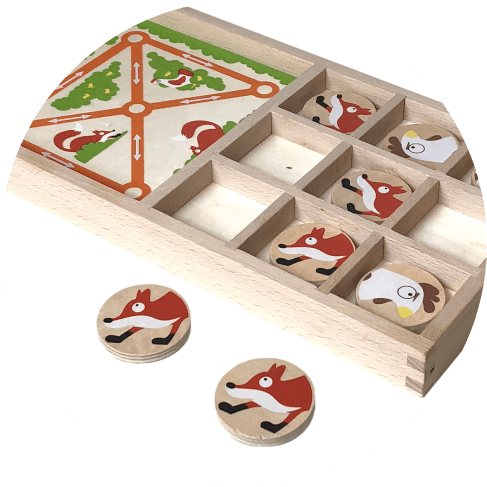 What's in the box?
The Fox vs. Chickens game includes 1 game board and 10 pieces (five chickens and five foxes). It features a game board with a tic-tac-toe board on one side, and Farm Chase play area on the other.
How to play Farm Chase?
Foxes are put on the top of the board, and chickens are at the bottom; a chicken moves first to an open spot. Players take turns moving to the open spot until one player cannot make a move.
Educational & creative play
We believe children are the true noisemakers; their energy, not batteries, should power their play. Less screen time can allow children to use their imagination and build cognitive function. Made with sustainably grown materials and finished with non-toxic, child-safe stains: BeginAgain use plants before plastics to make their products to ensure they do their small part for a better tomorrow!

Searching for a thrilling and entertaining game set that everyone can enjoy?

Discover our Fox Vs. Chickens Double Game Set! This exciting game offers hours of fun and strategic challenges for players of all ages.

Here's why you'll love our Fox Vs. Chickens Double Game Set:
Double the Fun: Enjoy two engaging games in one set, with the classic Fox and Chickens game and a strategic twist.
Family Bonding: This game promotes family time, friendly competition, and strategic thinking.
Quality Craftsmanship: Crafted with high-quality materials, it's designed to last through countless game nights.
Customer Favorite: Join the players who have experienced the excitement and bonding this game set provides.
Elevate your game nights with the Fox Vs. Chickens Double Game Set. Click now to add this entertaining and versatile game set to your collection.

Benefits of this Toy:


Double the Fun: This game set includes two games in one, offering versatility and added enjoyment for players.
Family Bonding: Fox Vs. Chickens promote family time, friendly competition, and strategic thinking for all ages.
Quality Craftsmanship: Crafted with durable materials, it's designed for long-lasting fun and entertainment.
Customer Favorite: Players appreciate the engaging and versatile nature of this game set, making it a staple for game nights.

FAQ (Frequently Asked Questions):


Q1: What is the Fox Vs. Chickens Double Game Set?
A1: The Fox Vs. Chickens Double Game Set is an exciting and versatile game that includes the classic Fox and Chickens game and a strategic twist on the traditional game.
Q2: How many players can enjoy this game set?
A2: This game set is designed for 2 or more players, making it ideal for family and group game nights.
Q3: What age range is this game set suitable for?
A3: The Fox Vs. Chickens Double Game Set is suitable for players of all ages, from children to adults.
Q4: Are the game pieces and board of high quality?
A4: Yes, this game set is crafted with high-quality materials to ensure durability and longevity.
Q5: How does the strategic twist game differ from the classic Fox and Chickens game?
A5: The strategic twist game introduces new rules and challenges, adding an element of strategy and complexity to the traditional game.
Q6: Can I play the classic Fox and Chickens game separately?
A6: Yes, you can enjoy the classic game independently, providing variety and entertainment for your game nights.
Q7: Is the Fox Vs. Chickens Double Game Set suitable for gifting?
A7: Absolutely! It makes an excellent and versatile gift for families, friends, and game enthusiasts.
Q8: How can I purchase the Fox Vs. Chickens Double Game Set?
A8: You can buy the Fox Vs. Chickens Double Game Set online through our website. Click on the product, add it to your cart, and follow the checkout process to make it yours.
Reviews
Our reviews are verified for authenticity
It was a gift for my brother. He loves it so much! Perfect for travel! I recommend!

Product is amazing as discribed! My little son likes his fox and chickens game set

I recommend BeginAgain sets for all children who loves wooden games. I was playing with my daughter all day! High quality!

Cute foxies and chickens! Highly recommend!

I bought this adorable game set for my nephew. He loves it!.Oh my goshhh! Quality of wood is the best! It's perfect that it hasn't any toxic materials. BeginAgain's products are very cute, fun and useful for children growth. Would buy again!
View full details
Enjoy Free Shipping on Every Order
Experience the ultimate convenience with our free 3-day shipping service available to all customers throughout the United States.
24 x 7 Customer Support at Your Service
We offer customer support through live chat, email, or phone, making it easy for customers to get assistance with their inquiries.
Crafted with American Pride: All Our Products Are Made in the USA
Experience the assurance of exceptional quality and support local industries with our wide selection of products, all proudly made in the USA.
Peace of Mind: Our 14-Day Return Policy Has You Covered
We want you to love your purchases, which is why we offer a hassle-free 14-day return policy. If you're not completely satisfied with your order, simply return it within 14 days for a full refund or exchange.
Explore Our Diverse Range of Products
Our store offers a vast selection of products, giving customers the convenience of finding everything they need in one place.
Our Customers Award Us 5 Stars
We are thrilled to share that our products has received widespread acclaim from our valued customers, with an abundance of 5-star customer reviews pouring in.
Your Choice, Your Security: Explore Our Multiple Payment Options
We offer secure payment options, giving customers peace of mind when making transactions.
Track Your Orders at Every Step
Customers can track their orders in real-time and receive updates on their delivery status.