If you order within
Arrives by
Regular price
$111.00 USD
Sale price
$61.99 USD
Unit price
per
Sale
Sold out
If you order within
Arrives by
It's like a giant cardigan
Wrap up your little one in luxe comfort and looks with our Envelope Sleeping Bag for baby. With a universal gray color fit for any gender, this acrylic-fiber-and-cotton sleeping space is soft and comfy -- it's like sleeping on cloud nine.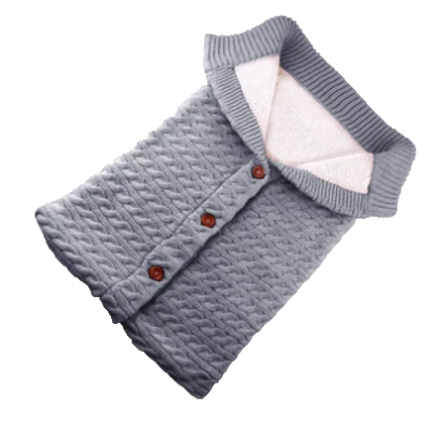 Sweet accommodations
With 25.6 x 15.7 inches (L x W) of napping space, this sleeping bag is the lap of luxury for one lucky child.
Premium comfort
Like a huge jacket, this bag is made of soft wool on the outside and heat-retaining fleece on the inside for cold-fighting bliss.
Button up or down
With three large buttons, you can wrap your baby up fully or partially for his or her napping comfort. Our envelope of warm bliss fits perfectly into the car of a stroller or pram for an on-the-go bed space for your loved one (heck, we're feeling jealous now and wish something similar was made for adults too).
Cold-weather style you can bring anywhere
Unlike ordinary, plain baby blankets, our cardigan-design blanket is a step in luxe and style above anything else you'll find out there.It makes a great bring-along for cold days at the park, up in the mountains, outside in the backyard, or out at amusement parks.
Reviews
Our reviews are verified for authenticity
This is wonderful! It's cheap, but not cheaply made! The quality is amazing, the inside is plush soft while the outside is made with super soft yarn. I am beyond amazed and how good a quality this swaddle blanket is! My newborn is picky about the blankets we use on him, cries at the hospital blanket he was put in, but I put him in this and he was out like a light ❤️❤️❤️ You're going to want to buy a few!!!!

Super thing! The envelope is very soft, nothing sticks out anywhere, without foreign smells. The thing is definitely worth its money, I myself would sleep there :) thanks to the seller!

Will use this on my son's delivery to swaddle him. Excited to use it. There's just a little nasty smell on it. But you can laundry it to get rid of it.

I love this little sleeping bag I bought for when my daughter arrives. I bought the grey one, and it looks just like the picture. It held up well in the washer/dryer. The inside is very soft and warm. The only thing they didn't think to put are holes so that baby could be strapped into a stroller while in this. Overall great!

I waited too long to buy this and wish I did have it for my daughter as a newborn. I had something similar THAT I LOVED for my first 3 kids. They slept through the night at a month in their similar item but my 4th baby didnt have it until I found this at like 5months old when I was desperate to find something to help her sleep more through the night (she just needed her own room to cry it out a bit but we didnt have that luxury). She wiggled too much in it and her head would rest on the seam transition between the knitted part and soft fleece, bothering. (I wish the fleece went all the way up by the head for the babies comfort, longer. With that all said, this is an extremely useful and original gift to give someone with a newborn to grow into. You should just be able to put them in it in their clothes, no blanket and zzzzzz they should sleep soundly and comfortably.

Very cool thing! I thought it would be worse. Wash, iron and perfect!

It's cute, and light weight. My only complaint would be is the sizing.

This is really cute. The quality of mine does not seem super high- it looks like it may unravel pretty easily. Still cute.

ive never seen the blanket. sent to daughter for "new arrival" who both(obviously) live out of state from me. but daughter is ecstatic and loves the blanket!!! fits newborn and a little larger. easy to button and unbutton. all seems to be well:)

Not as soft as I'd hoped. I make sure my baby's legs are covered before I put him in it, but other than the yarn being a little course, he loves it

I don't like the way my sons arms fit out

It's well made, which says a lot. I bought one for myself and liked it enough to buy another for another expectant Mom. It's great, but it's larger than expected.

I really like this sweater blanket sleeping bag. It's warm and cozy!

Amazing quality & super cute!!!

High quality, easy to clean, washes well, just not as thick as I would have thought. Though it does the job. Color is also not as bright as photo but it's actually fine because it's a really nice shade

So cute and cozy for little ones!

I was very impressed with the quality and style It is made of a soft high-quality knitting wool, fleece lined, which made it so soft and cuddly. It easily can keep a baby comfortable and warm. I love the cardigan sweater look with the buttons, and the full coverage sleeping swaddle blanket. It is for babies from 0 to 12 months, and can be used in all but the warmest seasons. I think this is such a nice good quality swaddle blanket and easily give it a 5-stars rating.

This is such a stylish option for a baby swaddler. It is soft and cuddly and I almost want an adult sized version. The buttons are large and easily manipulated. it is like a sweater for my grandbaby.

I was so so surprised when this arrived. This is the perfect sized swaddle blanket as you can continue to use it as your baby is growing. The color is a beautiful neutral and the material is soft and fleece lined. Highly recommended!

This is such a beautiful baby swaddle blanket with a very unique look and style. It's so soft and warm, I wish they made these in adult sizes! The big chunky buttons are a nice added touch!

This swaddle blanket is very nice looking and obviously very comfortable for the baby. She looks very sweet in it. The material both inside and out seems well made.

This swaddle blanket is so cute.

I loved how soft and warm it is.

I really like the idea of this baby bag - the look of an adult sweater with a sweet little head popping out!

My son-in-law really wanted this for their newborn son.

The material is so soft and warm I was almost jealous of an infant.

Cute and comfy inside and out.

My baby sleeps in this every night and she is very warm and cozy I will say i do put a swadle blancket because my baby produces alot of natural heat

Got this for friends who will be having their first grandchild very soon.

I'm using it for my elderly dog in nursing. She gets cold a lot.

Beautiful. Good quality. We used this for our family trip to Disneyland. We have an interchangeable stroller so we were able to click in the larger attachment, lay it down, and baby enjoyed from the coziness of his stroller! It was perfect for the evening. I would say you can use this for about up to 6 months old. I have a family member expecting and I can't wait to give her this!

Great quality envelope with soft long fur inside! As in the picture! Thank you!!!

The product is satisfied, but not yet used. Color as in the picture

Súper cute and cozy style
View full details
Featured store in media
Homekartz has been constantly featured on top media sites like Fox, USA Today, Market watch and others
13,452+ Positive Reviews
So many positive reviews and happy customers cannot be wrong!
Free 3 day shipping
We provide free first class USPS and FedEx shipping on all orders.
24 x 7 support
We won't leave you alone! Every one gets 24 x 7 priority support.
90 Day Money Back Gurantee
We offer 90 days risk free trial with 100% satisfaction guarantee.
You help someone today
When you buy from us, we donate 10% of each sale to a child in need in the USA.
Made with Love
"Each product is made with not only the best material but a little bit of happiness and kindness too."
What customers say
*****

My 5 year old grand son loves the products that we bought from homekartz. They provide a high quality product.

*****

My daughter loves the toys that I purchased for her and we keep buying more toys for her from time to time.

*****

My kid loves the clothes that i got for him. Home kartz has really great clothes for different occassion.