If you order within
Arrives by
Regular price
$79.99 USD
Sale price
$36.99 USD
Unit price
per
Sale
Sold out
If you order within
Arrives by
EcoCoconut Multi Purpose Bottle Brush
Everyday washing up & cleaning essentials
When you have a reusable bottle, it can be quite
a job cleaning it thoroughly! Our multipurpose plastic-free
bottle brush will make it so much easier to clean all types
of bottles. The EcoCoconut bottle brush is extremely durable
and sustainable. Perfect for zero waste and eco-friendlyliving:
ditch the plastic bristles and go for natural non-toxic instead!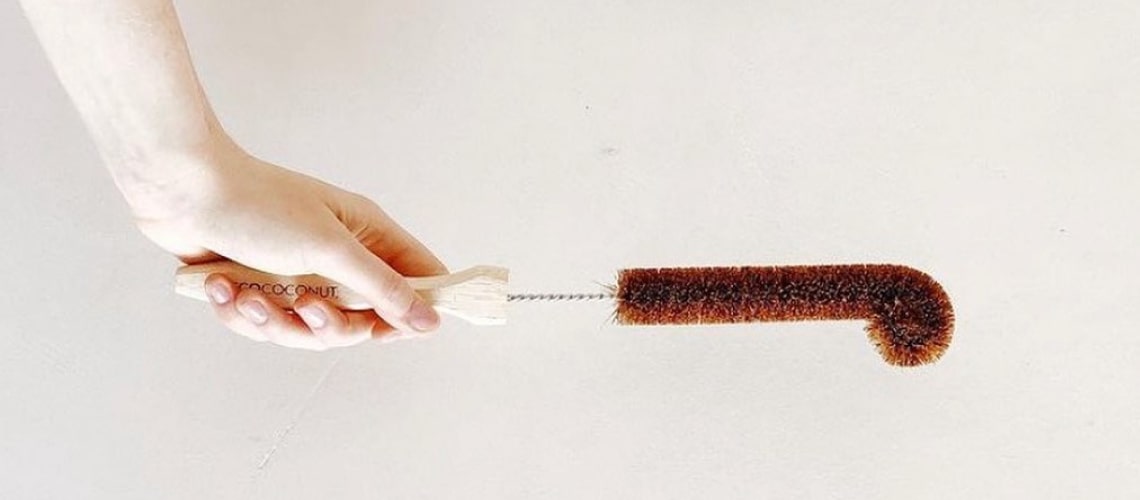 EcoCoconut Multi Purpose Bottle Brush
Making your home and our planet a little cleaner and greener!
Serves multiple purposes
Measuring 13.2 inches long, this eco-friendly bottle brush works brilliantly to clean bottles of all shapes and sizes! Whether it's a baby bottle, wine glasses, or reusable drinking bottles, they will come up shining like new.
Effective and durable
The simple and effective design delivers precision cleaning capabilities designed to get into hard to reach places. As the fibres are naturally antibacterial and highly durable, the brush tends to last longer and is therefore a better value for money.
Non-scratch and chemical-free
Being non-scratch, it is also great for wine glasses and stainless steel flasks. However, coconut fibre is not suitable for some plastic bottles, as scratching may occur. The bristles on this brush are also naturally antibacterial, free from toxic chemicals.
100% eco-friendly
The EcoCoconut Brush is made ethically in Sri Lanka using coconut fibers which are biodegradable, non-toxic, and completely plastic-free. The packaging and shipping materials are 100% plastic-free as well, including labels and and tape.
Sustainably sourced materials only
Join the plastic-free revolution! The EcoCoconut Bottle Brush is made with FSC (Forest Stewardship Council) certified recycled Rubber trees grown in a plantation and replanted at the end of their life, with the wood used for our brush handles. The bristles are made from sustainably farmed coconut husk which is the outside of dried coconuts.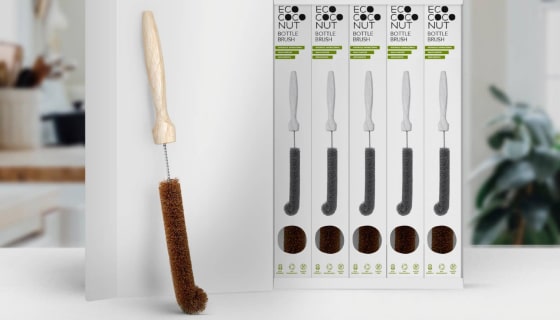 Totally recommend over yukky plastic ones!

I love this, it's a great swap to make if you're trying to live more sustainably. It feels well made and the end can be bent to a different shape.

This is actually great and better at scrubbing than plastic ones. I'm totally impressed with it

Works as expected and is a great addition to my eco friendly cleaning products!

Purchased this to clean out reusable drinks bottles. Does the job really well!! Very sturdy product.

I bought it to clean my water bottle with narrow neck (Chilly's bottle) and it is doing the trick.

Love that it's not plastic so doing my bit For The environment, just a shame not everyone else is! It cleans bottles beautifully.

Works well at cleaning inside my flasks and bottles. Looks attractive. Make sure you leave it to dry after use, and should be fine for a long time, I reckon.

After looking around a lot, I decided this was the most eco friendly option. The only thing that could be improved with the actual brush - the metal wire between the handle and the brush could do with being a bit more stiff, I find it bends when you put any pressure on it. It bends back easily as well but I imagine this will weaken it over time. other than that I'm happy with my purchase.

I bought this because my other eco friendly brushes didn't fit into my children's school water bottles which occasionally get mold spots in them. It works pretty well for cleaning inside them but occasionally the brush comes out of the handle but it pushes back in easily.

I make lot's of vegan stocks and store in bottles in th fridge and this little gem is very useful to ensure the bottle are properly cleaned. Only four stars given as it could be a little longer and wider. Super points because it's eco friendly.
View full details
Featured store
Our products are featured in top news publications including Fox, Newyork times & USA Today
Trusted by 1000+ customers
We are thankful to each customer for showing trust in our products.
24 x 7 support
We won't leave you alone! Every one gets 24 x 7 priority support.
2 to 4 day shipping
All products are shipped in 2 to 4 business days from USA Warehouse.
Happy Customers
So many positive reviews and happy customers cannot be wrong!
100% Satisfaction
We offer 90 days risk free trial with 100% satisfaction guarantee.
Made in the USA
All our products are made with love in the USA