If you order within
Arrives by
Regular price
$0.00 USD
Sale price
$77.99 USD
Unit price
per
Sale
Sold out
If you order within
Arrives by
Bring your inner artist out!
This kit includes top-quality pigments, sustainably harvested from around the world. Each one has been carefully ground to enhance the beauty and luminosity specific to each pigment. They provide a texture, radiance, and subtlety of color that synthetic pigments simply can't give. These paints are free of fillers, additives, synthetic preservatives, toxins, petroleum-based pigments, and heavy metals. Simply mix pigments with walnut oil using a palette knife, or for more thorough mixing, finish with a glass muller.
The paint kit specifications
Make your own paint with this eco-friendly kit
Beautiful and inspirational
There are 10 natural earth & mineral pigments in 2 oz. packets: venetian red, orange ochre, yellow ochre, terre verte, ultramarine blue, ultramarine purple, black ochre, burnt sienna, titanium white rutile and burnt umber.
Thoughtfully assembled
The kit also includes a 4 oz. jar of walnut oil; 4 oz. jar of Eco-solve - non-toxic and plant-based paint thinner/ brush cleaner; Eco Oil Painting Guide & Mixing Instructions.
Environmentally friendly choice
The box is a perfect eco-friendly gift. All packaging is made of 100% post-consumer recycled and biodegradable materials.
Made in the USA
You will be pleased to hear that this incredibly unique crafting kit is made right here in the United States of America. Made in Oregon, USA.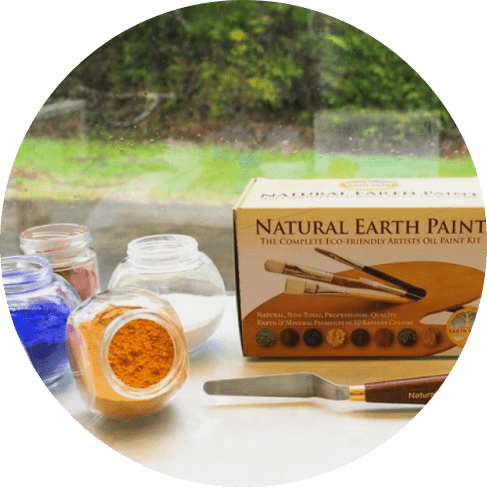 Paint like a true artist
Paint like the Old Masters with these 100% pure and natural earth oil paints. These naturally non-toxic paints create the most archival, UV-resistant, durable and radiant paints available today.
About Natural Earth Paint
Natural Earth Paint was born from the mind of a professional artist, mom and environmentalist. After deep research on ancient paint making recipes and studied Renaissance techniques, coupled with extensive experimentation and testing, Natural Earth Paint began to blossom. Over the past 10+ years, we've developed a full line of children's products, natural face paints, fine art supplies and the world's first all-natural, non-toxic varnish. Natural Earth Paint products are made in small batches in our solar powered facility, with natural earth pigments, organic binders and ingredients. We hope you enjoy creating memorable art with our products which we bring to you, with love and a passion for a better, brighter world.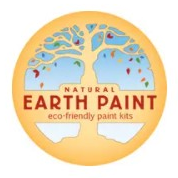 Designed In
Ashland, Oregon
Reviews
Our reviews are verified for authenticity
Perfect for anyone, beginner or not. Great variety of colors.

Always good paints and bright too

They are a far cry from artist oil paint but definitely worth getting if you're thinking about trying out oil painting.

These work like real oil paint, but can be thinned with water. Cleanup is soap and water!

high quality paint in just the right colors makes an outstanding set for the beginner or advanced artist......recommended.....

Brilliant. I'm telling you you'll have a unique satisfaction by painting with the colors you have grinded yourself. Works so well
View full details
Featured store in media
Homekartz has been constantly featured on top media sites like Fox, USA Today, Market watch and others
13,452+ Positive Reviews
So many positive reviews and happy customers cannot be wrong!
Free 3 day shipping
We provide free first class USPS and FedEx shipping on all orders.
24 x 7 support
We won't leave you alone! Every one gets 24 x 7 priority support.
90 Day Money Back Gurantee
We offer 90 days risk free trial with 100% satisfaction guarantee.
You help someone today
When you buy from us, we donate 10% of each sale to a child in need in the USA.
Made with Love
"Each product is made with not only the best material but a little bit of happiness and kindness too."
What customers say
*****

My 5 year old grand son loves the products that we bought from homekartz. They provide a high quality product.

*****

My daughter loves the toys that I purchased for her and we keep buying more toys for her from time to time.

*****

My kid loves the clothes that i got for him. Home kartz has really great clothes for different occassion.