If you order within
Arrives by
Regular price
$111.00 USD
Sale price
$37.99 USD
Unit price
per
Sale
Sold out
If you order within
Arrives by
Great for infant motor skill-building fun
Looking for a fun and eco-friendly way to encourage your baby's motor skills?

Home Kartz offers a variety of wooden toys that are not only colorful and stimulating, but also eco-friendly. Our rubberwood is plantation grown, and all of our products are colored with child-safe wood stains.

The elastic band makes it easy for babies to grasp the beads and twist them around, helping them to develop dexterity and hand-eye coordination.
With its twisting and manipulating beads, this toy will keep your baby entertained for hours on end.
The different colors and textures will also help to stimulate their developing senses.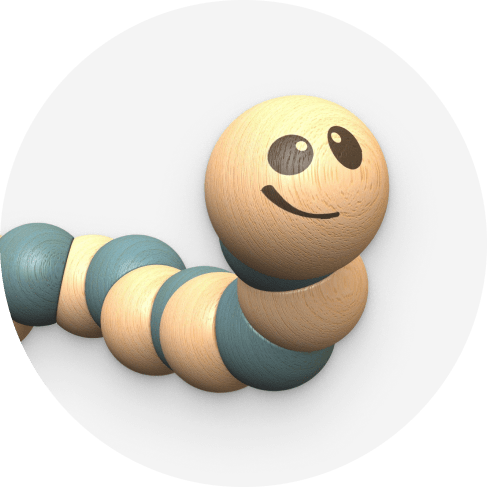 This toy twist bends, and flexes.
For hours of delightful developmental fun
Perfect for little hands
The earthworms from BeginAgain feature a soft wooden design, making it easy for little hands to grab.
Whether your little one is playing inside or on the go, the Earthworms is perfect for active play!
Natural stains, not paints
These earthworms are stained, not painted, so the paint will never chip and end up in little mouths. The stains help make for the best wooden blocks that keep their beautiful, vibrant colors while still being easy to clean!
Eco-friendly toys
At BeginAgain toys, all of the products are designed with the environment in mind. Wood is sustainably harvested from rubber trees to make wooden pieces and playsets, while the tree sap is converted into natural rubber bath toys.
Shape recognition
Getting the chance to hold different objects in their hands helps kids learn how different shapes feel. They also learn how to interact with everyday objects in their daily lives.
Advantages of Earthworms Clutching and Grabbing Toys

1. Promotes fine motor skill development: Gripping and grabbing activities stimulate the development of fine motor skills in infants. They develop their skill and coordination as they learn to use their hands to hold and manipulate objects.
2. Enhances cognitive development: As babies handle and explore the earthworm toy, they engage in sensory-motor play, which helps foster cognitive development. They learn about cause and effect by manipulating the toy and developing problem-solving skills.
3. Encourages imaginative play: Pretend play is an integral part of cognitive development in children, and the earthworm clutching and grabbing toy provides the perfect opportunity for imaginative play. Babies can use the toy to explore the world and create imaginary scenarios.
4. Develops hand-eye coordination: The earthworm toy encourages hand-eye coordination and helps babies learn how to track objects accurately with their eyes and coordinate their hand movements.
5. Increases language development: When babies manipulate the toy, parents can use descriptive language and encourage their children to describe what's happening. This helps them learn new words and develops their language skills.
Commonly Asked Questions 
What age is this toy suitable for?
This toy is suitable for ages one and up.
Is the toy easy to clean?
It depends on the type of toy. Some toys may require a damp cloth or mild detergent for cleaning, while others can be wiped down with a damp cloth.
How does the toy help develop motor skills?
The toy helps develop motor skills by engaging the child in activities that require fine motor skills, such as stacking blocks, pushing buttons, and turning knobs. It also encourages gross motor skills, such as crawling and walking, by providing a stimulating, interactive environment.
How does the toy help stimulate my infant's senses?
The toy can help stimulate your infant's senses by providing the opportunity to explore different shapes, textures, and sounds. The bright colors and patterns can help to visually stimulate your infant, while the different textures can help to stimulate their tactile senses. The toy may also make certain sounds to help stimulate their auditory senses.
What materials are used to make the toy?
The materials used to make a toy vary depending on its intended use. Common materials include plastic, rubber, foam, cloth, wood, metal, and electronic components.
Makes a perfect gift
Whether you've got a little one in your life, or need an excellent birthday or baby shower gift, BeginAgain is here to help! This toy will be great for every child no matter the age or the occasion! This worm will stimulate and entertain for hours. For infants 1 year and up!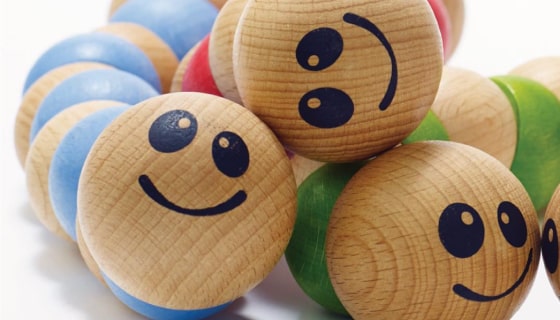 Reviews
Our reviews are verified for authenticity
this is really a good sensory and fine motor toy. my son absolutely loves it he chews on it and swings it around in the air

I love them, they twist neat, somthing for my lil one to grab and bite on.

It was a perfect size for little hands

Love them, super cute colors, durable & exactly like the picture

My granddaughter absolutely loved them! Great for teething!

My grandson absolutely loves these! I purchased them for his sensory box and they are one of his favorites!

Grandson loved them. Good for little hands to learn to twist and turn with little hands. Easy to put as carry on toy.
View full details
Featured store in media
Homekartz has been constantly featured on top media sites like Fox, USA Today, Market watch and others
13,452+ Positive Reviews
So many positive reviews and happy customers cannot be wrong!
Free 3 day shipping
We provide free first class USPS and FedEx shipping on all orders.
24 x 7 support
We won't leave you alone! Every one gets 24 x 7 priority support.
90 Day Money Back Gurantee
We offer 90 days risk free trial with 100% satisfaction guarantee.
You help someone today
When you buy from us, we donate 10% of each sale to a child in need in the USA.
Made with Love
"Each product is made with not only the best material but a little bit of happiness and kindness too."
What customers say
*****

My 5 year old grand son loves the products that we bought from homekartz. They provide a high quality product.

*****

My daughter loves the toys that I purchased for her and we keep buying more toys for her from time to time.

*****

My kid loves the clothes that i got for him. Home kartz has really great clothes for different occassion.