If you order within
Arrives by
Regular price
$0.00 USD
Sale price
$32.99 USD
Unit price
per
Sale
Sold out
If you order within
Arrives by
Bring your inner artist out!
Artists of all ages enjoy mixing our natural earth paints in the provided mixing cups, and the creamy, tempera-like paint makes it easy to create colorful, custom designs on the hemp flags. Great for spelling out children's names or creating a new tradition by hanging this seasonal decoration in your home for years to come!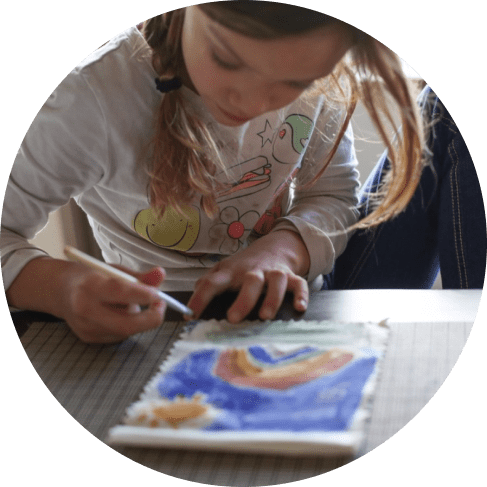 Earth Flags Craft Kit specifications
The complete eco-friendly kit
Great for all ages
This crafts kit is perfect for almost all ages. Children & adults will both enjoy coloring these hemp flags with creamy natural earth paints.
Create something special
With this crafting kit, you can create a new tradition by hanging this seasonal decoration in your home for years to come!
Environmentally friendly choice
All packaging is 100% post-consumer recycled, with biodegradable bags and mixing cups, and vegetable based inks.
Made in the USA
You will be pleased to hear that this incredibly unique crafting kit is made right here in the United States of America.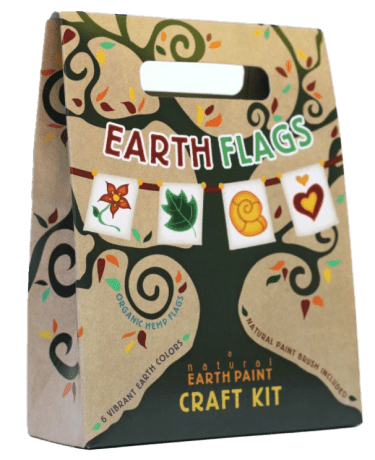 What comes in the package
All packaging is 100% post-consumer recycled, with biodegradable bags and mixing cups, and vegetable based inks. This kit contains: 6 vibrant colors of Natural Earth Paint (red, orange, yellow, green, blue, brown), 4 organic hemp flags measuring 6.5" x 8.5" (sewn with a loop to thread rope), 1 hemp rope, 1 eco-friendly bamboo paint brush, and 6 biodegradable mixing cups.
About Natural Earth Paint
Natural Earth Paint was born from the mind of a professional artist, mom and environmentalist. After deep research on ancient paint making recipes and studied Renaissance techniques, coupled with extensive experimentation and testing, Natural Earth Paint began to blossom. Over the past 10+ years, we've developed a full line of children's products, natural face paints, fine art supplies and the world's first all-natural, non-toxic varnish. Natural Earth Paint products are made in small batches in our solar powered facility, with natural earth pigments, organic binders and ingredients. We hope you enjoy creating memorable art with our products which we bring to you, with love and a passion for a better, brighter world.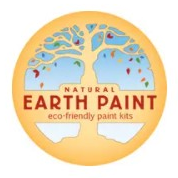 Designed In
Ashland, Oregon
Reviews
Our reviews are verified for authenticity
The kids loved it ! Definitely will be ordering more

Excellent for all age children...great for different occasions..

These are so cute and perfect for Kindergarten kids to make. They were all so unique. It was a fun

We strive to keep our home free of unnatural dyes, so when I saw this flag making kit featuring naturally colored, vegetable based paint, I knew it was a project I could feel good about my kids being involved in. The paints are impressively vivid, and a lot like the tempura paints my husband and I grew up with. My only gripe is that the kit features only 4 flags... seems like a few more could easily have been added at the same price point. We ended up using the leftover paint on brown butcher paper that we'll use as gift wrap. All in all a good deal for those seeking a sustainably based project for their children, or gift for the eco-conscious family in your life.
View full details
Featured store in media
Homekartz has been constantly featured on top media sites like Fox, USA Today, Market watch and others
13,452+ Positive Reviews
So many positive reviews and happy customers cannot be wrong!
Free 3 day shipping
We provide free first class USPS and FedEx shipping on all orders.
24 x 7 support
We won't leave you alone! Every one gets 24 x 7 priority support.
90 Day Money Back Gurantee
We offer 90 days risk free trial with 100% satisfaction guarantee.
You help someone today
When you buy from us, we donate 10% of each sale to a child in need in the USA.
Made with Love
"Each product is made with not only the best material but a little bit of happiness and kindness too."
What customers say
*****

My 5 year old grand son loves the products that we bought from homekartz. They provide a high quality product.

*****

My daughter loves the toys that I purchased for her and we keep buying more toys for her from time to time.

*****

My kid loves the clothes that i got for him. Home kartz has really great clothes for different occassion.