If you order within
Arrives by
Regular price
$111.00 USD
Sale price
$37.99 USD
Unit price
per
Sale
Sold out
If you order within
Arrives by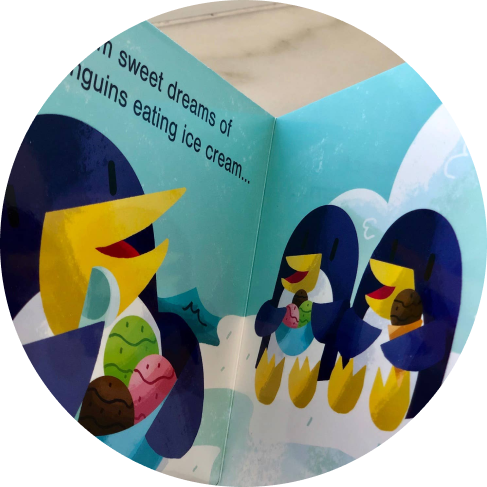 Dream Sweet Dreams
Bright illustrations and sweet, rhyming text are paired in this adorable bedtime story that celebrates the joy of creativity through dreams. From penguins eating ice cream to cute cuddle bugs, this board book visuals are sure to bring a smile to both young and old.
The magical way to dreamland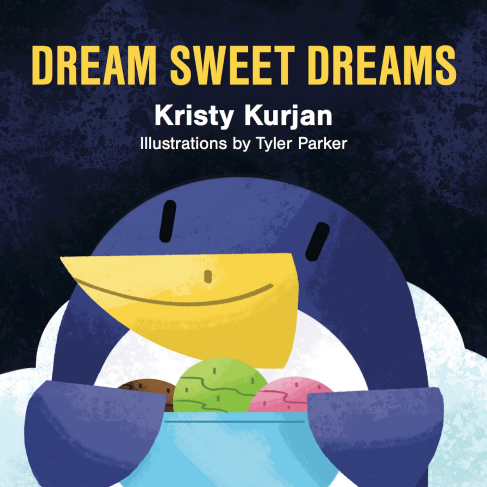 Positively reviewed
"This creative board book shows how beautiful and exciting dreams can be... A pink octopus strolling through the park, yes, please!" – BayLife North Magazine.
Ideal for bedtime
The book uses rhyming text to hook your bookworm, and the illustrations help your child visualize their dream animal. After you're done reading, you can talk about what dreams they'd like to have.
The book's details
Reading age: 5 years and up. Print length:14 pages. Language: English. Dimensions: 5.75 x 0.4 x 5.75 inches. Publisher: KPO Creative LLC. Made in the United States of America.
About KPO Creative LLC
KPO Creative LLC is a creative children's publishing company based out of Traverse City, Michigan. Our primary objective is producing creative content for children featuring four board books in our Creative Kids Series by award-winning author, Kristy Kurjan. The Creative Kids Board Book Series includes: I Spy... A Pig In A Plane, Nap-a-Roo, Dream Sweet Dreams & The Many Ways To Say I Love You. These books represent sweet and simple poetry for early readers. Kristy Kurjan's first book, Nap-A-Roo, has won numerous awards in the children's book industry. Kurjan's most recent board books, I Spy... A Pig In A Plane, Dream Sweet Dreams, and The Many Ways To Say I Love You, were all printed in the USA (Nap-a-Roo, was printed in Malaysia.) All of the writing, illustrations, editing, and graphic design that went into the production of the collection are from small owned businesses located in the USA. As a woman-owned small press, we love supporting local!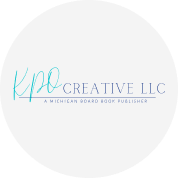 Designed In
Traverse City, Michigan
Reviews
Our reviews are verified for authenticity
I love the illustrations and the rhythm of it. It's short and easy for my daughter to follow.

Cute illustrations and content, but very short story

What a great book! Indie author, so not a lot of people have this book, which is cool. Its full of cute animals doing cute stuff! Short (great for bedtime) and both our daughter and son love it.

My children adored the colorful illustrations in this book, particularly my two year old daughter! We have added it to our nightly bed time book must haves and I can't recommend it enough!

We love this book! My daughter asks for it every night. Such a sweet and easy book for her to also help read along with.

I bought this book for my niece. She is in love with penguins and thought the pictures were wonderful! Penguins eating ice cream! We also liked that it was short and sweet -- perfect for a toddler with a short attention span!

OMG! This book is so cute and colorful. It's simple sweet. I read it to my baby when he was sick and he gave me the sweetest smile. Dream Sweet Dreams is the perfect book to cuddle up with your little one and read before they go to sleep.

I really enjoyed reading this book to my kids and niece.I really liked the Illustrations full of color and cute animals. Its a book to catch your little ones attention from the start. I liked that this book can also be used to learn how to read as it has easy vocabulary for your child. Loved that it can make nighttime fun for your little ones and a fun read for parents as well.
View full details
Featured store in media
Homekartz has been constantly featured on top media sites like Fox, USA Today, Market watch and others
13,452+ Positive Reviews
So many positive reviews and happy customers cannot be wrong!
Free 3 day shipping
We provide free first class USPS and FedEx shipping on all orders.
24 x 7 support
We won't leave you alone! Every one gets 24 x 7 priority support.
90 Day Money Back Gurantee
We offer 90 days risk free trial with 100% satisfaction guarantee.
You help someone today
When you buy from us, we donate 10% of each sale to a child in need in the USA.
Made with Love
"Each product is made with not only the best material but a little bit of happiness and kindness too."
What customers say
*****

My 5 year old grand son loves the products that we bought from homekartz. They provide a high quality product.

*****

My daughter loves the toys that I purchased for her and we keep buying more toys for her from time to time.

*****

My kid loves the clothes that i got for him. Home kartz has really great clothes for different occassion.