If you order within
Arrives by
Regular price
$79.99 USD
Sale price
$53.99 USD
Unit price
per
Sale
Sold out
If you order within
Arrives by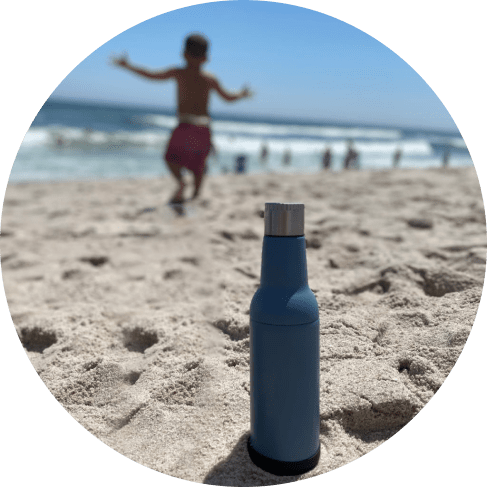 Stainless steel insulated bottle
Let's face it, we all hate spills, drinks getting warm, sand or other unwanted things getting in our bottles/cups, or even worse, broken glass! DraftBottle was created to help enjoy drinks without the worry of spills or breakage, while still keeping your beverage cold and sealed (if needed).
The DraftBottle specifications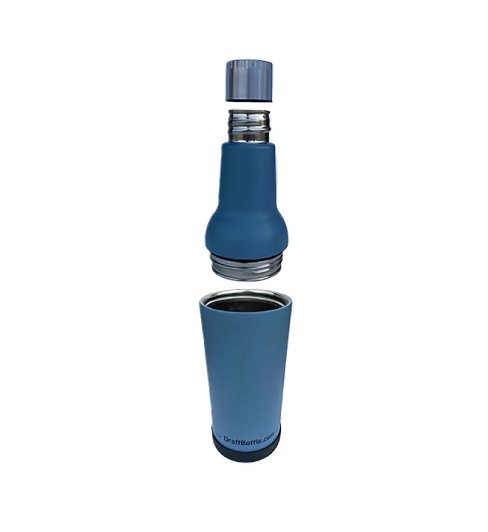 How to use it
The bottle unscrews below the neck allowing you to easily fill it with 1 pint (16 oz, the bottle will hold 22 oz in total) of draft beer, glass bottled beer, beer from a growler, mixed drinks, or any other beverage!
What it is made of
It's made from 18/8 food grade stainless steel, and the base cup is double walled and vacuum sealed to keep your brew cold! The reusable cap helps to stop spills and prevent unwanted debris from getting in.
Pour anything you want inside it
The exterior is powder coated (no powder coat on stainless steel model) to boost durability. It has a silicone bottom as an extra protection from slips and scratches, and a leak-proof seal around the separation. DraftBottle is eco-friendly, BPA-free, and dishwasher safe!This makes a great addition to your home bar, beer-ware, man-cave, outdoor party supplies, and it also makes a great unique gift!
About DraftBottle
The DraftBottle Story I just wanted to cut my grass and have a beer! Like most inventions or ideas, they are born out of a need to help solve a problem, and if it involves beer, you better believe I will be motivated to solve it! So, what is that problem? How do you enjoy your draft beer or glass beer in places where you don't want plastic cups and/or you want the feel of holding a classic beer bottle? – That is where DraftBottle comes in! A few years ago I was getting ready to do some yard work and I wanted to enjoy the beer I had on tap in my kegerator. There were a few problems, the plastic cups are too open, and grass and bugs fall into it, it gets warm, it spills easily, etc etc etc. Then I thought, why isn't there a beer bottle that opens below the neck so I can fill it up with draft beer?? DraftBottle was born! Design Patent Approved and Issued In March of 2019, I was informed that our 2 design patents for a screw and snap together convertible container were approved, we immediately went to work finding a manufacturer and began the process of making production molds and putting together a launch budget.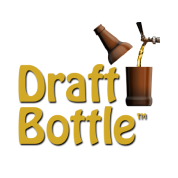 Designed In
Fairfield, New Jersey
I purchased it because of the curious construction - it is both a bottle and a cup, a transformer bottle so to say. It keeps your drinks warm for a long time and no spillage. I switched to this bottle after I stepped on the glass shards I didn't clean properly after I dropped my mug.

We are outdoors all the time - biking, fishing, camping and have finally found the right beverage holder for us, keeps the drinks cold, no matter what.

The bottle is one of my best food/drink related purchases. I got it for work, but I guess it will do just fine for outdoor activities too. It keeps my ice-tea cold for a long time, a breeze to wash and looks supercool. Can be used both as a cup and as a bottle and comes in many colors, I got grey.

Well I use it not for beer, but for camping and it's fine by me. It's really important that there are no leaks, or my whole backpack would be ruined. Took it two times with me, so far no issues, easy to use. I mean come on, what issues could you have with a steel bottle apart from leakage? 5/5, would buy again.

The bottle is great for keeping your beverages cool. I use it mostly for fishing trips. A pro tip: pour your beer into the bottle (or any beverage for that matter) and put it in a lake or near your boat somewhere (remember to fix it with a rope or smth). This way your beer will be cold FOREVER!

It is easy to clean, compared to other bottles, because you can just turn it into a cup and wash all the parts separately from each other. I had a solid metal bottle before and it was tough to clean. Whoever came up with this idea is a genius or something…

Bought for beer with my bros, but my wife begged to get her one for her yoga or pilates or whatever stuff she's doing at the gym…

LOVE the bottle! I've been thinking about getting a metal one instead of plastic or glass bottles…It's eco-friendly and safe to use and I really love how cool it looks. Draft bottle was recommended to me by a friend and here I am… Easy to wash, can be used for literally any beverage and keeps the temperature like no other.

Had this bottle for a year now. No issues, everything is as described - dishwasher-friendly, keeps my water stuff warm. It got some scratches on the surface after 1 year, but I guess it is to be expected.
View full details
Featured store
Our products are featured in top news publications including Fox, Newyork times & USA Today
Trusted by 1000+ customers
We are thankful to each customer for showing trust in our products.
24 x 7 support
We won't leave you alone! Every one gets 24 x 7 priority support.
2 to 4 day shipping
All products are shipped in 2 to 4 business days from USA Warehouse.
Happy Customers
So many positive reviews and happy customers cannot be wrong!
100% Satisfaction
We offer 90 days risk free trial with 100% satisfaction guarantee.
Made in the USA
All our products are made with love in the USA