.
Regular price
$154.90
Sale price
$53.47
Unit price
per
Sale
Sold out
If you order within
Arrives by
Are you looking for a fun family game?

This is a fun family game for both kids and adults.
Humpty Dumpty sat on a wall… remove a brick, but don't let him fall! The Don't Dump Dumpty Game is a versatile counting and math game with ideas and rules for many ways to play.

Stack the bricks to create a wall, set Dumpty on top, and take turns removing bricks, but don't let him crack apart! It can be played alone, in pairs, or with teams.

Struggling to Keep Your Kids Engaged in Fun and Educational Playtime?

In a world full of digital distractions, it's often a challenge to keep kids engaged in fun and educational games. You want something that captures their attention and helps them develop crucial skills. 
But how can you find a game that makes learning enjoyable for your kids?
Introducing the "Don't Dump Dumpty Game." It's the answer to your quest for an entertaining and educational game. This exciting game combines the thrill of balance and strategy with colorful, engaging play, promoting cognitive skills and creativity. Make playtime a fantastic learning experience for your kids with this incredible game.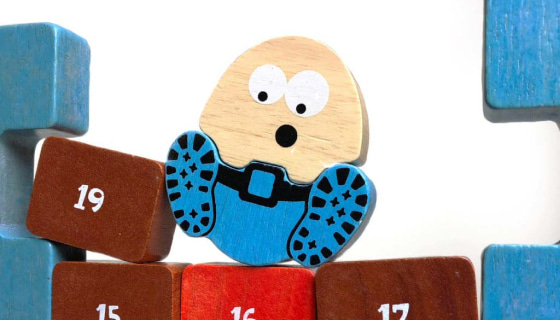 S.T.E.A.M. starts here
Play & Learn with Humpty Dumpty
Includes everything you need
Each set includes 24 numbered blocks, a Humpty Dumpty piece, a grid, and game instructions in a wood storage tray for easy cleanup and travel!
Number games for toddlers and families - all in one
This wooden game set offers simple number games, exercises for toddlers, and stacking number games for families.
Skill-building fun for infants and toddlers
This eco-game set features number identification, simple gameplay, and rules and is excellent for developing fine motor skills and learning basic math.
It comes with a wooden storage tray.
This game set is flat for easy storage and fits nicely in its wooden tray. Easy clean-up and storage!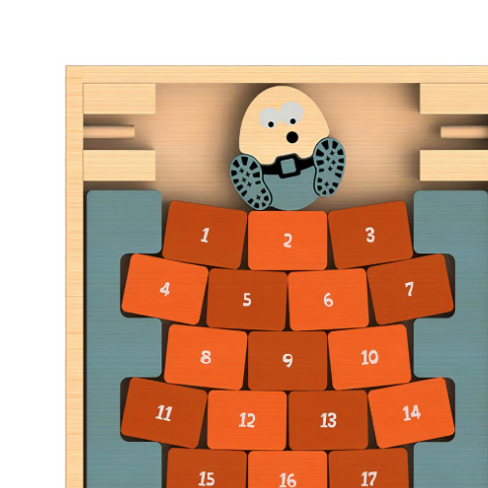 Designed by an award-winning team
The award-winning toy design team of BeginAgain from Colorado has garnered over 70 toy awards, including 5 Toy of the Year nominations.
For well-balanced development
Whether your little one is building fine motor skills or learning addition, this fun game is here to help! Perfect for
kids
aged 2 and up!
Handcrafted with non-toxic, child-safe stains
Made from sustainably grown rubberwood. Grown on farms, not cut from forests. No plastic worries - no BPA / no phthalates. 

FAQs (Frequently Asked Questions):


1. What does the "Don't Dump Dumpty Game" include?
The game set includes a Dumpty figure, a base, and a set of colorful pieces for stacking.

2. What age range is this game suitable for?
This game is designed for kids aged 3 years and up.

3. How does this game promote learning in kids?
It encourages problem-solving, fine motor skills, strategic thinking, and creativity.

4. Is the game safe for kids to play with?
Yes, the game is made from child-safe, non-toxic materials, ensuring your child's safety.

5. Can this game be enjoyed by a single player or multiple players?
It's versatile and can be enjoyed individually and with friends or family.

6. Does the game require batteries or external power sources?
No, it's a battery-free game that relies on hands-on interaction and strategy.

7. Is the game durable and able to withstand rough play by kids?
Yes, the game is built to be sturdy and can handle children's enthusiastic play.

8. How can I use this game to teach my child about balance and strategy?
Encourage your child to experiment with different stacking techniques and discuss the concepts of balance and strategy as they play.

9. Is this game a great gift for a child's birthday or special occasion?
It's a fantastic gift idea for birthdays, holidays, or any special celebration, combining entertainment and education.
Reviews
Our reviews are verified for authenticity
My kids like it and I like the number counting aspect. They do get bored with it after a few plays, but will play it again in a week or so.

He loves it and it didn't just get thrown aside like other toys and games and is not a choking hazard

Great game or just fun to stack the blocks and knock Humpty Dumpty down. Grandchild loves it.

Our 2 year old loves knocking down humpty. My husband and I play also. It's a fun game for all ages.

Really cute little game! I bought it for a 2 year old's birthday, and he really liked it.

Good quality... Fun game for kids to learn numbers and to wait for taking turns.Plus my daughter is all about Humpty Dumpty at the moment, so makes for more fun.

Younger kids need help setting up, very fun, kids play again and again. I bought this for preschool, hearing the rhyme over and over really helps them learn the rhyme

I am a preschool teacher and got this game for one of my Centers. My three and four year olds love this game. Most of them can play it independently. I love it. Very good quality and such a fun idea.
View full details
Enjoy Free Shipping on Every Order
Experience the ultimate convenience with our free 3-day shipping service available to all customers throughout the United States.
24 x 7 Customer Support at Your Service
We offer customer support through live chat, email, or phone, making it easy for customers to get assistance with their inquiries.
Crafted with American Pride: All Our Products Are Made in the USA
Experience the assurance of exceptional quality and support local industries with our wide selection of products, all proudly made in the USA.
Peace of Mind: Our 14-Day Return Policy Has You Covered
We want you to love your purchases, which is why we offer a hassle-free 14-day return policy. If you're not completely satisfied with your order, simply return it within 14 days for a full refund or exchange.
Explore Our Diverse Range of Products
Our store offers a vast selection of products, giving customers the convenience of finding everything they need in one place.
Our Customers Award Us 5 Stars
We are thrilled to share that our products has received widespread acclaim from our valued customers, with an abundance of 5-star customer reviews pouring in.
Your Choice, Your Security: Explore Our Multiple Payment Options
We offer secure payment options, giving customers peace of mind when making transactions.
Track Your Orders at Every Step
Customers can track their orders in real-time and receive updates on their delivery status.