If you order within
Arrives by
Regular price
$79.99 USD
Sale price
$54.99 USD
Unit price
per
Sale
Sold out
If you order within
Arrives by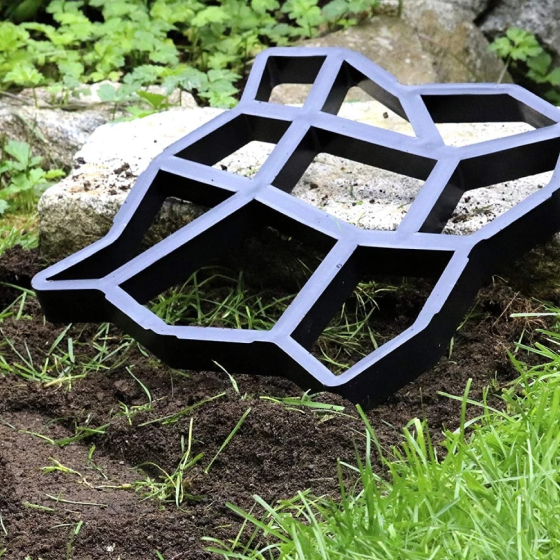 Forge your own path
Create instant walking space with an easy-to-use mold that injects some character and texture to your backyard, side yard, or front lawn. No need to call the landscaper or hire a professional team: all you need is some cement or mix.
It's DIY fun without breaking the bank
Designed for garden lovers (and everyday people) who want to add character to their garden or patio, molding and creating one's own walkway is freeing, expressive, and perfect for those with creative minds. Have a vision for that backyard or mini garden -- but not the budget to hire a professional? Use this easy-to-use DIY Path Maker Mold and become your own landscaper.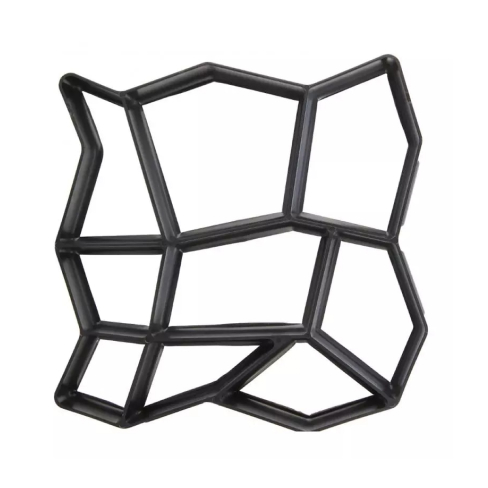 It's eco-friendly and reusable
Don't harm the environment with one-use throwaway mold kits or pieces. Our thermoplastic DIY Path Maker Mold can be used over and over again, helping you create a few path pieces or a complete path from the backyard to front yard. Wash with water after use and reuse whenever you need to.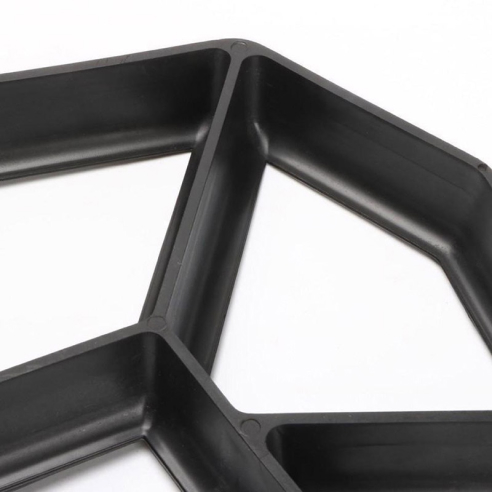 Creations that are as easy as. One. two. three.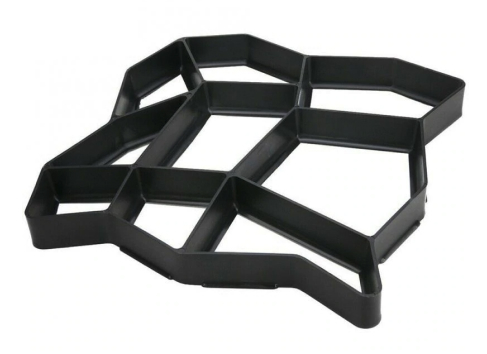 Pour mix into the mold
Whether cement, ashcrete, or micro silica, pour your foundation mix into the mold.
Shape and flatten
Smooth out your mix so it fits within the mold.
Remove the mold
Once your mix dries, remove the mold maker.
The look of nature, man-made
Our path mold features a stone-block pattern for a natural, true-to-life look. Each mold measures 14.1 x 14.1 x 1.5 in / 36 x 36 x 4 cm for a sizable walking space. Neighbors and friends will be guessing how you crafted such amazing pathways without a team of professionals.
Fantastic product! We used and abused it! A couple of tips... *use baking spray to oil them before pouring concrete. *if you want to use your mold more then once for the day buy instant drying concrete. *make sure you smooth over each top down to where you can see the black outline of the mold. If you don't do this you will get weird tops on the molds. *make the concrete as watery as possible. It makes for smooth tops. *To make a turn we filled in the gap between 2 of the molds by using a piece of wood so the concrete did not leak out. Creating another block.

I decided to use these forms then fill the cracks with sand. Instead of trying to make a cement slab outside the door to my corridor. They are a tad bigger than what I had anticipated but that's a good thing. This was my first time using these forms. I only had one issue with the entire project. The issue I had was with the concrete. If you plan to use these and you're not a contractor or similar, definitely consider buying an attachment for your drill so you don't spend thirty minutes just mixing the concrete. Other than that, I didn't have any issues. I highly recommend these forms for anyone looking to create a path, walkway, or whatever, these are your "go-to"! A++

I accidentally discovered these concrete molds when one of our neighbors sold one in the local classifieds. I was intrigued and just had to try one as we have been planning to do something about our patio pretty much since we bought our home about five years ago. I gave it to my husband to test and yesterday he finally got around to giving it a sample run. We really like the result and how easy it was to use. Plus the potential to customize the pavers to suit your needs. So we are pretty excited and will create a garden pathway before winter approaches. And finally, resurface our plain and ugly cracked patio.

Great size and easy to use. Making a pathway from our driveway to the house and it couldn't be easier. Ordered 2 more (total of 3) to make the work go faster. Btw an 80lb bag fills the mold 3 times perfectly. We let the concrete set for about 8 minutes before we lifted it when it looked dryish on top and moved to the next. We were able to use the whole bag before it set doing it this way using quickcrete. I was able to do the whole job with a baby attached to my back.

I love this stone walkway mold. It is so simple to use. Each side has either an "out" or "in" pattern. Simply match your next section so it interlocks. Turn your pattern 1/4 turn each time to achieve a more random look. Curves are simply made by aligning the mold to the last poured section, pressing the mold down, remove mold, and remove excess concrete. To make sure these look like random stones, use a trowel to smooth out the sharp edges. I have used both soil and gray-colored mortar to fill in the spaces between the 'stones'.

I haven't used it yet, but the heavy-duty quality is outstanding. Very solid.

I absolutely loved it. I purchased 2 in order to make more progress.

I am very impressed with this stencil. The plastic it is made from is very strong. The pattern itself has a nice random look to it, but fits perfectly with the other side of the mold so that everything looks cohesive. This was a really good price compared to some other molds I have looked at, and I am so glad we made this purchase. I think it will last us a good long while.

We painted our sidewalk and porch and people think it is real rocks. Looks awesome.

I love how easy it is to use this product. I will recommend this product, even to the beginners.

We purchased this mold to redo the patio in our backyard. We were all set to start & then it snowed! We found that this mold makes a great pattern when we used it in the snow when playing outside with the kids. I love the pattern it made in the snow so can't wait to get our patio done using this!

You do have to fill this and remove it and fill it again and remove it on and on until you make your walkway. It will take some time but it will look nice. The mold is nice and sturdy and the cement will slip out easily.

Very good purchase, you won't regret! These form worked great for us and fast! It was very fun to build a project with the form and I know the form will last through future projects. Make sure to wash between uses to keep the concrete from drying. You can use a wet sponge to remove the mold and keep it clean.

These are fun to use, we are making pavers for our patio extension. An 80-pound bag of Quikcrete makes 4 pavers. We read other reviews that said to use a mold release or non-stick cooking spray and remove the molds after about 15-20 minutes so we took that advice and it has worked perfectly.

This works well. We had some user error, not rotating correctly, but I am still happy with how the patio is coming out. The product itself is great! We need to fill in the gaps with some polymeric sand and then we will be done.

This was the best purchase to make for my grassless pool area. It was very easy to use and it came out beautiful. It does take time however I wish I had purchased 2 more. The process itself was quick but I only purchased 2 however, 4 would have made the project quicker. But all in all, I was very please and would highly recommend to anyone wanting to add a personal touch to their outdoor area.

Great product. Easy to use. Time-saving!

Mold is very solid, well-shaped, and will work great for what I need. You can mix up the pattern or keep it consistent with this mold.

Nice pattern. Like the small size. Quick to pour. I highly recommend this product!

Nice pattern for the walkway. I might opt for one with larger blocks next time but that has more to do with taste. No complaints about this paver system.

This was the coolest mold ever! I can't believe how easy and beautiful concrete could be!

Was just what it said it would be. Great do-it-yourself project!

1 90 pound bag of cement is enough for 3 molds. I let the cement set for 15-20 min then removed and continued with the rest. Worked perfectly! I`m really happy with this order!

I just got the walk maker and started building my walkway. I couldn't be happier with the turnout.

Just finished ours. Love it!!!

Absolutely love this!!!! Used it to stencil my patio and it looks amazing!

Ok – I'm a girl with no ( none, nada ) previous experience with working with concrete – and these things are super easy – I bought the quick crete- it was like 4.35 a bag and I did it! Soooo I bought 2 molds and 4 bags of concrete and made about 10 feet of wall way with it ………. I added a little water on top to make them smoother and I sprayed the mild with PAM cooking spray to release it and sprayed them off each time !!! I'll add a picture – they aren't perfect but it was fun and I learned a lot! Gonna go buy more concrete!

It was very easy to use, made 15 molds with no problems. If this is what you're looking for buy it. I have no regrets.

I'm using this for my backyard project. Going to end up paving my entire back yard area. They are coming along great. The only lengthy process is mixing the crack-resistant cement, pouring it into the molds, and packing it in so that it fills the entire mold section and doesn't leave gaps. Once I let it sit for a few minutes, I simply lift the mold up after lightly tapping and shacking the mold to free the concrete, then I hose the mold off of any concrete that has stuck to it and ready for the next batch. The mold is thick so it is very durable. Just be sure to alternate the patter by turning the mold a 1/4 turn each time you lay down the mold. I really like this mold and I'm glad I bought it.

Used this to build a patio for a fire pit and worked perfectly. I just need to finish it now...

We have built over 30 ft of a sidewalk and have a lot more to go to complete. This is durable, easy use, and clean.

The easiest way to build a door path.

Building a walkway or patio is simple with this form. It's not super fast if you only have one form. It makes a nice pattern when put side by side. The form is made of sturdy plastic so it can be rinsed and re-used over and over again.

We lived it came out awesome 👌
View full details
Featured store
Our products are featured in top news publications including Fox, Newyork times & USA Today
Trusted by 1000+ customers
We are thankful to each customer for showing trust in our products.
24 x 7 support
We won't leave you alone! Every one gets 24 x 7 priority support.
2 to 4 day shipping
All products are shipped in 2 to 4 business days from USA Warehouse.
Happy Customers
So many positive reviews and happy customers cannot be wrong!
100% Satisfaction
We offer 90 days risk free trial with 100% satisfaction guarantee.
Made in the USA
All our products are made with love in the USA