.
Regular price
$89.90
Sale price
$33.97
Unit price
per
Sale
Sold out
If you order within
Arrives by
Develop creative expression.

Let your child create a work of art.
Although dinosaurs disappeared from Earth 66 million years ago, these new egg-shaped beeswax crayons are a fun, colorful fantasy that will stimulate young artists' imaginations. Your little one will love these marvelous crayons' rich color and unique shape.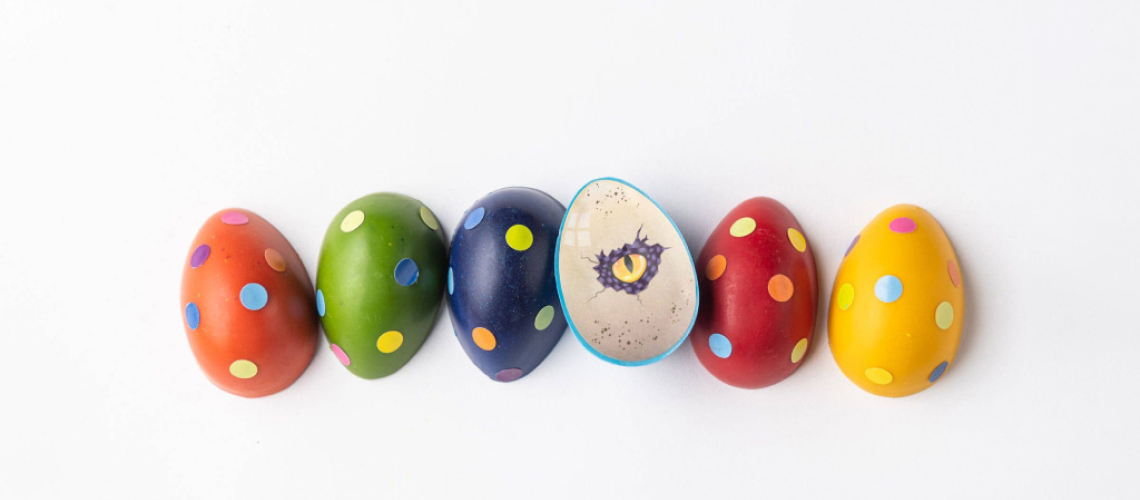 These crayons bring so much fun.
For your pint-sized paleolithic artist
Attractive shape
Six pieces of half-egg-shaped vividly colored crayons are included in this set. They are meant to inspire creative play as well as stimulate happy coloring.
Natural and safe
Unlike standard crayons filled with chemicals and toxins, these egg-shaped cuties are created with natural wax and colored with mineral pigments.
Perfectly sized
Rounded edges and super-smooth wax are perfect for little hands. Dimensions are 6" x 4" x 3", suitable for children to hold easily.
Creativity improvement
These
kids
' crayons are easy to color on paper, attracting them to create and explore art. They come packed in a post-consumer recycled egg carton for extra-easy storage!
Let children enjoy an exciting time.
Based in Portland, Maine, Eco-
Kids
makes all its products in the United States of America. Encouraging children to get creative and stay imaginative, they have no shortage of imagination themselves. Their creative arts and crafts supplies are made using all-natural ingredients, so they're safe for
kids
and parent-approved!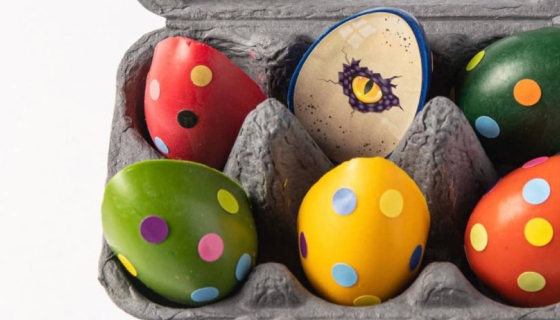 Are you looking for a creative and safe coloring experience for your little one?

They are introducing our Dinosaur Eggs Beeswax Crayons! These unique and vibrant crayons are designed to make coloring an exciting adventure for kids. Shaped like dinosaur eggs, they are fun to use and completely safe.

Here's why you'll love our Dinosaur Eggs Beeswax Crayons:


Exciting Shapes: The crayons are shaped like dinosaur eggs, making coloring a thrilling experience for kids.
Safe and Non-Toxic: Crafted from natural beeswax, these crayons are eco-friendly and safe for children.
Vibrant Colors: The crayons produce rich, vibrant colors, inspiring your child's creativity.
Ergonomic Design: The egg shape is easy for small hands to hold, promoting fine motor skills.
Hours of Fun: Creative and safe coloring fun is guaranteed with a set of crayons that children will adore.
Get your Dinosaur Eggs Beeswax Crayons today and watch your child's imagination come to life. Click to add this safe and creative coloring set to your cart now.

FAQ (Frequently Asked Questions):

Q1: What are Dinosaur Eggs and Beeswax Crayons?
A1: Dinosaur Eggs Beeswax Crayons are a set of crayons shaped like dinosaur eggs, designed for kids to enjoy creative and safe coloring.

Q2: Are these crayons safe for children?
A2: Yes, they are. These crayons are made from natural beeswax and are non-toxic, ensuring safety for children.

Q3: How many crayons come in a set?
A3: Each set includes a variety of colorful dinosaur egg crayons, typically ranging from 6 to 12 crayons per set, depending on the package.

Q4: What age range are these crayons suitable for?
A4: Dinosaur Eggs Beeswax Crayons are suitable for children aged three and above.

Q5: Are the crayons easy for small hands to hold?
A5: The egg-shaped design is ergonomic and easy for small hands to hold, promoting fine motor skills.

Q6: Can I easily remove crayon marks from surfaces?
A6: These crayons are designed for paper and coloring books and can be easily removed from most surfaces with a damp cloth. However, we recommend using them on paper for the best results. 

Q7: Do the crayons produce vibrant colors?
A7: The crayons produce vibrant colors, making the coloring experience more exciting for children.

Q8: Can I gift these crayons to a child?
A8: Absolutely! Dinosaur Eggs Beeswax Crayons make a fantastic and unique gift for children who enjoy coloring and creativity.

Q9: How can I purchase Dinosaur Eggs Beeswax Crayons?
A9: You can purchase these crayons online through our website. Click on the product, add it to your cart, and follow the checkout process.

Q10: Do you offer international shipping?
A10: We primarily ship within the United States, but don't hesitate to contact our customer support for international shipping inquiries.
Reviews
Our reviews are verified for authenticity
Easy to use for kids, parents and grandparents that may have trouble gripping tiny crayons.

Little Hands, Big Accomplishment!

Easy to hold and arrived in good condition, but baby won't use them. I bought these because my baby wanted the normal crayons I was using to try to measure her feet. She is not interested in these for drawing. She does want to bang them together and put them in and out of her bucket. They are more of a toy than a crayon. I took out the other crayons and she was still interested in scribbling with them.

All in all we love these, I plan to buy more as gifts!

I am a teacher who purchased these as a gift for my one year old grandson and he loves them! Colors are fibrant and true. They have been dropped and banged on the table repeatedly and have not broken. They must be solid and well made. Also they are large which is great because it makes them easier to color with. (If these types of crayons are too small, their little fingers get in the way when they try to color due to underdeveloped pencil grip and fine motor skills.) Would definitely gift again.

Pros: love them! So much easier for my LO to Hold. Easy for very young children to make their very first scribbles with. The pigment lays down easily and brightly, even the yellow can be seen clearly. Cons: if you follow parenting styles that promote practical life skills to may run into the problem I did. I had recently taught my LO to how to crack eggs, so instead of coloring with these he banged them on every surface trying to crack them like eggs! Likewise if you gave your LO these before teaching how to crack eggs they may try to color with eggs instead 🤷‍♀️

Love how easy they are to hold, and for my 1 year old, to make marks! She was able to see that she was making marks with her crayons, and soon had no interest in putting them in her mouth within the first few minutes of use. She likes trying to copy when we draw something for her. We put a giant piece of posterboard on the floor and she sits on it and colors with one of us. On one occasion, the posterboard was on the shiny side up, and she "erased" the marks with her cream colored pants. After washing, not even a faint trace of color remained...two thumbs up for us!!
View full details
Enjoy Free Shipping on Every Order
Experience the ultimate convenience with our free 3-day shipping service available to all customers throughout the United States.
24 x 7 Customer Support at Your Service
We offer customer support through live chat, email, or phone, making it easy for customers to get assistance with their inquiries.
Crafted with American Pride: All Our Products Are Made in the USA
Experience the assurance of exceptional quality and support local industries with our wide selection of products, all proudly made in the USA.
Peace of Mind: Our 14-Day Return Policy Has You Covered
We want you to love your purchases, which is why we offer a hassle-free 14-day return policy. If you're not completely satisfied with your order, simply return it within 14 days for a full refund or exchange.
Explore Our Diverse Range of Products
Our store offers a vast selection of products, giving customers the convenience of finding everything they need in one place.
Our Customers Award Us 5 Stars
We are thrilled to share that our products has received widespread acclaim from our valued customers, with an abundance of 5-star customer reviews pouring in.
Your Choice, Your Security: Explore Our Multiple Payment Options
We offer secure payment options, giving customers peace of mind when making transactions.
Track Your Orders at Every Step
Customers can track their orders in real-time and receive updates on their delivery status.