.
Regular price
$114.90
Sale price
$41.47
Unit price
per
Sale
Sold out
If you order within
Arrives by

If you love buying nice and beautiful toys for your kids to let them have fun, you should pay attention to Dino Rattle by Pebble. It's a unique and educational toy for children to play and explore. Let your child's imagination return to prehistoric times with this darling stegosaurus rattle!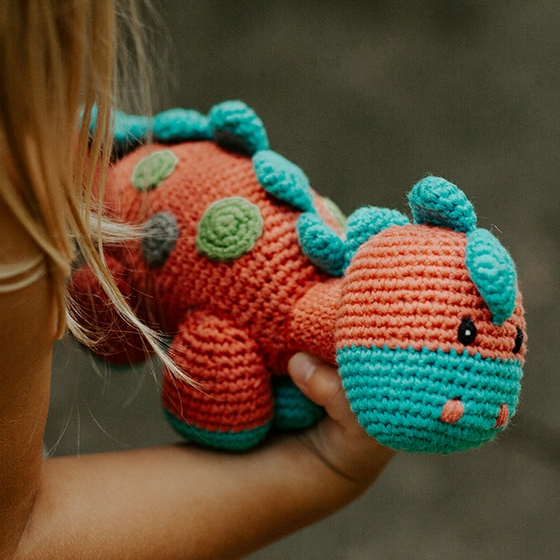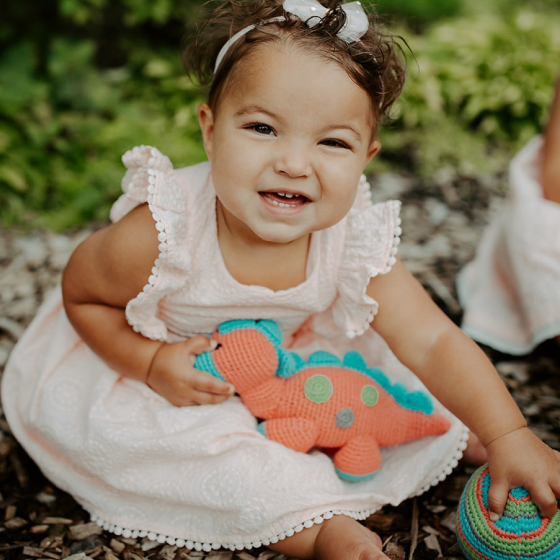 Steggy Coral Dino Rattle

A delightful gift for a baby shower or baby's first birthday
Handmade & fair trade
Pebble is a guaranteed member of the World Fair Trade Organization. Each Pebble
toy
is lovingly crocheted/knitted with a gorgeous, contemporary design.
Extremely easy to care
This toy is machine washable: for best results, place your Pebble toy in a mesh bag and launder it with cool water and non-toxic.
100% safe materials
100% soft cotton outer with a polyester fill. Safe for ages 0+, this toy has been safety tested to ensure no choking hazards or toxic dangers. No batteries are needed!
Child development
Colors, textures, and shapes spark tactile, auditory, and visual stimulation. Great for role play, storytelling, and imaginative play.
Nice & educational toy for your
kids
Dino
Rattle
by Pebble is a quality gift that will be treasured for years. It's perfect for baby shower gifts, a baby's first birthday, or to decorate your nursery.
Looking for a captivating and entertaining toy for your child?
Meet our Dino Rattle Toy! This charming rattle is designed to capture your child's attention and give them hours of imaginative play.

Here's why you'll love our Dino Rattle Toy:


Endless Fun: The rattle's vibrant colors, soft textures, and gentle sounds engage your child's senses, sparking their creativity and keeping them entertained.
Adorable Design: Shaped like a lovable dinosaur, it adds an extra dose of cuteness to playtime.
Safe and Durable: Crafted with child-friendly materials, it's designed to withstand hours of play while ensuring your child's safety.
Parent-Approved: Join the parents who have witnessed their child's joy and development flourish with this Dino Rattle Toy.

Elevate your child's playtime with our Dino Rattle Toy. Click now to add this adorable and stimulating toy to your cart.

FAQ (Frequently Asked Questions):


Q1: What is the Dino Rattle Toy?
A1: The Dino Rattle Toy is a charming and engaging baby toy designed to stimulate a child's senses through colors, textures, and gentle sounds.
Q2: Is the Dino Rattle Toy safe for kids to play with?
A2: Yes, it is made from child-friendly materials, ensuring a secure and fun playtime experience.
Q3: What age range is this toy suitable for?
A3: The Dino Rattle Toy is suitable for infants and babies, typically aged 3 months and older.
Q4: How does this rattle toy stimulate a child's senses?
A4: The rattle's vibrant colors, different textures, and gentle sounds engage a child's sense of sight, touch, and hearing, promoting sensory development.
Q5: Is the toy easy for babies to hold?
A5: Yes, the Dino Rattle Toy is designed for little hands to grasp quickly, making it ideal for babies learning to hold objects.
Q6: Can adults enjoy this rattle too?
A6: While designed for kids, adults can join in the imaginative play and create memorable playtime experiences with their children.
Q7: Do the rattles require batteries?
A7: No, the Dino Rattle Toy does not require batteries. It produces delightful sounds with gentle shaking, making it easy to use and maintain.
Q8: Is this a suitable gift for a baby shower or a newborn?
A8: Yes, the Dino Rattle Toy makes a thoughtful and adorable gift for baby showers and newborns. It offers both entertainment and sensory stimulation.
Q9: How can I purchase the Dino Rattle Toy?
A9: You can buy the Dino Rattle Toy online through our website. Click on the product, add it to your cart, and follow the checkout process.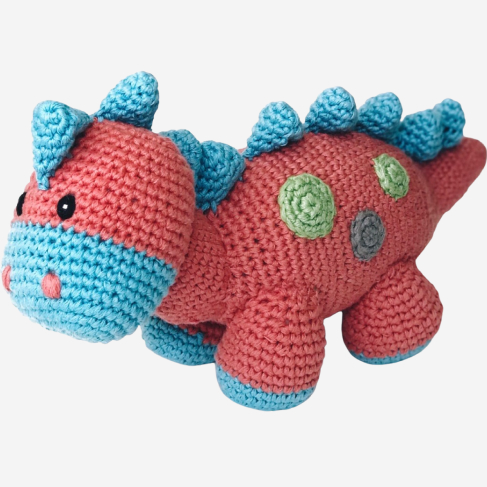 Reviews
Our reviews are verified for authenticity
My little one just love it...the colors are really nice.

I love this little guy. It's precious

Adorable Delightful Durable Dinosaur!

This little toy is so cute and colorful. It's a great present for any gender. It lasts. It's an interesting natural beanie baby. It's always a hit.

My granddaughter loves it. It was a little smaller than I expected.

This is such a cute dinosaur. Our little 2 year old granddaughter won't go anywhere without it. People keep walking up asking where we purchased it. Great size, soft, can stand up on its own and is simply well constructed. Would not hesitate purchasing this item as a gift .

For softness it isn't super soft. My 2 year old prefers a super soft dog vs this dinosaur, most likely because of softness. Regardless my 2 year old loves dinosaurs and she also loves the colors, so this is a great gift for her.
View full details
Enjoy Free Shipping on Every Order
Experience the ultimate convenience with our free 3-day shipping service available to all customers throughout the United States.
24 x 7 Customer Support at Your Service
We offer customer support through live chat, email, or phone, making it easy for customers to get assistance with their inquiries.
Crafted with American Pride: All Our Products Are Made in the USA
Experience the assurance of exceptional quality and support local industries with our wide selection of products, all proudly made in the USA.
Peace of Mind: Our 14-Day Return Policy Has You Covered
We want you to love your purchases, which is why we offer a hassle-free 14-day return policy. If you're not completely satisfied with your order, simply return it within 14 days for a full refund or exchange.
Explore Our Diverse Range of Products
Our store offers a vast selection of products, giving customers the convenience of finding everything they need in one place.
Our Customers Award Us 5 Stars
We are thrilled to share that our products has received widespread acclaim from our valued customers, with an abundance of 5-star customer reviews pouring in.
Your Choice, Your Security: Explore Our Multiple Payment Options
We offer secure payment options, giving customers peace of mind when making transactions.
Track Your Orders at Every Step
Customers can track their orders in real-time and receive updates on their delivery status.